After clinching a berth into the Colonial Athletic Association (CAA) Tournament the day prior, the UNCW baseball team saw their 19-game winning streak at Brooks Field come to a close Sunday as the Seahawks dropped an 8-5 contest to College of Charleston.
Despite the setback, UNCW remains atop the CAA standings at 13-3 in the division, dropping to 33-11 overall. The Cougars snapped a three-game losing streak to improve to 8-10 in conference and 24-21 on the spring.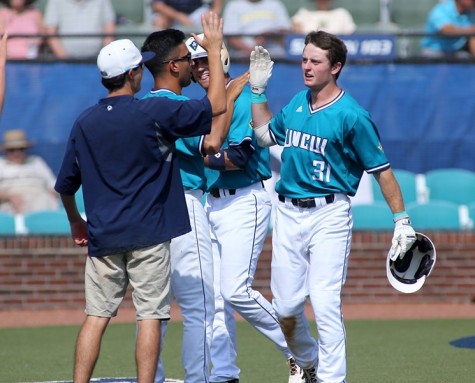 College of Charleston plated three runs in the top of the 10th inning to finish off the comeback. Bradley Jones went 3-for-5 at the plate and drove in five runs, including three on a fifth-inning homerun.
Reliever Carter Love (3-2) earned the win with three innings of relief. He allowed two hits, walked two and struck out two, while keeping the Seahawks off the scoreboard.
UNCW's Steven Linkous had three hits and scored twice, while pushing his league-leading batting average to .409. Daniel Stack, Nick Stuart and Kennard McDowell all went deep in the ball game, but UNCW was just 3-for-17 with runners in scoring position and failed twice to score a runner from third with less than two outs.
Closer Jared Gesell (1-3) was tagged with the loss, allowing four runs, two earned, on four hits and a walk in two-thirds of an inning.
In the 10th inning, Gesell walked in the eventual winning run after Charleston loaded the bases with a hit, an error and bunt single. The Cougars added runs on a wild pitch and a single by Dupree Hart.
The Seahawks close out their home schedule on May 11 with a 6 p.m. start against North Carolina before closing the regular season with trips to James Madison, Coastal Carolina and Delaware.