Coming off a 20-7 season with an 8-2 record in conference, Coach Adrienne Gale and her Lady Eagles are once again contenders to compete for a league title.
Ashley has seven letter winners returning this season, beginning with senior Felecity Havens. The all-state, 2012-2013 All-Area Player of the Year will lead the club as last year's top scorer.
Havens has the ability to run any position on the floor and is among one of the top all-around players in the state. She recently signed her letter of intent to Troy University. With another year of experience under her belt, Jada Bacchus will also be able to score from anywhere on the court, and her fast, aggressive play will be effective on both offense and defense. Bacchus was an Mideastern All-Conference selection last season.
Despite losing four players to graduation, one returning senior may be the missing link as Morgan Davis gets back on the floor, fully recovered from an ACL injury that caused her to miss her entire junior season. Davis' length and physical presence in the paint could cause some big problems for the rest of the Mideastern Conference, according to Gale.
"We have a lot of length and a lot of experience," said longtime Ashley Coach Adrienne Gale, who has fashioned a 201-110 career mark. "With a few new faces and having Morgan back, which is a huge plus for us, our biggest weakness is probably chemistry at this point. We will continue to work and develop and we should have a good chance at making a run this season."
Kaili Rich and Chyna Cotton are two returners that will also make an impact for the Lady Eagles.
Rich is a solid utility player, who can knock down jumpers, pull down rebounds and hustle up and down the floor. Cotton was probably the team's most improved player last season as the forward can run the court and serve as an athletic player in the post, according to Gale.
Brittany Butts will provide a spark from long range and 6-foot-2 Sophia Neubauer should give Gale another option under the basket.
Ashley's size and athleticism makes them the likely front runners in conference, with Laney, New Hanover and Hoggard not to far behind in what will likely be another competitive year in girls basketball across Wilmington.
The Ashley boys basketball team will have a new look to it after losing the school's all-time leader in points and rebounds (T.J. Williams) to graduation as David Rutledge takes over the program after having coached Mallard Creek to a 20-9 record last season.
With just two letter winners returning from a year ago, the Eagles will have to rely on their high energy and athleticism to make up for its inexperience on the floor.
"We want to practice like we are picked to finish last. Work all year with that chip on our shoulder," said Rutledge. "With our youth, we will play each game as its own championship and let the overall season record and conference chips fall where they may."
Tyre Gathwright will return to the Ashley lineup at small forward and should thrive in Rutledge's up tempo system. The 6-foot-2 Gathwright is extremely explosive with ability to get to the basket.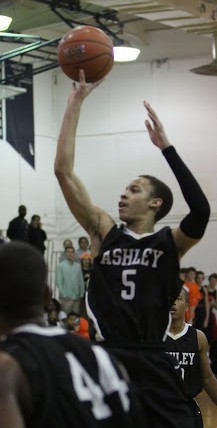 Trey Williford is a sharp shooter from distance and a team leader. His work ethic has helped push the program to heights this offseason, according to Rutledge.
"He has worked harder than any player I've had, but he's had such bad luck with injuries," said Rutledge. "Trey has been totally selfless this offseason and has built a family atmosphere in the program through his mentorship of the young players."
Jake Stinnett had a great summer at point guard and will be a leader on the floor for Ashley. Ryan Keller is a sophomore that will start at center as the 6-foot-6-inch Keller will need to have a big year on the interior for the Eagles. Preston Bryant is an athletic four-man, who can cause matchup problems and David Hicks is the lone freshman on varsity and will be the backup point guard.  Rutledge expects Hicks to be a big time player over the next four years.
"We are young, but fast and athletic," said Rutledge. "We have a lot of high energy kids, with high upside. Trey has provided some great leadership, and our guys are invested. Our youth and inexperience are current weaknesses."
In swimming, Coach John Pellizzari thinks he has a few student-athletes that will contend in conference with twin sister's Heather and Colleen Keck leading the girls relay. Heather also competes in the 50 yard freestyle and 100 yard butterfly.
Sydney Westra is a versatile competitor in the 100 fly, 100 breaststroke and 100 backstroke, while Andrea Granato fills out a talented roster on the girls side.
Newcomer Ryan Trout is also expected to be a big contributor for the Ashley swim program this season.
The Ashley wrestling team will be without one key contributor heading into the season in last year's Mideastern Conference Player of the Year, Victor Sosa. Despite the loss, Coach Bruce Fowler believes all seven of his letter winners from a year ago will have chance to compete for a league title.
He believes his group's work ethic, determination and conditioning will play a big role in the success of his club.