LELAND — Almost three years in the making, Leland's first brewery and Brunswick County's first cidery officially is serving customers in Brunswick Forest. Two weeks ago, Brunswick Beer & Cider opened its restaurant softly to family, friends and area neighbors.
Owner Jud Watkins — founder of Wrightsville Beach Brewery — and his partner Will Cameron had to overcome a pandemic, supply chain issues and even an ABC permit delay to see through the project.
READ MORE: Food Truck Tracker, Nov. 4-11
"But we are now serving," Watkins said in the brew warehouse adjacent to the dining room during a busy Friday lunch.
Leland — still a bit of an untapped market, at least for now — has doubled in population, 13,527 to 26,000, over the last 11 years. On a strip of U.S. Highway 17, the 12,000-square-foot restaurant campus is among the growing local food and beverage industry that is popping up among many chains.
Brunswick Beer & Cider is in the Brunswick Forest neighborhood, with a population near 6,000 and integral to Leland's boom over the last decade.
"It's 20 minutes from other spots, just far enough away that we feel like we're not going to alienate our own crowd at Wrightsville Beach Brewery," Watkins said. "It's not like we're jumping to Asheville."
Around 90 people have been hired so far, with plans to add 20 or more.
Watkins' brew team consists of Neil Blake and Dustin Wilson. They're tasked with creating enough product to fill Brunswick Beer & Cider's three dozen taps. Right now, the restaurant is serving items from its sister brewery in Wilmington, with the goal to have its first run of three or four ciders and beers on tap in the next month.
Blake and Willson have been setting up the 20-barrel system, which can produce around 5,000 barrels a year.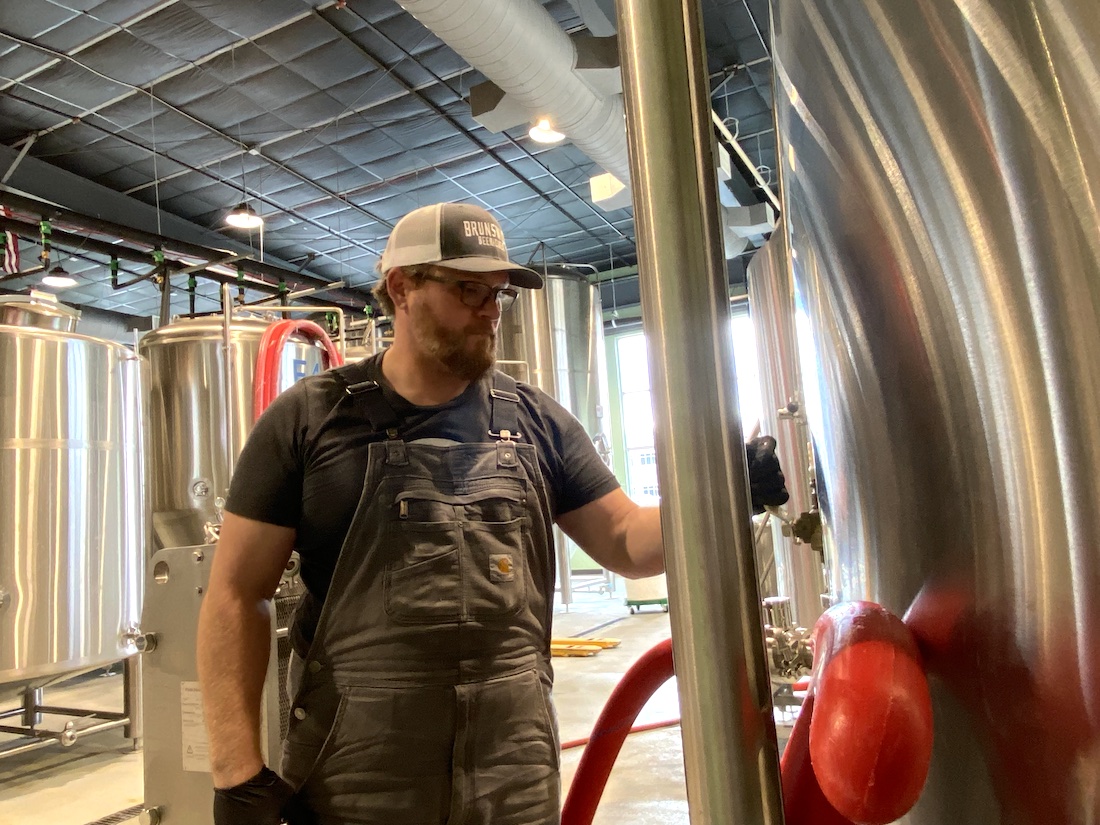 "We can pump a lot of liquid out of here," Wilson said. He's been in the industry for 15 years and has worked at TailGate Brewery in Nashville, before moving to Wilmington to work at Catawba Brewery. He started at Brunswick Beer & Cider two months ago.
Wilson said he plans to focus on classic easy-sippers, such as Kolsches, ambers and ales — "just really good food beer." They're completely different recipes from WBB, created with heirloom malts and German hops.
"It has a little bit more flavor and is a little more clean," Wilson described.
Blake is running the cider side of the operation. He started in the business in 2017, helping with the opening of Mad Mole in Wilmington. He moved to Arizona thereafter to work at Michael Anthony Brewing, which makes White Claw and Mike's Hard Cider, and opened a second plant in Columbia, South Carolina before returning home.
Working a farmer in Hendersonville, North Carolina, Blake procures juice of fresh-pressed apples grown regionally; he wants to expand to work with orchards in Boone and Wilkesboro. The juice isn't like that purchased from a grocery store, but rather has a cider profile, meaning higher acidity and tannic values.
"So there is a little bit more structure to it," Blake said, which matters when it comes to fermentation — a process that can take months.
Brunswick Beer & Cider will have various flavors but will start with four: blueberry-vanilla, oak aged, dry and sweet.
"I love extremely dry cider," Blake said, noting it has less of a sacharine profile.
Plans to do cider cocktails and snakebites — half cider, half beer — are also a possibility as production ramps up. Wilson said he wants to play around with grafs, a drink made popular in Stephen King's "Dark Tower" series. It's essentially a co-fermentation, blending cider juice into the wort — "what beer is called before it turns into beer, basically sugar water," Wilson said.
"There's a lot of wild yeast that you can use from the actual skins of the apples to create flavors you want and mix with beer to have some wild stuff going on," he added.
The juice could also evolve down the road into other unique beverages. Blake said if he can find a supplier, he would like to experiment with perries — or alcoholic pear cider.
"But, first, we have to fill 48 taps," he said.
The offerings will make up 25% cider and 75% beer. The end-goal is to can and enter into distribution, though Wilson said that won't come until likely next year.
"With new equipment comes a little bit of a learning curve and trial and error to dial it in," he said. "We want to make sure we have a consistent product and that the beer is just as good when scaled in large quantities and sitting out in a warehouse to be shipped."
More importantly is clientele feedback. Watkins said they are still honing in on what people like.
"We don't know specifically what Leland's tastes are yet," he said.
While he expected an older crowd, as this area of Brunswick County has drawn in retirees, Watkins said he's been most surprised by the amount of young professionals.
"There are a lot of folks that are renting apartments here or looking in Brunswick County for first homes because their dollar goes further here," he said.
Lunches at Brunswick Beer & Cider are already proving popular.
"And it's not just a one-beer lunch," Watkins said. "It's three, which is great."
The menu has been crafted by Chef Paul Boswell, who once worked for the LM Restaurant group (Oceanic, Bluewater, Hops Supply Co.) and most recently in South Florida at the Edgewater Club
Like the flagship WBB, pizzas are taking off — something Watkins said sustained the restaurant during Covid-19. Lines of cars would drive-thru to pick up pizza and a six-pack at the Wilmington brewery during the pandemic.
"We always joked through Covid that pizzas paid the bills, and we were fortunate to have a canning line," Watkins said. "If you can sell beer and sell pizza, you can get through just about anything."
Almost 90% of the pizza menu from WBB is at Brunswick Beer & Cider, though Boswell is creating unique pies to this location.
"I gave Chef Paul a lot of freedom and creativity; he's very talented," Watkins said.
They offer gluten-free pies, too, something Watkins said he has seen grow since WBB opened in 2017.
"Obviously, the gluten-free demand is not going away," he said. "I don't view it as a trend."
It's also the reason he wanted to introduce cider, a gluten-free drinking option.
The menu consists of more than pies, though. There are appetizers aplenty — wings, charcuterie and cheese, as well as salads (the roasted beet and Cobb have been "stand outs," Watkins said). Tacos, sandwiches, burgers, and wraps — both vegetarian and vegan — are offered (as well as gluten-free buns).
"The Cuban has been one of the best sellers," he said.
The crew is getting into the flow of operations at the 1313 S. Dickinson Drive brewery — housed with a kitchen 20% larger than WBB and honed in on an industrial vibe with conservation at the forefront. The bar and barstools, as well as decorative "trees" overlooking the dining area, are crafted from recycled river wood and pallets.
Watkins said the location will be a mirror image of what WBB is to the New Hanover community, hosting festivals, as well as booking live music. He also will be operating a food truck, primarily to help with those events. Oysterberfest, for instance, draws in 1,000 people to the Wilmington location.
"Obviously, we missed out on fall events this year," Watkins said, "but we definitely want to hone in on oyster and seafood-themed happenings. Brunswick County has a history of its own, from the Cape Fear River to Calabash."
It's one of the reasons Watkins said he chose the area for his first expansion — he's drawn to its beauty, such as canoeing along the Blackwater River.
"One of my favorite spots to take my kids is just down the road — the Brunswick Nature Park," he said. "We love going on the trails there."
---
Tips or comments? Email info@localdailymedia.com.
Want to read more from PCD? Subscribe now and then sign up for our morning newsletter, Wilmington Wire, and get the headlines delivered to your inbox every morning.