WILMINGTON — This weekend 7,200 people are projected to be at Live Oak Bank Pavilion at Riverfront Park each night, Friday, Saturday and Sunday, as it welcomes its first national touring act, Widespread Panic. With the possibility of 21,000-plus Spreadheads (WSP fans) adding to the influx of tourists visiting in summer's peak season, bars and businesses are bracing for impact.
Many have planned before and afterparties.
Hop Yard Wilmington, which sits seven blocks away from the amphitheater on Grace Street, is expecting spillover all weekend long. Owner Christian Stoner said he has increased staff and inventory to meet demand. For instance, he purchased more Fiddling Fish's Space Angler (a play on the Panic song "Space Wrangler") than he normally would carry in his bottle shop.
RELATED: Catch up on all of our Riverfront Park coverage
"We brought in a bigger keg because we figured that most people are going to be hitting that one," Stoner said.
On Saturday, Hop Yard also will host a vendor market, featuring local makers and live acoustic music. The Sunset Market — which the business hosts every weekend — will start a little earlier, Stoner said, ahead of the Panic concert (gates open to Riverfront Park at 5:30 p.m. and the band takes the stage after 7 p.m.).
But what to expect of the crowd after the show lets out — the park has an 11 p.m. curfew — is new territory for businesses in the vicinity.
"I'm very aware we are the closest street with a bar on it from the amphitheater," Stoner said, speaking about businesses in downtown proper. "Because of where we are and how sporadic our business is, there may be 20 people in the bar, it might be 2,000 — absolutely no idea. But I'm hoping it's gonna be good for us and other bars on our street."
Businesses along 4th Street, closer to the northside of where Riverfront Park is located, also are expecting to see more traffic than usual. Palate Bottle Shop and Garden is within a four-block walking distance along Harnett Street. Walker Abney, one of its four new owners, said they're already seeing a sizable summer crowd, upward of 600 or 700 on weekends, but have prepared for those numbers ballooning.
"We've ramped up staffing, including floating servers, added an outdoor bar, improved our courtyard, and taken some additional safety and security measures to make sure that we can handle the extra volume of showgoers," Abney said.
Palate also has DJs playing all three nights and has extended The Kitchen food truck hours to open early afternoon until after the concerts end.
"We want to make sure that the space is still comfortable and safe for people," Abney said, "Show attendees are usually on a tight timeline, so handling the rush is key."
Local businesses also will benefit from inside Live Oak Bank Pavilion. Wilmington-favorite food trucks will align the grounds for hungry patrons. Poor Piggy's BBQ and Catering owner Harley Bruce will have his truck parked during all three nights of Panic.
Bruce said he's been doing concerts at Greenfield Lake for years, as well as Azalea Festival concerts (which will officially move to Riverfront Park on Aug. 19 with Michael Franti and Spearhead and Aug. 20-21 with the Avett Brothers). Bruce also has experience doing large events, like the Wells Fargo Championship that was hosted in the northern part of the county at Eagle Point Golf Club in 2017.
"We served around 3,500 a day during the golf championship," Bruce said.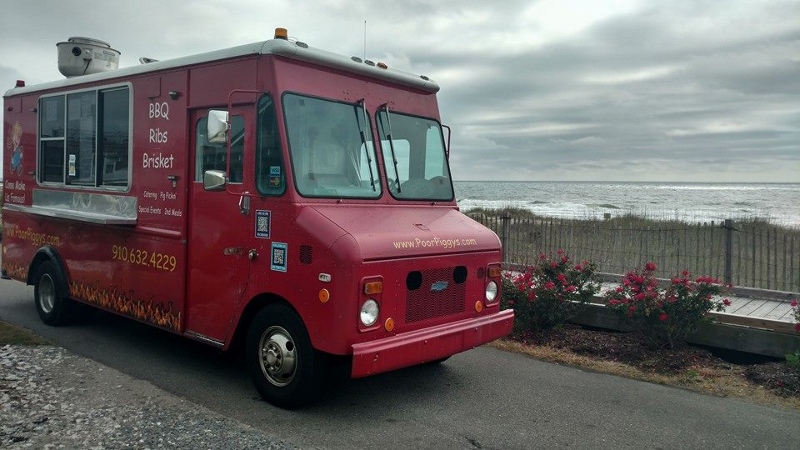 He's packing 24 pork butts and eight briskets each day for the sandwich menu he will offer all weekend long. He estimates feeding around 25% of the 7,200 people at the venue each night, as other local food trucks and concession stands will be operating.
Bruce was prepping Thursday afternoon for Riverfront Park, plus two additional catering events — and he was operating with only three people on staff. "In a typical year, we run with eight," he said, "but staff shortages have affected us all."
"And it's not just the restaurant industry, but also [the] craft beer industry," Ellie Craig said. Craig works for Front Street Brewery, located a little under a mile from the park. She said they're doing their best to keep up with labor needs in an already compromised market.
"It's difficult to gauge how to address that," she said, "but we're working with what we have."
The brewery will be open 11:30 a.m. to 10 p.m. through Sunday, and will have the third-floor taproom ready to accommodate overflow; however, the taproom will close on Sunday due to staffing issues.
"We are doing our best to remind people: Just be nice, whether it's gonna take a little bit longer to eat, a little bit longer to sit down and dine because things are coming out a little slower," Craig said.
Craig is also on the committee of the Cape Fear Craft Beer Alliance, which represents more than 15 local breweries. According to Craig, the alliance had a verbal agreement with Live Nation to stock both Greenfield Lake (also a Live Nation-managed venue) and Riverfront Park with local suds during show nights.
"They told us they have dedicated taps in the tap truck for craft beer that is brewed in the tri-county region," Craig said.
At Greenfield's Tedeschi Trucks concert two weeks ago, she confirmed Edward Teach and Hi-Wire — both breweries that are alliance members — were being poured. Whether local beer will be represented at Riverfront Park this weekend is not confirmed. Last Craig heard, tap trailers weren't quite ready for these first shows (Live Nation and its concessions partner didn't respond to Port City Daily's questions about it).
Originally, Craig said the plan was to have two taps dedicated to locally crafted beer at Riverfront Park. Those would be reserved specifically for breweries that can fulfill the needs of a 7,200-seat venue — mainly, large-scale production facilities.
"You know, that's kind of unattainable for the Flytraps and Front Street Breweries," Craig said. "But for the New Anthems and the Waterlines and the Wilmington Brewing Companies and Wrightsville Beach Breweries, that's going to be available for them."
The Cape Fear Craft Beer Alliance operated the July 4th Riverfront Park opening for the City of Wilmington and went through 35 half barrels of beer, Craig reported. That equates to 542.5 gallons — or about 5,000 pours.
"Obviously, working with the city, working with Cool Wilmington — that was very beneficial to our members," Craig said.
"It's important having local beer to represent Wilmington," she added. "This amphitheater, this pavilion, it's going to be astronomical. We've already got thousands of people in town, just on vacation, that are coming to enjoy our beaches and our retail shops and restaurants and breweries and businesses. An additional 7,200 people to that mix — for three nights in a row — the economic effects of business is going to be huge."
Bruce has signed up Poor Piggy's for 12 more Live Nation events between both Greenfield Lake and Riverfront Park throughout the end of the year. In the end, he is projecting the addition of the concerts, after vendor fees, will increase his bottom line between 10% and 20%.
"And who doesn't love having your office be at a concert?" Bruce asked
Concert attendance has already surpassed goals in Riverfront Park's inaugural season, wherein early projections showed around 50,000 people coming through. Officials now anticipate upward of 130,000 ticket-holders to move through the venue before the end of the year.
---
Have tips or comments? Email info@portcitydaily.com
Subscribe now and then sign up for our newsletter, Wilmington Wire, to get the headlines delivered to your inbox every morning.
Comments