WILMINGTON — After getting the go-ahead from city council last week to serve alcohol on the street — at Chestnut between 2nd and 3rd — the Downtown Alive Concert Series has unveiled its official lineup. Set to kick off Memorial Day weekend, 13 tribute bands and four original acts will perform near the downtown library.
The series is hosted by Downtown Business Alliance and managed and booked by Son of Ander Enterprise LLC. The free concert series starts at 5 p.m. on Saturdays, beginning May 28 when a Billy Joel tribute act takes center stage.
READ MORE: City OKs alcohol sales during new downtown concert series
"It's hard to do a concert that is going to have some sort of mass appeal and be free," Chris Andrews, a DBA liaison, told Port City Daily a few weeks ago. He was speaking in regards to the roster being heavily influenced by tribute acts. "That's the business side of it — finding a careful balance to draw people. It's either got to be somebody really good or it's got to be free."
Tribute bands drew in upward of 3,000 people a week at the former Wilmington Downtown Inc. series, Downtown Sundown, which ran for over a decade. WDI announced in March it would officially retire its series.
Downtown Alive is the second free concert series announced to take place in historic Wilmington during warm months. Port City Marina and Marina Grill announced 37 free concerts to take place through September on the pier located on the north end of the riverwalk.
CATCH UP: 37 free concerts: Downtown marina resurrects summer music series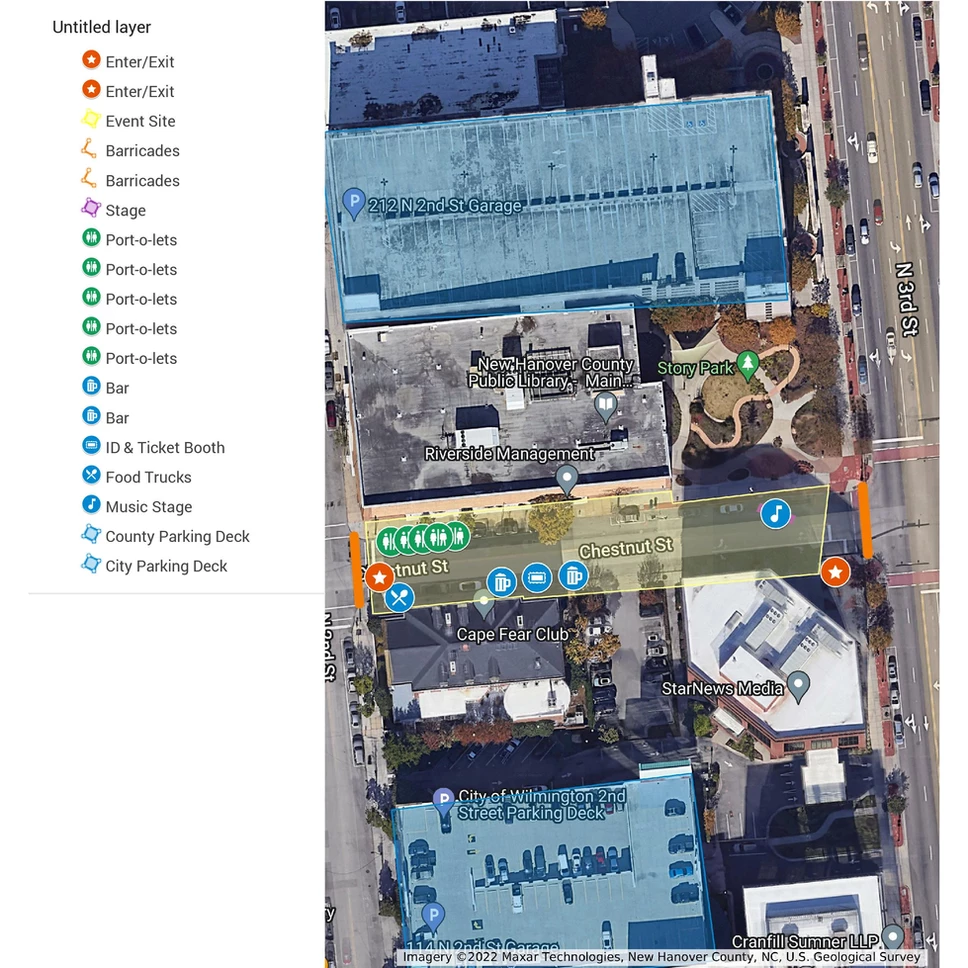 Downtown Alive will feature two bars, both serving eight to 10 selections of beer — with one local craft brewery represented weekly — as well as hard seltzers. Price points will be around $7.
To buy booze, attendees will have to check in at the ID station in front of the Cape Fear Club to secure an over-21 wristband for $1. Proceeds from wristbands go back to DBA to help promote downtown businesses. Concert-goers also will be required to purchase tickets to trade in for an alcoholic beverage; credit and cash will be accepted.
There will be a food truck parked close to the 2nd Street entrance and exit. Shows take place from 5 p.m. to 10 p.m. and the stage will be set up facing 2nd Street near the library courtyard. Andrews, DBA liaison who is helping with permitting for the event, said beach chairs are allowed.
DOWNTOWN ALIVE LINEUP:
May 28 — The Stranger (Billy Joel)
June 4 — Thunderstorm Artis ("The Voice" finalist, 2020)
June 11 — Shoot to Thrill (AC/DC)
June 18 — Zoso (Led Zeppelin)
June 25 — Johnny Folsom 4 (Johnny Cash)
July 2 — Blink 180 (Blink 182)
July 9 — George Michael Reborn (WHAM! and George Michael)
July 23 — Red Not Chili Peppers (Red Hot Chili Peppers)
July 30 — Thurston Howell (yacht rock covers)
Aug. 6 — Abacab (Phil Collins and Genesis)
Aug. 13 — Sell Outs (emo covers)
Aug. 20 — Iya Terra, Mike Lowe, Signal Fire (original reggae act)
Aug. 27 — Idlewild South (Allman Brothers Band)
Sept. 3 — JoeHero (Foo Fighters)
---
Have tips or comments? Email info@portcitydaily.com
Want to read more from PCD? Subscribe now and then sign up for our morning newsletter, Wilmington Wire, and get the headlines delivered to your inbox every morning.