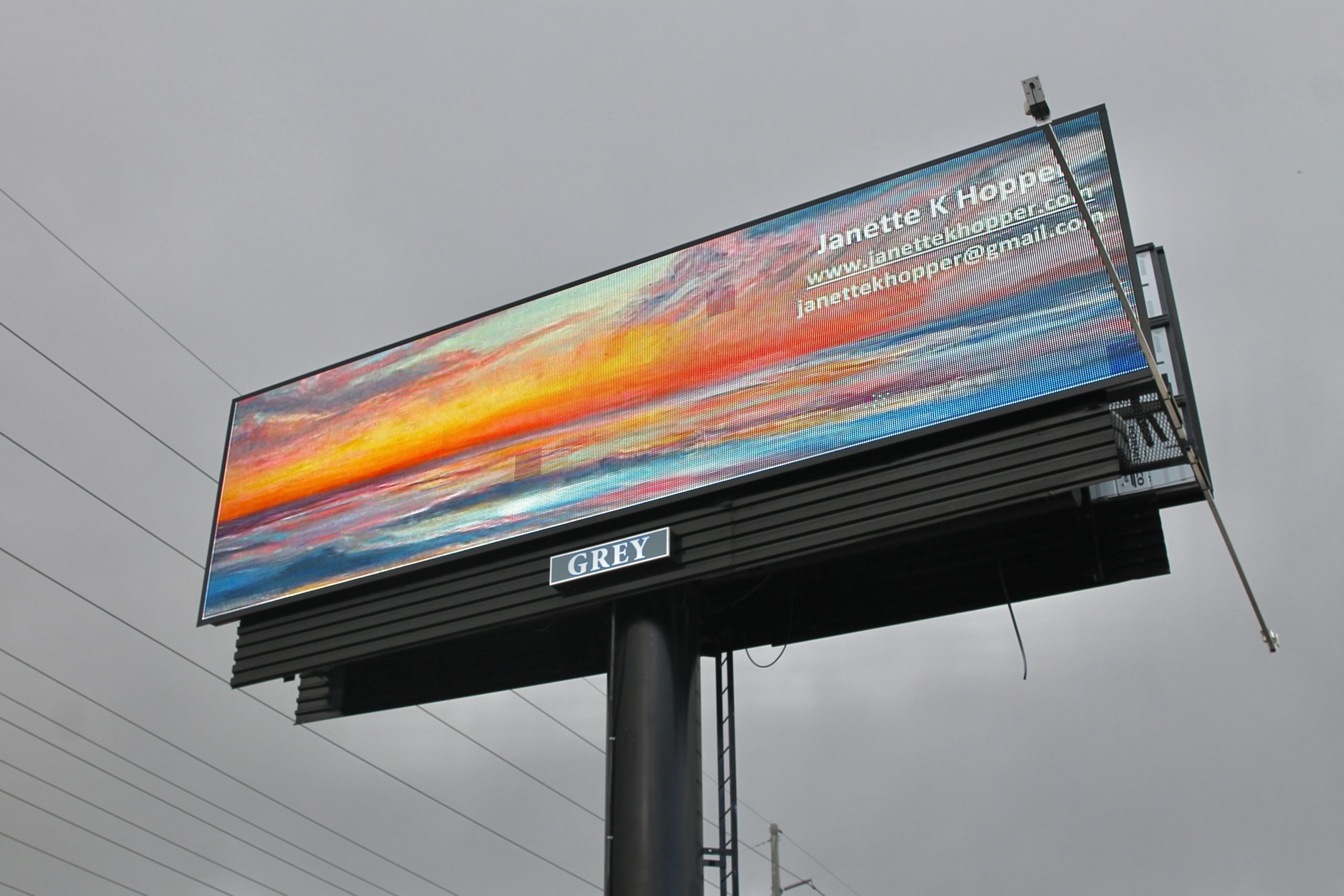 SOUTHEASTERN N.C. –– In Leland, commuters can catch a sunrise with tints of oranges, blues and pinks any time of day. If not in the sky, it is captured within the digital rendering of a prominently displayed billboard.
Between advertisements for law firms and moving companies, artists of the Cape Fear are getting some free exposure on a rotating sign along Ocean Highway East.
Highway Art Billboard is a new program, sponsored by Grey Outdoor, recognizing artists and their creations. The purpose of the initiative is to beautify the sky while giving a much-needed boost to local artists who have struggled to make a profit through the pandemic, as Covid-19 shut down craft shows and discouraged enthusiasts from browsing galleries.
The program is put on by billboard entrepreneur Grey Vick, with the help of artist and mentor Janna Robertson.
"I thought it would be a great way to promote the art industry and support local artists," Vick said. "We appreciate the arts and are grateful to give them our support and exposure on our displays."
Last year, Vick and Robertson connected after Grey Outdoor placed the "Wilmington for Trump 2020" near the "Black Lives Do Matter: End Racism Now" installation, which Robertson organized. Robertson called Vick to confront him about the awkward proximity to the display.
To make up for it, Robertson said Vick offered to place a billboard underneath the Trump sign for her. Artist Greyson Davis' "Love. Unity. Forever." print remains in that spot a year later.
Afterward, Vick offered to exhibit more pieces on a digital billboard he operates in Leland. Last fall the board began displaying art by members of Eighteen Forward, the organization behind the "Black Lives Do Matter" exhibit. Once all 18 members were highlighted, Robertson searched for other artists to utilize the free space.
Every two weeks, a new piece is spotlighted. Two works are currently rotating among the ads:
'Dialogue Of The Wind And The Sea'
Janette Hopper regularly walks along the surf at dawn, taking mental snapshots of the light and colors she's witnessing over the horizon. This is the start of her ritual when creating the newest piece in her current series of sunrise oil paintings.
"The first step is actually experiencing it and getting the feeling of it," Hopper said.
Since pictures never do the hues justice, Hopper, who lives inland, rises early to make the 15-minute drive to the beach by the break of day. "That's the hardest part about all this," Hopper joked. "Sometimes, some weeks, I think I'm tired, but the thing is, once you go, you're really rewarded."
Hopper, who often goes with a friend, packs snacks –– fruits or nuts –– and they sip on coffee as they stroll along the strand. Before heading home, they'll sometimes go for a swim.
"Once you do that, you kind of forget how awful it was to have to get up so early," Hopper said.
She returns to an empty studio, and that's when the real work begins. Hopper said she removes all her past paintings from the vicinity, so as to not be influenced by her other works. She is left solely to the remembered experience.
"The painting never turns out exactly to be what I saw because a painting speaks to you . . . as you put a stroke on, each stroke changes everything," Hopper said.
Her goal in the end is to create a painting that evokes feelings of luminosity and movement; the works are named after the music she listened to as she painted. The one on the billboard, currently rotating in Leland, is titled after Fritz Reiner's "La Mer: Dialogue Of The Wind And The Sea."
"I want them to be a composition that's really beautiful and is balanced and has just the right notes of color and strokes," Hopper said.
Now an international artist, Hopper has been creating since she was a preschooler and told her mom she wanted to make murals. In response, her mother spread blank newsprint papers on the floor and gave her crayons to color. Hopper went on to earn her MFA in painting from the University of Oregon and chaired the art department at UNC Pembroke.
She works across a range of media, from printmaking to performance work to filmmaking. The art on display in Leland is one of Hopper's oil paintings, a recreation of a July morning in Wrightsville Beach.
Her series of sunrises is now up to 15 paintings. Five are sold, including the one on the billboard.
Recently, Hopper started noting sunsets as well, especially ones over the marsh, as inspiration for a possible next project.
For the seconds her work flashes upon drivers, Hopper said, "I just want them to enjoy it and it to bring them some kind of calm in this time of fear and worry. Some kind of meditative moment. We all need it."
'One Earth. Let's Cherish It!'
Kristen Dorsey learned about the billboard opportunity through a Facebook post offering free space to artists with a message.
And she had one.
"There are so many important things for us to pay attention to," Dorsey said. "But I think the one thing that is above all is global warming. Our Earth is definitely in danger, and what I hope that my art does is that it reminds people how beautiful our planet is and how beautiful the other beings that live on the planet with us are."
Now in the sky overlooking the highway, her works portray four creatures seen in this region: a colorful heron, a ladybug landing on a flower, a sea turtle hatchling and a green tree snake.
Atop the art, text reads "One Earth. Let's Cherish It!"
Of the four works, the intimate portrait of the snake is one of her favorites –– both the imagery and the species.
"Honestly, I love snakes, which is not always a popular statement, but I think snakes get a bad rap in the world," she said. "I think they are amazing, fragile, beautiful creatures that actually can give us a really good idea of how the local ecosystem is doing by their own health."
Dorsey's tagline, "Fine Art that Celebrates Nature," is written on the billboard. Most of her art is inspired by wildlife she sees and sometimes photographs while kayaking, hiking or partaking in other outdoor activities.
Besides pencil, Dorsey also watercolors and sculpts using natural materials, such as feathers and shells. Since she was a child exploring the woods, she said she has been fond of the outdoors. "I've always had this deep connection to nature," she said.
Dorsey started her career in art as a graphic designer and animator for the U.S. Marine Corps and later the Department of Defense. "Everybody told me I couldn't make a living being a fine artist, so I did that for a lot of years," she said, "and then I got out of that and I started just focusing on fine art."
In 2017, Dorsey moved to Wilmington to attend graduate school at UNCW for creative writing and found the art community embraced her with open arms.
"I've had a lot of success," she said. "Here people appreciate my nature-centric art."
She hopes drivers along the highway do the same.
"Maybe they're struggling to get home and they've had a hard day and there's all these ads flashing at them," she said, "and I hope that for a few seconds, as they're waiting at a light, they can look up and experience that relaxation that we inherently get from nature when we're in it."
To see past featured works, or learn how to submit your art for consideration, visit Highway Art Billboard's website.
---
Send tips and comments alexandria@localdailymedia.com