The 19th Amendment turned 100 years old on August 19 — the day it was ratified in 1920. To celebrate a woman's rights to vote — in the midst of an election year, nonetheless — and the power of the creative feminine mind, Cameron Art Museum (CAM) has opened "She Persists." With more than 50 works of art on display, the exhibit features 90% of female artists from CAM's permanent collection.
"The artists in this exhibition explore labor, gender, cultural depictions of women, and identity," deputy director of CAM Heather Wilson said. "They are artists, but they are also organizers, mentors, mothers, daughters, teachers, scientists, and activists. Together, they create a multi-faceted and complicated story of what it means to be a woman."
Stalwarts of the art world, Mary Cassatt and Audrey Flack have works on display, not to mention numerous regional and local artists, including Minnie Evans, Beverly McIver and Elizabeth Darrow.
According to CAM curator Bob Unchester, the exhibit highlights 36 living artists, 11 of whom are local.
Meet Mary Nixon
Wilmington paper artist Fritzi Huber, who also works at CAM, has two pieces on display: "The Tale of Gengi" consists of her handmade 55-by-14-foot silk fabrics, cascading from the ceiling in the natural, organic illumination of CAM's skylights; "Found Memories: Mary Nixon" is a filing cabinet of handmade paper that chronicles the life of the now-deceased Wilmington woman.

Huber learned about Mary Nixon in 2016, after driving by her abandoned and dilapidated home at the corner of Rosa Parks and Carolina Beach Road. One day Huber decided to stop and enter, since no signs forewarned against trespassers.

"I could see that everything of value had been taken," Huber said. "But there was something really undisturbed regarding what had been left . . . items were found in disarray, out of sequence, obscured by disparate placement."

There were letters, receipts and photographs building a mystery of this woman's life. Huber felt compelled to prevent Mrs. Nixon from vanishing into obscurity, despite the fact she had passed away in 2014 (as Huber later found out from a very short obituary).

"Two crib parts were way in the back of the house," Huber said. "On my second trip over, I had picked up Dixon Stetler—another artist in 'She Persists'—she's the one who called from the back, 'I think I found something you're going to want.' She was absolutely right: the crib ends, my bookends."

Originally, Huber wanted to make a book of Mary Nixon's life. That idea evolved deeper as the artist tackled the project. Instead of the crib headboard and footboard becoming life-size bookends, Huber shifted the design to become more like a filing cabinet. Huber preserved items from Nixon's seamstress tool kit, plus photographs of Mary Nixon and her husband, by pressing them into handmade rag paper, carefully created to match the color of the artifacts.

"I found a cotton cloth for the pink side of the sheets, which was the same color as the oxblood folders her documents were kept in," Huber explained. "The buff white of the other side of the laminate was created from old linen, which matched the color of the found lace used for the embossing."

Huber then decided to sequentially order the documents so folks looking through the piece could put together the timeline of Mary Nixon's life. Huber tells in CAM's YouTube artist interview for "She Persists": "We have Mary's marriage, her husband goes into the military, we see his Dear John letters . . . and into the '60s we see Mary collecting medical benefits, Mary dealing with the housing authority, Mary making a life for herself."

It is in this capacity, Mary Nixon always will be rediscovered.

"We are all bearing witness to her in our own ways," Huber says. "['She Persists'] addresses the diversity of how women interpret the world around and within themselves. Mary is certainly different from anyone else out there."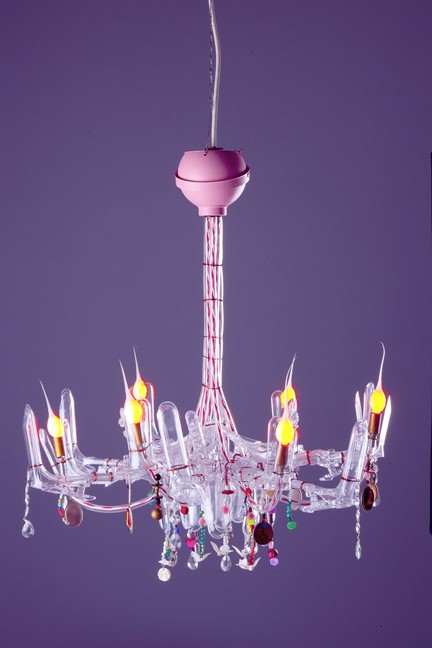 Familial Bonds
Only a few feet away from "Found Memories," Huber's friend Dixon Stetler's colorful sculptures, "Annual" and "Womb Buggy," take on feminist ideals, including a woman's right to choose how and when to start a family.

"Color and texture played a part in the design process of the 'She Persists,'" according to Unchester, "in a way to make it all visually compelling and to help works that might not usually hang together cohesively."

Stetler says "Annual" and "Womb Buggy," though created years apart, were made to be experienced in tandem. "Annual" consists of a crystal-looking chandelier, constructed from discarded, unused plastic specula that Stetler collected while working at the local Planned Parenthood.

"Womb Buggy" is made of discarded clothing and a rusty carriage frame of an antique stroller that Stetler found at the Salvation Army in Mobile, Alabama.

"Babies go so quickly from womb to buggy," the artist explained. "Despite being all seams, 'Womb Buggy' aims to make this transition seamless."

The tapestry of family weaves and strengthens in multiple pieces throughout the exhibit. It can be seen in the carvings of Michele Tejuola Turner's colorful storytelling gourd "Grandma Netti." A village of people come to life in the folk-art piece, as they dance, play music and celebrate community.

A quieter reflection of ancestral bonds can be seen in Margie Worthington's "Requiem." The acrylic and chalk pastel collage is made up of blocks of color and various textures and media, including wallpaper, family photographs, and copies of letters between family members.

"Margie went through a phase where she thought about how visual poetry can evoke emotions and memories," Wilson said. "This piece has a deep spiritual quality."
The 19th Amendment Project

Wilson and CAM staff have been planning "She Persists" for two years now. "The pandemic created an interesting situation to complete the exhibition, but we managed," Wilson said.

After being shuttered for six months because of COVID-19, the publicly funded museum was hemorrhaging around $50,000 a month in revenue. During the second weekend of September, CAM opened at 50% capacity, and over the last three weeks, it's hosted 1,000 visitors through "She Persists."

"We are really refiguring how to move forward," said Wilson, primarily referring to CAM's in-person events, like gallery talks, classes and concerts.

On October 13 the museum will unveil "The 19th Amendment Project: Community Art for All" as part of its outreach for "She Persists." CAM staff have been sewing 180 fabric tiles, consisting of the 122 letters of the 19th Amendment, alongside freeform art created by community members who express on the tiles what the 19th Amendment means to them. The completed 12-by-16-foot tall installation will hang outside of CAM through the election, welcoming visitors as they enter. "She Persists" will hang through March 2021.

More information can be found at cameronartmuseum.org.