Update (Tuesday at 1:10 p.m.) — New Anthem Brewery began selling its beers in multiple locations in Atlanta on Monday, according to Flying Machine co-founder Grant Steadman.
Steadman said on Tuesday that he was not familiar with New Anthem's distribution to Atlanta, but that it was another positive sign that Wilmington's craft beer industry was expanding outside the Cape Fear region. 
"Now more people can taste Wilmington beer," Steadman said.
WILMINGTON — Flying Machine Brewing Company will begin distributing to the coastal South Carolina market next month, marking the first time a brewery in the Cape Fear region will distribute across state lines on an ongoing basis, according to co-founder Grant Steadman.
The brewery, which hit the Wilmington market in late 2018 with a 16,000-square-foot taproom and brewhouse capable of producing 20,000 barrels a year, has signed with Rafa Distributing to sell cans, bottles, and kegs primarily in Charleston and Myrtle Beach. Unlike North Carolina, where breweries are allowed to self-distribute their products, its southern neighbor requires craft breweries to sell through wholesale middlemen.
RELATED: Flying Machine hits Wilmington craft beer market with new cans, eyes westward expansion
Flying Machine co-founder Grant Steadman said the brewery will focus on distributing its rotating fruited sours as well as its diverse selection of New England and West Coast-style IPAs. But all canned beers will be on the table, including the Vimana Kölsch, according to Steadman.
And because coastal markets gravitate toward easy-to-drink, low-alcohol beers, Steadman said he'll showcase Flying Machine's lager beers south of the state line.
"That's one thing we do that not all craft breweries focus on — a good lager program with ABVs lower than what you typically see in other breweries," Steadman said. "I think it definitely plays well in the beach market, and it's also starting to become trendier as well to have lagers."
Because the lagering process requires more time for the beer to sit inside fermenter tanks, breweries with larger production facilities typically have an easier go at brewing a beer that was once lagered in Munich caves during medieval times. And because they require a technically difficult brewing process with a low margin of error, according to Steadman, many breweries stay focused on other beer styles.
"There's not a lot that you can hide behind on a lager," Steadman said.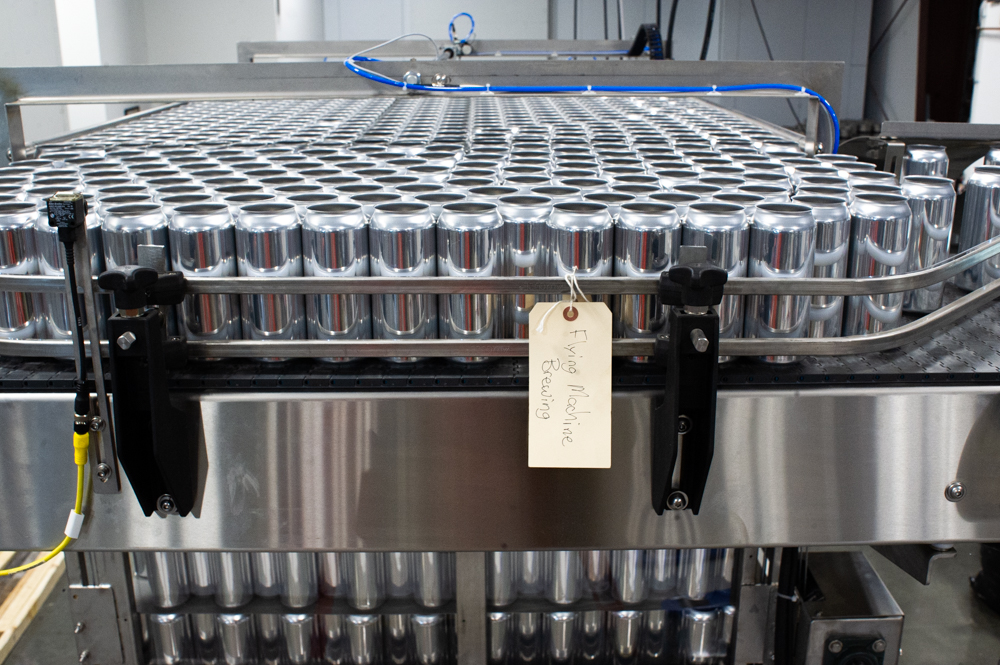 He also said the brewery's barrel-aging program is entering its second year, and as more of its sour beers age, he will be focused on releasing bottles and kegs to specialty bottle shops along coastal South Carolina.
The brewery plans to expand its distribution across South Carolina and into Charlotte and the western region of North Carolina. And its Raleigh presence is growing with a full-time sales representative in the area and deliveries made twice a week, according to Steadman.
"With new territories come new production demands. Right now, we are only at about 10 percent of the eventual production capability of our facility, so our business was built for thoughtful growth into carefully targeted markets while continuing to support a strong taproom," Steadman said.
The brewhouse is set up to brew an estimated 20,000 barrels a year — well above many local breweries — and Steadman said that last year's 1,200 barrels produced in 2019 shows how much growth is possible in the years to come.
"It doesn't necessarily mean we'll want to build out that facility with the largest tanks we can, but the reason we built it the way we did is so that we wouldn't have to build another manufacturing facility someday — so that we could stay in our home base of Wilmington and grow from there," Steadman said.
The brewery is currently planning launch parties in Myrtle Beach and Charleston. More information will become available on its Facebook page.
---
Send tips and comments on the local craft beer scene to Mark@Localvoicemedia.com or (970) 413-3815