WILMINGTON — Weeks ago residents of Carolina Place received notice that a 100-member production crew would be shooting a few scenes for a film entitled "MOB Rules" in the area.
But veterans of the neighborhood, some who work in the film industry, were quick to point out — this was no movie about mobs or anything of the sort. What was actually going to be filmed, they said, was the sequel to last year's return of "Halloween" starring the iconic masked murderer Michael Myers.
RELATED: Local filmmaker gears up to film Stephen King's Sherlock Holmes story spring 2020
Houses were re-painted and pumpkins and scarecrows placed on the patios of a few homes along Pender Avenue. Throughout last week the film crew worked its way east-to-west through the neighborhood, and on Friday sixties-era cars were parked along the street. When it became fully dark, they were ready to shoot, spotlit by a powerful light hung from a crane above the street.
Resident Rebecca Gushanas stood behind her neighbor's fence soaking it all in. For six years she had lived in her home on Wrightsville Avenue across the street. When she first arrived there were a few film projects in town, including "Under the Dome" and "We're the Millers," starring Jennifer Aniston.
But since the passage of House Bill 2 in 2016, which prohibited transgender people from using the public restroom associated with their new gender, she said the movie industry had largely stayed away from Wilmington. In the past year, however, there have been multiple production crews in town, including one shooting a Hulu television series called "Reprisal" starring Abigail Spencer.
Gushanas was hopeful this was a sign that film crews were returning to Wilmington.
"A lot of people in the neighborhood work in the industry in all kinds of ways, and they wanted to be able to stay here," Gushanas said. "So I'm really encouraged that [the film industry] is coming back."
Across the street sits a home used in the television series "One Tree Hill." She said the constant attention the house still receives, seven years after the final episode first aired, shows the industry's lasting influence.
"When we sit on our porch, there is not a day goes by that somebody doesn't stop there and get their picture made in front of that house," Gushanas said. "That just tells me how potent film and television is all over the world."
As for the true identity of the movie being filmed in the area, Gushanas said crew members were still telling residents it wasn't anything to do with Michael Myers.
"They're still not saying it's 'Halloween' even though you'd be crazy not to realize what they're filming in the neighborhood," Gushanas said. "Everyone sees Michael Myers — everyone knows." 
View photos of Friday night's film production set on Pender Avenue below: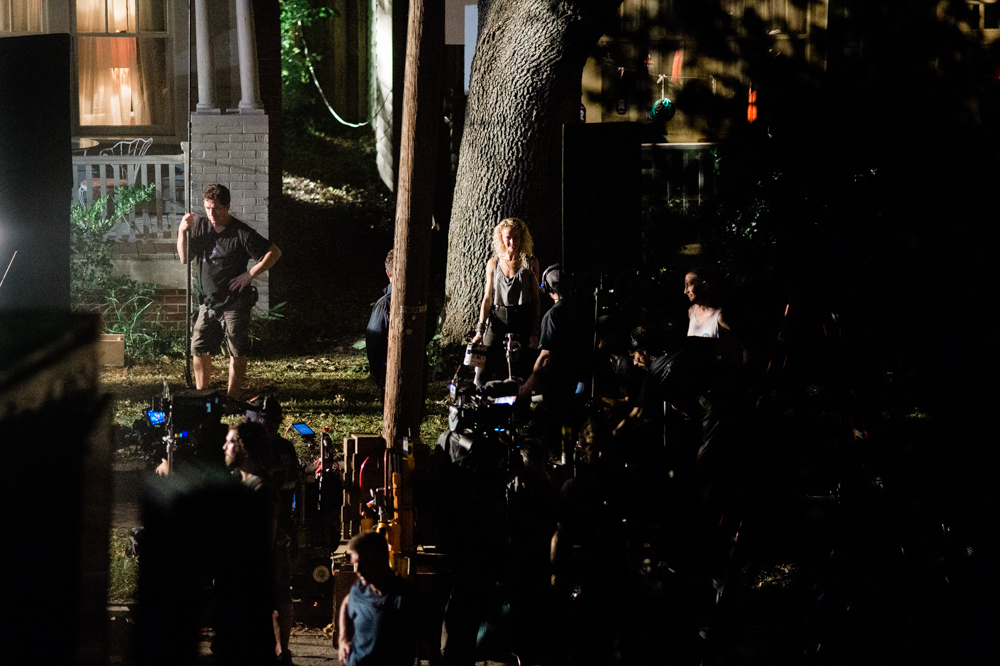 ---
Mark Darrough can be reached at Mark@Localvoicemedia.com or (970) 413-3815