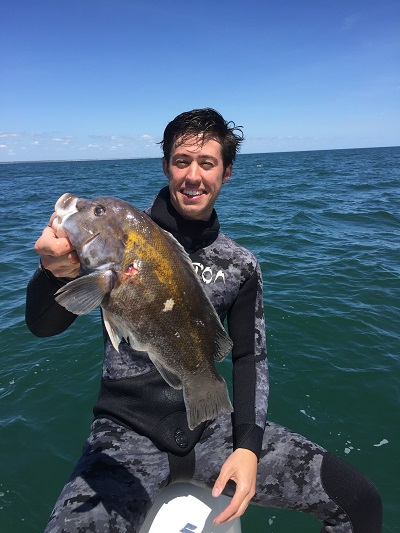 WILMINGTON — Two weeks ago, tragedy struck off the coast of North Carolina. Twenty-one-year-old Brian Davis, a seasoned dive master and spear fisherman, was scuba diving in around 100 ft. of water 36 miles offshore, when his boat reported him missing. Although the Coast Guard was quick to react, Davis had already passed by the time his body was recovered.
His passing stunned the tight-knit community of spear fisherman and divers here in Southeastern N.C. Although they're still in pain, plans have been set in motion to memorialize him in a way that will honor him for generations to come, by creating an artificial reef in his name.
Sam Blount, 27, was one of Davis's best friends. After retiring from the Marine Corps, Blount and Davis became fast friends through their love of spear fishing. The day after Blount got out of the service, they went diving together for the first time, and the rest is history.
"Brian was just one of those special guys, you know, you meet people in life, and when you meet them they just make you feel special," Blount said. "Brian had that kind personality trait, you can see his smile in the pictures, just cheesing. He was 21, and he was just one of those guys where you knew he was going places. And I'm not just saying that because he's my friend."
Last Monday, Blount and several close friends went out in an effort to recover Davis's spear gun. Although there was a one in a million chance of finding it, Blount saw things he'd never seen in any of his dives, resulting in an almost spiritual experience for them.
"First, I hit the bottom, and every lobster on this ledge was out fighting. Then I saw a red grouper, and I'd never seen a red grouper before," Blount said. "Weirdly enough, the last fish Brian shot was a red grouper. I'm not a religious person by any means, but that was really something to come down and see."
Shortly after, they recovered Davis's gun, wedged perfectly into a ledge, right where he dropped it.
"If the gun had landed any other way than it did, we probably would have never found it. One big swell would have pushed it off and up under one of these ledges. It really was a one and a million chance we found it," Blount said.
Blount says that Brian was instrumental in building the base of younger spear fisherman in the community here, finding his love for the ocean through the Marine Quest camps at UNCW, and eventually going on to form the UNCW Spear Fishing Club.
"It's what he loved, Brian was a true waterman. It was really cool, the photo board at his funeral probably had 200 photos on it, and only two of the photos were taken inside," Blount said. "Everything else was him either oystering, duck hunting, fishing, scuba diving, surfing, or spending time with his loved ones. It was just really cool."
Sinking the "Brian Davis"
Blount says that he deals with things like the pain of his friend's death, by doing. In his spear shop, Front Line Freediving, he's already set up a memorial wall, with a small plaque dedicated to Davis.
He then set up a GoFundMe site with the intention to raise money for a memorial offshore. However, that goal quickly changed after receiving overwhelming support from the greater fishing community, as well as friends, teachers, and colleagues, who had been touched by Davis's life.
"We have a really great community here, I was honestly inspired by the Greg MicKey wreck, which I think was sunk 10 years ago this summer," Blount said, referring to the shipwreck off Frying Pan Shoals placed to memorialize Capt. Greg MicKey, who was lost at sea in 2005. "Those guys kind of paved the way for this to be something I thought was possible."
Once the fundraiser kicked off, a good Samaritan came forward, offering to donate a 120-ft. tug boat to be used as the base for the reef.
"When we first started this, I was thinking we'd be able to raise like five grand, and at a minimum we'd have a memorial for him offshore, and since then it's blown up," Blount said.
"We've had a ship donated, a 120-ft. steel tug boat, donated by a guy in Florida who I'd never met, who I'd never talked to. But, he saw the GoFundMe and he read the story, and being a commercial boat broker, he was just like 'dude it's your ship, we'll figure out what needs to be done and if we can't use this we'll do whatever we have to, to get this done,'" he added.
According to Blount, the type of ship is a big part of the consideration in creating an artificial reef. Not just anyone can create a reef, and the process will be overseen by the Army Corp of Engineers, as well as the North Carolina Artificial Reef Program, who were elated to find out they had managed to get their hands on a tug.
"These wrecks, especially the tug boats, because they're built with super thick steel, they have a relatively low profile, they don't tend to rollover or move around in hurricanes or anything like that," he said.
Blount's plan, is to sink the "Brian Davis" off of Frying Pan Shoals, just Northeast of their favorite wreck, "The MicKey," 38 miles offshore of Bald Head Island. He says the prevailing current in the area is to the ENE, and his plan is to place the "Brian Davis" nearby, so as you drift over the MicKey, you'll eventually reach the Davis.
"It's massively beneficial for the diving and fishing community," Blount said. "And I mean who doesn't want another wreck to fish?"
He also points out the benefits for marine life, allowing space for fish and other sea life to call home, as well as being a stop off point for long range travelers, like the endangered North Atlantic Right Whale, on their annual migrations.
Moving forward
Wednesday, Blount mailed his letter of intent to the N.C. Artificial Reef Program, and is expecting the permitting process to take around two months if everything goes as planned.
The next step will be getting the ship will be stripped down and cleaned, before going through a final inspection process by the state. From there, they'll tow the tug from Florida to North Carolina, where it will be prepped for its final voyage to the bottom of the ocean.
If everything goes right, they hope to have the wreck on the bottom by next summer, although the process could potentially take two years.
As of yesterday morning, the GoFundMe page had almost reached the halfway point of its $75,000 goal, with just over $37,000 dollars being raised in the past two weeks.
For more information on the project, to donate, or find out how you can get involved, visit gofundme.com, or email Sam Blount at sam@frontlinefreediving.com. Blount plans to hold a silent auction to help raise funds for the project on Aug. 11 at Waterman's Brewing Company, just off Eastwood Road near Wrightsville Beach.
"We're going to get this done, we've got a really great group of guys, and the family has been nothing but supportive," Blount said. "We lost a good buddy, and we plan to be able to dive on his wreck."
---
Send comments and tips to Cory Mannion at cory@localvoicemedia.com, @corymannion on Twitter, and @corythamann on Facebook.