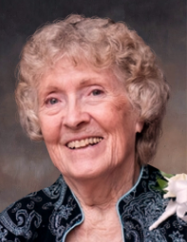 WILMINGTON — Norma Jean McKone, 89, passed away Tuesday, November 30th, in Wilmington, NC after a brief period of illness.
She passed peacefully with family members at her side, called home by the Lord she loved to join her beloved husband of 25 years, Col. John McKone, US Air Force retired, who preceded her in death in 2013.
She will be interred with him at the Arlington National Cemetery, Arlington, Virginia. Mrs. McKone moved to Wilmington from Deltaville, Virginia in 2015 and was most recently a resident of Cambridge Village, where she had the support of many friends.
She was a longtime member of the P.E.O. Sisterhood. She was born in Lake City, Iowa to Elbert and Jessie Shideler on November 28, 1932. She was proud of her family's history as prairie settlers and Colorado mining pioneers. Her family moved to Estes Park, Colorado when she was in her teens. She was also preceded in death by her brother Edward, but she is survived by her sister-in-law Bonnie Shideler and a large extended family of nephews and nieces.
Mrs. McKone is also survived by her two daughters – Mrs. Judith Goertz Coccoma (Joe) of Wilmington, North Carolina, and Mrs. Katherine Goertz Ball (Jim) of Titusville, Florida, together with their families. She was especially fond of her two loving sons-in-law. She had both daughters with her first husband, Harland Goertz, and raised them in Lancaster, California. Their families include her seven grandchildren, and 15 great grandchildren.
She owned and operated two small businesses, one in Lancaster and the other in Manassas, Virginia, but will be best remembered by family and friends as a talented crafter who delighted in quilting, knitting, and exploring creative ventures in painting, ceramics, and writing. She was devoted to her faith, serving the Lord in many ways as a member of St. Therese Catholic Church in Wilmington, and previously as a member along with her husband Col. McKone at the rural Spring Hill Baptist Church in Mathews County, Virginia. It was in church that she met her husband John, a retired Air Force officer. They were married in 1987 and shared 25 years of devotion to one another, service to their Lord Jesus, and an unwavering commitment to America and those who wear its uniform. With her marriage to Col. McKone, she was blessed with and is survived by an expanded family that includes his four adult children and their families. Together, they shared 16 grandchildren and 25 great grandchildren.
The family encourages the sharing of memories, and requests that in lieu of flowers, donations be made to the Gary Sinise Foundation, www.garysinesefoundation.org , in recognition of the service and sacrifice of America's military men and women on behalf of our nation and our freedom.