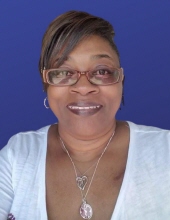 LELAND — Angela C. Lane, age 55, of Leland, passed away Tuesday, October 12, 2021.
A celebration of Angela's life will be conducted at 4:00 PM on Sunday, October 17, 2021at Davis Funeral Home, 901 S 5th Ave., Wilmington, NC 28401. A viewing will be held one (1) hour prior to the service.
Her love and memories will remain in the heart of her husband, Michael Lane of the home; children, Anthony Chance of Castle Hayne, Antonette Chance of Wilmington; Antjun Chance and Antony'o Chance both of Castle Hayne, Anthony Jones of Wilmington and Whitney Lane of Leland; siblings, Michelle Jackson of Wilmington, Eric Jackson of Raleigh, Phaedra Jackson and Tracey Formey both of Wilmington, 8 grandchildren and a host of other relatives and friends. 
To send flowers to the family or plant a tree in memory of Angela C. Lane please visit our Tribute Store.
Comments