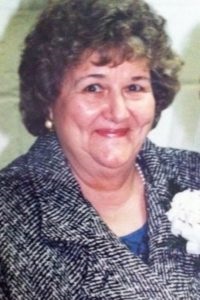 WILMINGTON — Frankie Jewel Smith, 86, passed away Wednesday, Feb. 17, 2021, at Lower Cape Fear LifeCare Center.
She was born Jan. 20, 1935, in Horry County, South Carolina, to George and Ethel Long. She was the widow of Billy A. Smith.
Frankie is survived by four children, Michael (Melanie), Donald (Dottie), Diane Skipper (Buddy) and Randy (Doxiene). Her youngest son, Ronnie, preceded her in death; as well as two grandchildren, Tammy Smith and Jason Hines. She is survived by her sisters: Georgia Renn and Cathy Rich; and one brother, Tony Long. She was preceded in death by one sister, Mary Cain; and two brothers, Milton and Larry Long. Frankie was a loving grandmother to eight grandchildren, 10 great-grandchildren and one great-great-grandchild.
A private graveside service will be held at 2 p.m., Saturday, Feb. 20, at Smith Cemetery, Garland.
The family would like to thank the staff of NHRMC and Lower Cape Fear LifeCare Center for their love and compassionate care during Frankie's illness.
In lieu of flowers, memorial gifts may be given to Lower Cape Fear LifeCare Center or charity of your choice
Share online condolences with the family at Wilmington Funeral & Cremation.