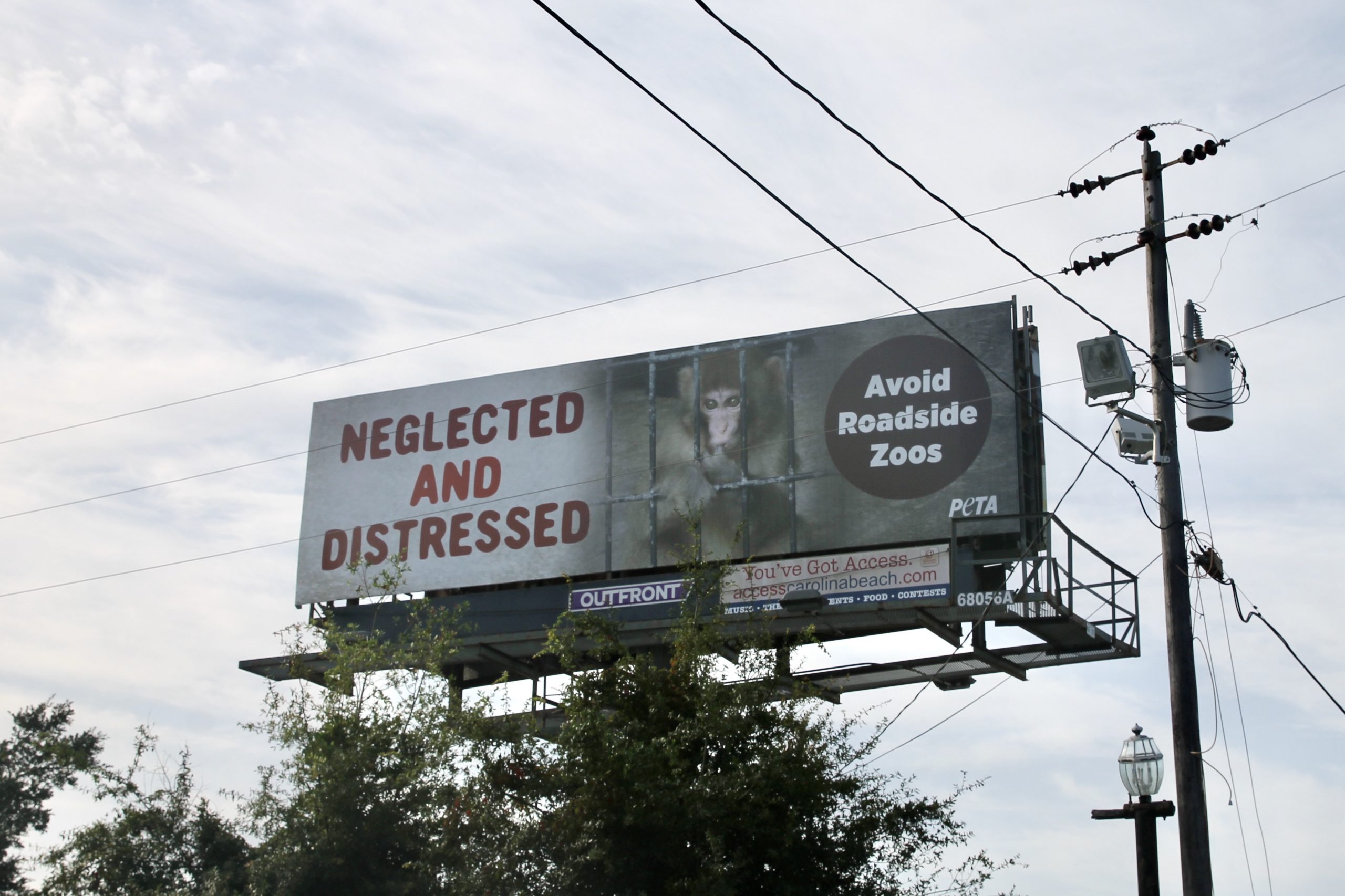 WILMINGTON — A new billboard along Carolina Beach Road is drawing attention to controversy surrounding Tregembo Animal Park on Carolina Beach Road. Activist group People for the Ethical Treatment of Animals (PETA) has put up signage at 5941 Carolina Beach Rd. to deter drivers from pulling into the nearby park.
PETA's billboard features a caged monkey and the words "neglected and distressed," along with the message "avoid roadside zoos." The activist group has kept Tregembo on its radar for two decades and calls it "one of the worst in the country."
The organization will host a protest Saturday on public property just outside of Tregembo Animal Park to bring more attention to what it calls "inhumane treatment" of the zoo's animals.
"PETA's billboard asks drivers not to pull in but to hit the gas when they spot this hellish place," PETA associate director for captive animal law enforcement Debbie Metzler said.
Over the last 17 years, the attraction — formerly named Tote-Em-In-Zoo until it was sold in 2004 to Rita, Robert and Sherry Tregembo — has received violations from the U.S Department of Agriculture during annual inspections. Some years, it's inspected multiple times, specifically if it receives complaints from visitors (read them here) or needs to be re-evaluated after receiving a code violation. PETA often will pull public records requests from the USDA to keep track of inspections at roadside zoos across the nation.
RELATED: Tregembo Animal Park open for business, despite complaints from PETA
The USDA's inspection of Tregembo in February 2021 was the first since summer 2019. It found one of the park's pot-bellied pigs, 17-year-old Kim, needed veterinary care. The USDA described in its report that Kim had lame rear legs, and though the zookeepers said they were treating it, the veterinarian, when contacted by the feds, said she wasn't informed of the health issue.
The USDA further reported the business owners put a treatment plan in place to rectify the violation.
"Every time federal inspectors leave, Tregembo goes right back to neglecting animals," Metzler said.
READ MORE: Tregembo park found in violation of animal welfare regulations
"They probably should do their due diligence to see we have had two USDA inspections since then," manager Sherry Tregembo wrote to Port City Daily Friday in regards to PETA. "One on May 5, 2021 and one on July 13, 2021, where no noncompliant issues were found with either recent inspections."
Previous violations have included failure to keep the enclosures and shelters in good repair or clean conditions. Complaints have been waged about animals who remain caged in the zoo, lying near their own feces or urine.
The manager didn't answer Port City Daily's inquiry about why they continue to keep the animals caged.
There have been reports of wear and tear in the enclosures that could cause harm to the animals or allow easy escape, such as gaps in its fencing, as well as rust, peeled metal and contaminants threatening areas where water buffalo, kangaroos and hogs live. In the past, the park has corrected structural issues and passed USDA followup inspections.
However, PETA accused Tregembo of not meeting the standards in the Animal Welfare Act, specifically when it comes to proper veterinary attention. In 2003, Tregembo was cited for not providing care to a "black leopard who had ocular discharge and was drooling and failing to provide monkeys with the minimum amount of space required," PETA noted in a release.
The year before, monkeys at the unaccredited zoo were said to have improper socialized skills nor ample environmental conditions to provide enrichment. Confined to small spaces with little engagement, PETA said the monkeys often exhibited behaviors that show neurotic patterns: "[O]ne monkey was observed to be pacing the cage and engaging in head-tossing, one was repetitively doing backflips, and another was slightly rocking."
A noncompliant issue came up in 2011 over a lion whose skin was irritated in multiple areas and again in 2015 when a bear named "Ben" put Tregembo back in the headlines. The bear sustained facial lesions that were impairing his sight.
Sherry Tregembo then told WHQR, "This is our only citation with this bear, as far as Tregembo Animal Park goes. This is our only citation we've ever had. Any other citations would have been back when it was Tote-Em-In Zoo, and other people owned it at that time, so I really don't know much about any of that."
The zoo has been in the Tregembo family since George and June Tregembo bought it in 1952. The manager clarified her statements when WHQR pointed out other infractions the park had received under the newer ownership.
"I mean, every inspection, of course, there's usually some issue with something," Tregembo said. "I mean, sometimes you get a totally clean inspection. I consider it a citation when it's something considered very major."
In 2017, Carolina Byrd and Lorraine Moe filed a lawsuit against the zoo and its owners over Ben, as well as another bear which went by the name "Booger" in the lawsuit but is referred to as "Bogey" by PETA. In the paperwork for the lawsuit, it explained an international bear expert visited the zoo on the plaintiffs' behalf and determined the animals were in a "sensory-deprived environment," and resided on 0.0004% of the 5,000-acre minimum bears should live on to fulfill their basic needs.
CATCH UP: In lawsuit, state law might not protect Tregembo's bears because they aren't native
The parties came to a settlement agreement, and the bears ended up being rehomed in the Wild Animal Sanctuary of Colorado.
PETA media coordinator Brooke Rossi wrote to Port City Daily Friday that the activist organization is drawing attention to the zoo and protesting it to save the animals: "PETA is calling on this roadside zoo to close its doors for good and transfer all the animals to reputable facilities."
Rossi said she expects at least around 20 people to show up to the protest, which begins at noon near Tregembo Animal Park on Aug. 28.
---
Have tips or comments? Email info@portcitydaily.com
Subscribe now and then sign up for our newsletter, Wilmington Wire, to get the headlines delivered to your inbox every morning.
Comments