SOUTHEASTERN N.C. — A small community pharmacy in Hampstead is making sure it gets every last drop of the vaccine into people's arms with the help of a waitlist.
Ten doses of vaccine come in one Moderna vial, according to Ashley Rogers, an advanced certified pharmacy technician at Village Pharmacy of Hampstead. Once thawed, the product is only "good" for six hours – but sometimes appointments end up as no-shows, leaving a chance for that valuable vaccine to go unused.
"It's very different from any other vaccine, which I think has been hard for patients to understand because they want to postpone or can't come in due to factors," Rogers said. "But, again, once the vial's been open, it has to be given or it's a waste. It's multi-dose. So one person moving affects the whole system."
Village Pharmacy created a waitlist in anticipation of receiving its first shipment of vaccines in February to help coordinate appointments. The pharmacy doesn't know when it will receive its supplies until about 24 hours before it arrives. Typically, exactly 100 doses come in each week. All must be administered within the following days.
As of Friday afternoon, Village Pharmacy said a couple of hundred people were signed up on their waitlist.
"It was a little slow at first," Rogers said. "The word is getting out, and that waitlist is blowing up."
She calls it "ever-evolving." Sometimes the pharmacy will make 30 calls a day trying to find a patient who hasn't already secured a vaccine elsewhere.
The pharmacy chooses people from the list based on priority, not necessarily the order they signed up. On their online portal, people must check a box to identify their profession and how many medical conditions they have that put them at risk for Covid-19. Healthcare workers, people 65 and older and school staff take priority over a frontline essential employee or any other member of the public.
Rogers said, as a community pharmacy it's in a beneficial position to assist elderly patients who have struggled to obtain an appointment.
"I've had a lot of 80-year-olds in tears because they've been trying their hardest to get the vaccine and just haven't been successful in getting a response or on a waitlist," she said.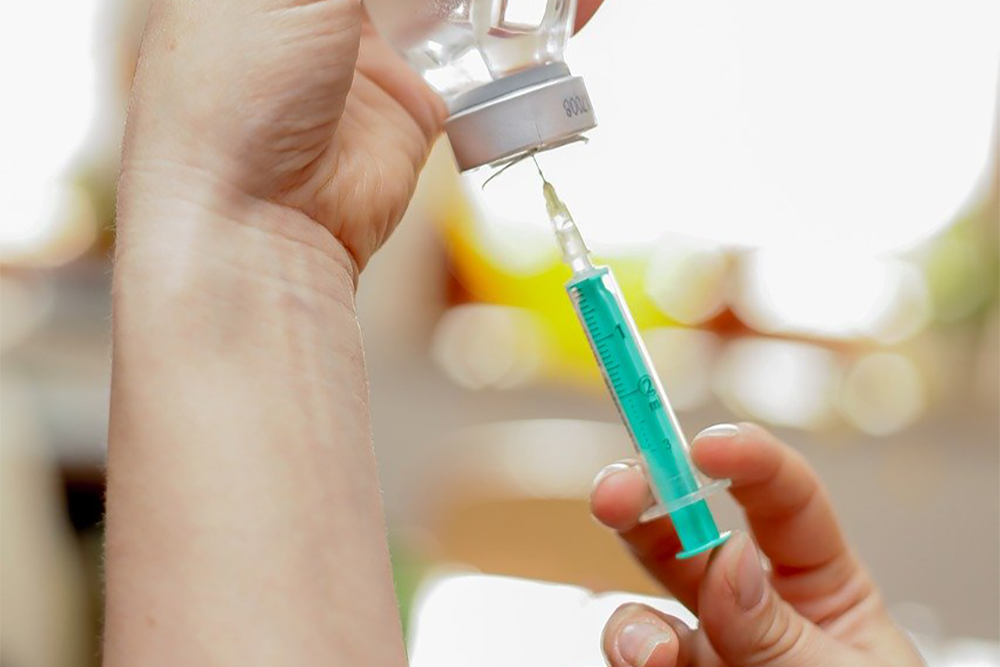 A 'whack-a-mole' process
In mid-January when the governor opened the queue to the 65-and-older population, Gary Jones made 110 calls in one day attempting to get a vaccine appointment through New Hanover County Public Health. He also called Wilmington Health upward of 50 times. It was the same situation in Brunswick County. Despite his best efforts, Jones was not able to access an appointment for a week.
"I was just constantly hitting redial," he said, "and when I finally did get through to these people, a lot of times it was a recording that said, 'There are no appointments available.'"
One of his neighbors informed him of availability in Lumberton through Robeson County Public Health. At first, Jones only got a recording, but with perseverance and patience, he eventually got through only to hear the lady on the other end tell him, "You have to call back next Wednesday."
In the meantime, Jones managed to secure a Mar. 8 slot through Brunswick County and Novant Health. Yet, the former New York police officer, who has COPD, didn't want to wait that long. He said he already witnessed the aftereffects Covid had on at least a dozen or so friends and family, some of whom didn't make it.
So he kept calling Robeson County and on Jan. 22 was told: "Anybody that comes in today, that walks in, will get their first Pfizer shot," Jones said. "So I told my wife, 'See you later."
He made the hour-and-a-half drive immediately to get dosed and returned for his second shot Feb. 12.
New Hanover County Public Health opens appointments according to how much supply it has on hand every week. Announcements of when appointments open are made via email, text and on Facebook, and are filled first-come, first-serve, oftentimes in mere minutes.
Shelagh Clancy called the system a "whack-a-mole" process. However, she doesn't just blame the county; she also blames the state for these prevalent scheduling troubles. "They had almost a year to figure out a system," she said — one that provided better, consistent guidance to other public health departments across the state.
Clancy wrote a letter to Gov. Cooper and N.C.'s top health official Mandy Cohen stating as much.
"The state could easily have set up a website and had one for each county — or New Hanover County, who sold the hospital for billions of dollars, could have used some of that money. I just don't understand; it seems to me that the ball got dropped everywhere," Clancy stated.
Clancy traveled to Fayetteville in Cumberland County to get the vaccine after facing roadblocks with online scheduling. She questions why a waitlist wasn't put in place out of the gate.
"Even if the appointment was in the distant future, at least you would have the assurance that it was going to happen someday," Clancy said.
New Hanover County spokesperson Jessica Loeper said the county researched how other communities were handling vaccines. "And there are issues that a waiting list creates that we are trying to avoid," she said.
Specifically, Loeper pointed out how other counties' waitlists often had thousands of people on them — sometimes tens of thousands — which requires more manpower to oversee.
"This process of calling, leaving messages, or emailing and waiting for the person to respond to confirm an appointment is inefficient, and can delay the time it takes getting vaccines to people," Loeper said. "So while someone's name may be on a list, it does not get them in for a vaccine any sooner."
By scheduling appointments according to supply on hand, the county isn't overpromising on something that may not be deliverable. Counties that have waitlists are banking on supply being available to fulfill future appointments.
"So that creates another issue because — as we saw in other areas several weeks ago — appointments may have to be canceled if supply is not available," Loeper said.
Over the last month, vaccine supply was stunted from rerouting shipments to mass vaccination events and inclement weather delayed deliveries. It caused some counties across the state to cancel or reschedule appointments.
New Hanover County did not.
More vaccine providers
Since Gov. Cooper has onboarded more vaccine providers, it can ease the strain on public health, hospitals and a few health providers that were initially the only ones giving shots.
The Federal Retail Pharmacy Program includes "21 national pharmacy partners and independent pharmacy networks to increase access to COVID-19 vaccination across the United States," according to the N.C. Department of Health and Human Services.
King's Pharmacy and Cape Fear Pharmacy in Wilmington allow users to sign up on a vaccine waitlist on their websites. Harris Teeter Pharmacy announced this week it would begin scheduling vaccines soon (waitlist unknown as of press).
Walgreens opened appointments to frontline essential workers in Wilmington on Wednesday, as New Hanover County Public Health continued prioritizing groups they already were serving (the county will open to all of Group 3 next week).
Local waitress Lisa Mebane logged onto Walgreens website Wednesday morning but had no luck scheduling a shot in Wilmington, Leland or Surf City. She was able to get an appointment near Sunset Beach.
"I also found one in Tabor City, but that's even further away," she said.
Yet, after logging on six hours later to check availability for a coworker, the site loaded with the message "service unavailable, try again later." As of 5 p.m. Friday, it still was showing the same message, even after revealing appointment availability and guiding users through all pertinent questions to schedule the shots.
According to pharmacists at the Oleander Drive and Burgaw locations, Walgreens isn't doing waitlists for vaccines or leftover doses. The pharmacy's corporate communications department told Port City Daily it follows CDC, state and local guidelines.
"We are committed to ensuring every dose of Covid-19 vaccine is used," a spokesperson said. "At this time, demand for vaccines outweighs supply, so excess doses are rare. If there are available doses at the end of the day, our pharmacists are embedded in their communities and proactively reach out to eligible customers to offer the vaccine."
Some people, dubbed vaccine "chasers," are walking in stores late afternoon in hopes of grabbing unused doses. According to a Feb. 11 Wall Street Journal article, providers are either giving them to employees or finding takers among the public.
Walmart stated, when surplus is available, it will approach shoppers or employees to see who is willing and qualified under the state's current guidelines to take the vaccine. (Walmart is not yet a vaccine provider in North Carolina.)
According to CNBC, CVS is keeping a qualified list of patients to refer to when there's leftover vaccine (right now, only CVS in Denton and Wake Forest, N.C., are scheduling vaccines).
New Hanover County has partnered with healthcare providers to develop "a rapid response list of Group 1 healthcare workers who have not yet been vaccinated, who can respond at a moment's notice" in the event that leftover doses are on hand, Loeper wrote on Feb. 18. It's unknown whether that leftover list will evolve as more people are welcomed into the queue.
Rogers at Village Pharmacy at Hampstead said once the pharmacy receives the Johnson & Johnson vaccine, the single-dose vial won't contain extra vaccine. Thus the pharmacy's administration process will be more efficient, and staff won't need to make numerous phone calls in search of a person ready to drop everything and roll up their sleeve on the spot.
Health officials have urged anyone who secures a shot but finds an earlier dose of the vaccine to cancel their original appointment to ensure its availability goes to someone else awaiting a turn.
---
Tips or comments? Email info@portcitydaily.com
Want to read more from Port City Daily? Subscribe now and then sign up for our morning newsletter, Wilmington Wire, and get the headlines delivered to your inbox every morning.