BRUNSWICK COUNTY – Ocean Ridge Plantation and the surrounding areas will require "long-term recovery," a county official said during a noon press conference, in regards to a tornado that left three dead and 10 injured. Spawned from Winter Storm Uri, the tornado ravaged the area in southern Brunswick County late Monday night.
All three deaths happened in the Ocean Ridge area, Brunswick County Director of Emergency Services Edward Conrow confirmed.
Related: Tornado kills three, injures 10 overnight in Brunswick County, schools canceled due to power outage
There are no reports of anyone missing at this time, Conrow said. Officials have conducted a search and rescue of Ocean Ridge Planation and the Old Shallotte area. All people who were trapped previously by debris have been rescued.
Operations are now transitioning to a recovery phase, beginning with an evaluation of structural damage.
Officials said there is significant destruction in Ocean Ridge Plantation, as well as damage to utilities and structures along Highway 17 and Old Shallotte Road.
"This is going to take a lot of hard work, effort between clean up, rebuilding and getting the families back to a normal state of life," Conrow said.
Officials are telling people to stay out of the impacted areas unless they're a resident or a worker. The Brunswick County Sheriff's Office is posted at access points, including at Highway 17 and 904, to monitor who comes in and out (media were not allowed in to survey or record the damage).
"We still have a lot of damage in that area," Conrow said. "We have a lot of safety concerns."
Brunswick County Chair Randy Thompson said he surveyed the area.
"I've seen devastation that I have not seen in many years, having a public safety background myself," he said. "It truly, truly was a disaster last night."
Residents had minimal warning of the tornado. The tornado formed as Uri passed through N.C. and touched down just north of Ocean Isle Beach right after 11:30 p.m. on Monday, Feb. 15, according to the North Carolina Weather Authority. By the time the National Weather Service broadcasted the storm, it was already causing damage, Conrow said.
"They were very surprised how rapidly the storm intensified," Conrow said. "It's something they normally don't see so we didn't have much warning and at the time of night when most people are home and in bed it creates a very dangerous situation."
Brunswick Electric reported transmission poles down and multiple circuits out overnight. More than 37,000 members were without power.
As of noon, outage numbers were down to about 3,000. Crews are continuing to restore power.
Brunswick County Schools canceled classes today for all students and staff due to the outages.
In a tweet, Gov. Roy Cooper said he has spoken with Brunswick County Sheriff John Ingram and Thompson.
"The state has sent help," the governor wrote. "Our prayers are with them all."
The American Red Cross is setting up a reception center for sheltering and feeding those affected by the storm. Anyone who needs assistance can contact Brunswick County emergency services at 910-253-5383.
Want to read more from Port City Daily? Subscribe now and then sign up for our free morning newsletter, Wilmington Wire, and get the headlines delivered to your inbox daily.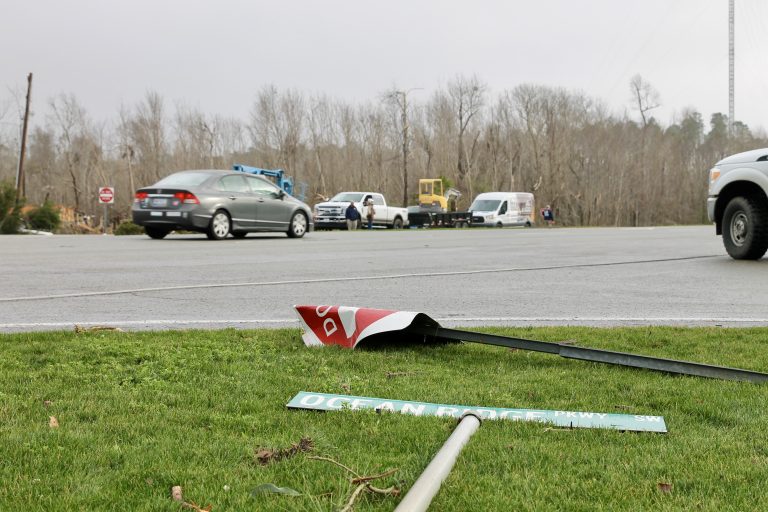 ---
Comments or tips? Email info@portcitydaily.com