WILMINGTON — On the ninth day since George Floyd's death under the knee of a since-disgraced Minneapolis Police Officer, the Wilmington Police Department hosted a peaceful march downtown to honor his life and address growing unrest.
Uniting bipartisan leaders and community activists, the gathering began at police headquarters on Bess Street and ended at the 1898 coup d'etat memorial park. Full photo gallery below.
Related: Sights and Sounds: Protestors leave City Hall peacefully on first night of indefinite curfew
Most speakers invoked the Christian faith while praying or addressing the crowd Wednesday. Wilmington Police Department's Chaplain prayed that Floyd's killing may "prick the conscience of every law enforcement officer in the country."
For a region with a history of ignoring and undermining black issues while symbols enshrining white supremacy remain standing, the march served as an honest attempt at reckoning with racial injustice.
City Councilman Clifford Barnett, who also serves as a pastor at the Warner Temple AME Zion Church, addressed the obvious heat and beaming sun (it was nearly 90 degrees). In a brief speech, Barnett used the heat as a metaphor for oppression, with shade representing change, increasing voter turnout, and new legislation.
Sheriff Ed McMahon began his statements by commending Wilmington Police Chief Donny Williams. "This isn't about us, but I want to tell you that Sunday night, this man stood behind me with tears in his eyes," McMahon said.
"I've been trying to think of something I could say and there's nothing. I am so sorry to the family, to the whole country, and to our community for what law enforcement did [in the Floyd case]," McMahon said. The sheriff said he is making a commitment to improve. "We want to do better."
Wilmington Police Chief Donny Williams said the march was about community.
"Today's march represents the good in all of us. It says that we can serve and protect our fellow man by showing him dignity and respect. It says that we each have a moral compass that will lead and guide us to make sound and fair decisions," Williams said.
"Justice may be colorless, unbiased, and accessible to anyone who seeks it," he said.
View the full photo gallery below: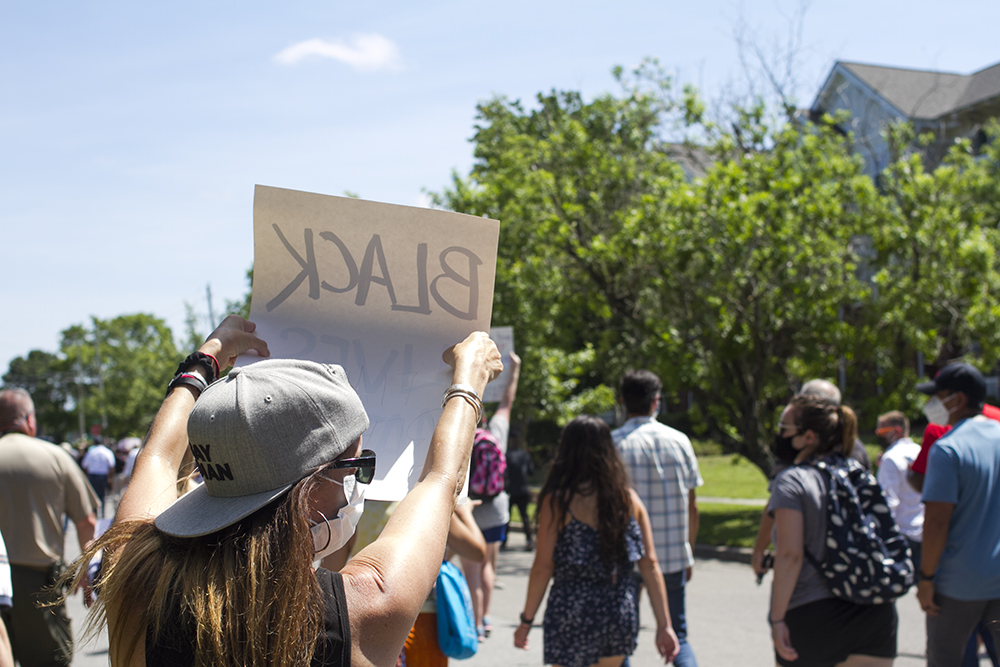 Several minutes into remarks at the 1898 memorial site, a separate group of protestors arrived after beginning their march from City Hall.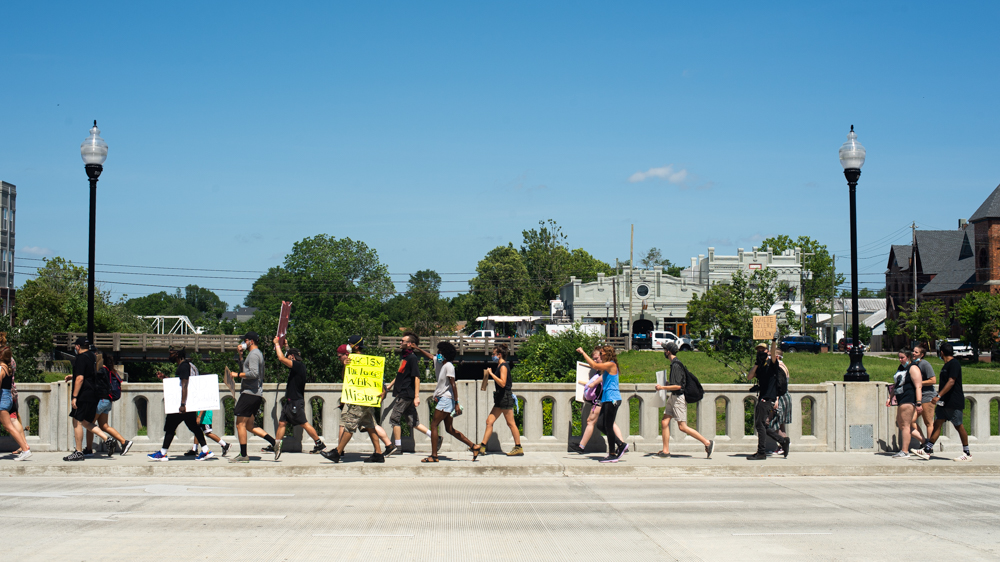 "Law enforcement officers across this country must speak out and acknowledge that abuses and torturous behavior can and will not be tolerated in our agencies," Chief Donny Williams told the crowd.
"If you're not going to protest peacefully, I recommend strongly that you stay home," he added.
---
Send tips and comments to Johanna Ferebee Still at johanna@localvoicemedia.com