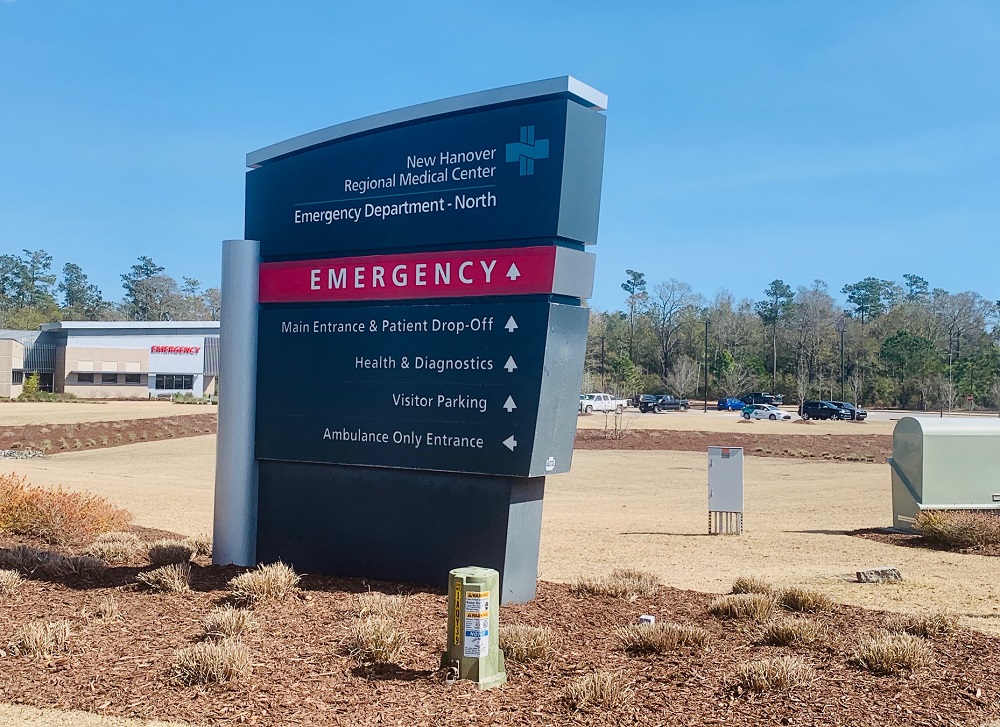 WILMINGTON — To date, there has been only one confirmed case of Covid-19 in the greater Wilmington area, identified by Brunswick County. Still, officials say more are likely on the way. Many have asked, how is New Hanover Regional Medical Center preparing for the possibility of an increased number of cases across the seven-county area it serves?
Those questions include what NHRMC's role in addressing Covid-19 is, how the hospital has disseminated protocols for staff and providers, and what the hospital could do to handle an increase in cases.
There's also a different kind of question, namely how Covid-19 could affect the exploration of a sale of or new partnerships for NHRMC — a process that Partnership Advisory Group (PAG) is in the middle of, with proposals from interested parties due on Monday.
'Flattening the curve': Covid-19 response
The novel coronavirus, a variant of the SARS virus known as SARS-CoV-2, causes the disease Covid-19, and shows up as a flu-like cluster of symptoms like runny nose, sore throat, cough, and fever (not all patients get all symptoms). The majority of these cases are reportedly mild or moderate, but severe cases can cause difficulty breathing, pneumonia, and in rare cases death. According to the CDC, "older people, and people with other medical conditions (such as asthma, diabetes, or heart disease), may be more vulnerable to becoming severely ill."
In a research letter on the disease mortality rate published by the CDC yesterday, it was noted that "a broad range of 0.25%–3.0% probably should be considered." The World Health Organization (WHO) put the rate at around 3.4% earlier this month. For comparison, the low end of this estimate is higher than the mortality rate for some other viral infections — the seasonal flu about is .1%; H1N1 'Swine flu' (between April 2009 and August 2010) was .02% — while the high end is not as deadly as SARS, which killed 9.6% of infected patients.
It's still unclear exactly how contagious Covid-19 is, according to the CDC (some reports indicate it may spread more quickly than the flu, but these are based on limited data for U.S. cases). However, the government response in the U.S. — from the CDC down to the local level — has operated on the assumption that the disease is capable of rapid community spread without protective measures.
Much of the current public health response is focused on 'flattening the curve,' with efforts aimed at preventing the rapid spread of the disease rather than focusing on limiting the total number of cases. This is because while Covid-19 appears manageable in many cases (there is no anti-viral treatment yet), its ability to spread rapidly poses the threat of overwhelming hospitals. Thus, efforts to restrict large gatherings, in the hopes of preventing spikes in new cases.
NHRMC role and response
So far, the point of contact for suspected cases of Covid-19 has been private physicians and county public health departments. NRHMC is not offering sampling or testing for the coronavirus; those who think they have symptoms should contact their healthcare provider or the county (more on how to do that here). According to New Hanover County Emergency Management Director Steven Still, NHRMC has been a part of ongoing conversations held by the county and other stakeholders about the Covid-19 response since late February.
While the plan is to prevent an overflow of patients heading to the hospital with confirmed cased of Covid-19, it's not impossible; to that end, NHRMC officials say they've prepared a 'framework' of scalable responses.
"To help proactively manage possible COVID-19 in the hospital setting, NHRMC has developed a framework with different levels based on the number of affected patients in the hospital. These plans are based on CDC guidelines and have been vetted by clinical and non-clinical leaders throughout the hospital," according to spokesperson Julian March.
NHRMC's plans allow for 'flexibility' to address varying levels of Covid-19 cases.
"For example, we have isolation rooms specifically designed to accommodate patients in need of isolation precautions to prevent the spread of infectious disease. If needed, we also have the ability to scale up and designate larger areas within the hospital as being under isolation precautions to protect both patients and staff," March said.
That could include repurposing parts of the hospital system, like facilities geared towards elective procedures, March said.
"This plan offers various tactics to accommodate a greater number of cases. For example, NHRMC could limit new elective procedures in the hospital, which would free-up spaces and equipment normally reserved for recovering surgical patients," March said.
In a more serious scenario, March said the hospital would coordinate with the state "to ensure we have all necessary resources available locally to care for our community."
Internally, the hospital has been "sharing protocols and information about the virus and its spread with staff and providers. NHRMC has teams working closely with local, state and federal officials to stay informed of the latest information and coordinate efforts," according to spokesperson Carolyn Fisher.
Fisher noted this included sharing information at the unit level and through meetings with providers, as well as providing protocols and clinical quick reference guides on the hospital's intranet.
Impact on the sale and partnership exploration process
Covid-19 has the potential to disrupt many aspects of quotidian life, including local governance. One of the basic tenents of local government is open and transparent operation, including meetings that are open to the public. That becomes problematic when gatherings of 100 or more are restricted due to contagion concerns.
According to March, the PAG is exploring options similar to local government bodies, including the City of Wilmington and New Hanover County.
"For now, the meetings of the NHRMC Partnership Advisory Group will continue as scheduled with call-in options for Partnership Advisory Group members. The public will be able to listen to the audio from all open sessions without attending the meeting in person. Recordings, minutes and presentations are posted on the nhrmcfuture.org website as public involvement and transparency are an important part of this process," March said.
---
Send comments and tips to Benjamin Schachtman at ben@localvoicemedia.com, @pcdben on Twitter, and (910) 538-2001