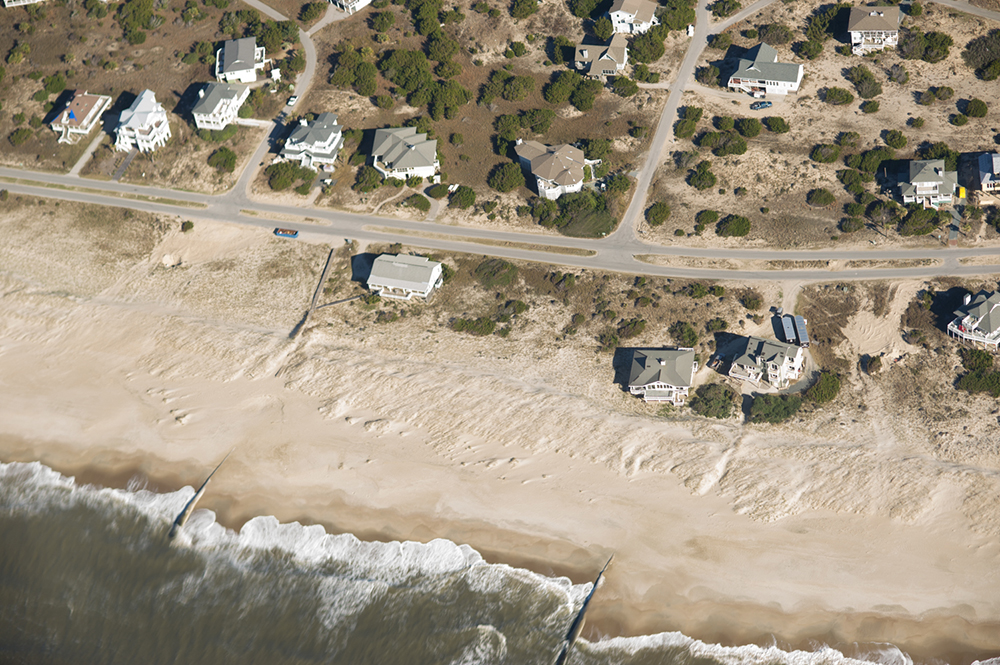 SOUTHEASTERN, N.C. — As it turns out, a person's intentions can outweigh documented evidence in voter residency challenges.
An individual's residence, as defined by General Statute §163A-842, boils down to the "intention to return."
Check out part one: Taxation without representation: Nonresident property owners in some towns are a majority, but have no vote
County elections offices can consider voter challenges when they come up and work them out without charges. To do that, the Brunswick Board of Elections has quasi-judicial powers, meaning it can issue subpoenas, call witnesses, and compel other evidence that may help determine residency when these issues arise.
Regardless of the amount of evidence collected, Sara Knotts, Brunswick County Board of Elections director, said a voter's stated intentions are still paramount.
"It really has a lot to do with the intent of the voter," Knotts said. "That holds weight just as much as the evidence we would draw."
Proving residency
As with other legal proceedings that attempt to establish intention, it's not an easy issue to argue. So long as an individual moved 30 days prior to an election into a residence where they claim they intend to return, it's unlikely their eligibility to vote in that property's district will be stricken.
"If it is on the line, the presumption is in favor of allowing the voter to vote or be registered," Knotts said of her team's previous procedural training on the subject. "If it's on the line, its usually going to sway in favor of the voter."
Though intention is simple to state, harsh penalties do await false elections forms.
Improperly filling out voter forms can result in felony charges, as seen this week with Surf City Councilman Jeremy Shugarts. Shugarts has been charged with six counts of election violations for allegedly swearing to false information regarding his residency. However, voter challenges submitted to the state do not always result in criminal charges.
Proving residency can be an issue in vacation hot spots, where more than half of taxable properties may be considered vacant (that is, second-homes or vacation homes). Though non-residents may outweigh full-timers in taxpayer dollars, their taxes don't guarantee voting rights.
"Residency — it's not as cut and dry as you might think," Knotts said.
BHI case
Consider the 2010 voter residency challenge out of Bald Head Island. Larry Lammert, the Village's disgruntled (now, apparently rightfully so) former mayor had just lost his 2009 mayoral reelection bid by three votes, 112 to 109, State Board of Elections results show.
After the election, Lammert did some digging and uncovered deceased and voters who had long since moved, according to the State Port Pilot. The Pilot performed its own investigation of voter records, revealing dually-registered out-of-state voters.
In the 2009 election municipal election, 221 ballots were cast, compared to 220 registered voters. Brunswick County Board of Election eventually purged 37 voters from the roll, according to the Pilot. Still, Andrew Sayre remained mayor.
In 2010, Lammert challenged the residency of Charles and Patricia Rollins. The couple admitted to living at different residences while working elsewhere, spending less time in their Bald Head home than away from it, and changing their driver's license address after the challenge was submitted. Still, they claimed the island home was their primary docile, asserting they always intended to return.
An initial voter challenge filed by Lammert against the Rollins was dismissed, then appealed in Brunswick County Superior Court, then withdrawn, according to notes of an April 2010 Brunswick Board of Elections hearing on the challenge. Lammert attempted to re-introduce the challenge with new accommodations tax evidence (obtained illegally, the Rollins' attorney claimed) that proved the couple rented out the home a majority of the year. Brunswick Board of Elections voted unanimously to dismiss the challenge.
Out of all 19 municipalities in Brunswick County, Bald Head Island had the highest percentage of voter turnout last municipal election cycle. Out of 249 registered voters, 159 cast a ballot (compare that to 1,200 residential units, according to a recent U.S. Census estimate).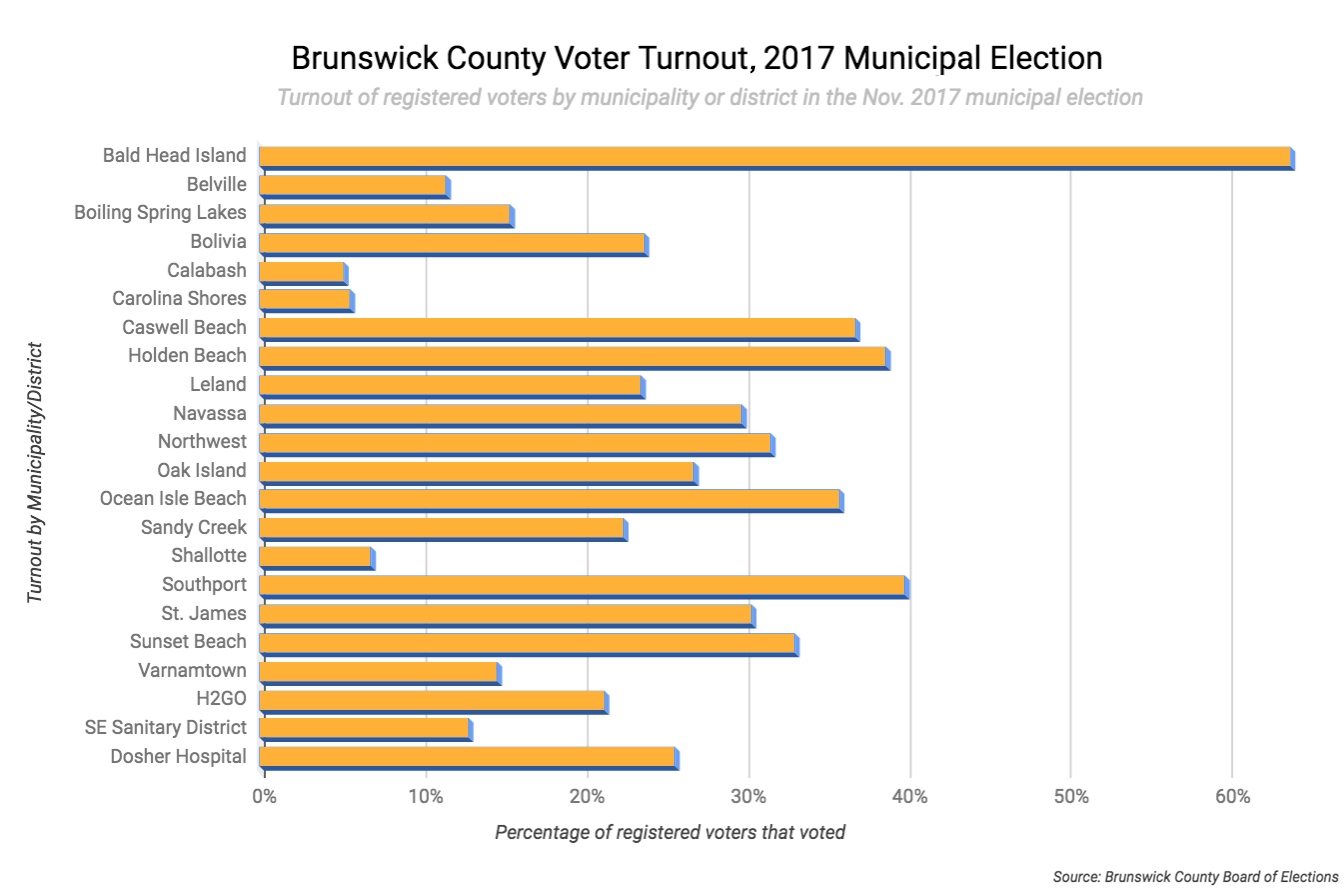 Related: With 73 officials elected last municipal cycle, it's always a crowded field in Brunswick County
Cleaning up the rolls
County election boards spend most of the non-election season working to keep registered voters up-to-date.
"That is probably the one thing when people say, 'What do you do when there's not an election?'" Knotts said she gets asked. "Maintaining the voter registration rolls is it." 
Board of Election staff members obtain monthly state reports, lists of deceased individuals from the county register of deeds or Department of Health and Human Services, and information on convicted felons. The voter registration system automatically removes duplicaltely-registered voters, according to Knotts.
When someone registers to vote, the board waits for the voter to miss two federal general election cycles before mailing information to the individual to ensure it gets received (if the voter votes, this process doesn't kick in). The mail is not certified, Knotts said, but the post office will return it to the election office if it isn't delivered to a valid address. At that point, Knott's office attempts to make contact with the individual through other available addresses before marking them inactive.
If someone registers with a certain address and votes without being challenged, they won't end up on the board's radar, Knotts confirmed. "We don't look into when they move here or if they really live here," she said. "They sign that form attesting, so they say it's so, so it's so."
Voter residency can be challenged by other registered voters (in or outside the district in question) by submitting a form to the State Board of Elections up to 25 days prior to election day. This year, that deadline lands on Friday, October 11.
---
Send tips and comments to Johanna Ferebee at johanna@localvoicemedia.com