WILMINGTON — Governor Roy Cooper's veto of the so-called "Agricultural and Forestry Nuisance Remedy Bill" was overturned in the House on Wednesday.
Cooper had vetoed the bill on May 6, saying: "It (the bill) improperly gave special protection to one industry, and opened the door to weaken actions in other nuisance matters."
The legislation, designated House Bill 467, was filed in the House by primary sponsors representatives Jimmy Dixon of Warsaw, Ted Davis Jr. of Wilmington, David Lewis of Dunn and majority leader John Bell IV, would limit the compensation a person could seek in private nuisance lawsuits against agricultural and forestry operations.
According to the bill, this is "an act to clarify the remedies available in private nuisance actions against agricultural and forestry operations."
Kemp Burdette, Cape Fear River Keeper, echoed Cooper's statement in an earlier interview, saying, "They're (legislators and companies) trying to take away the rights of the people."
According to Burdette, the main goal of the bill is to limit the compensation a homeowner could seek in damages in if someone is harmed by something like a hog or poultry farm.
"The majority of people affected by these operations are poor people of color who don't have a ton of voice in the government, and don't have the clout or money to do anything about it," Burdette said. "All they can do is file these nuisance lawsuits to make up for the loss of quality of life."
A 2014 study by the University of North Carolina found that the types of farms in question "house animals in confinement, store their feces and urine in open pits, and apply the waste to surrounding fields.
"Air pollutants from the routine operation of confinement houses, cesspools, and waste sprayers affect nearby neighborhoods where they cause disruption of activities of daily living, stress, anxiety, mucous membrane irritation, respiratory conditions, reduced lung function, and acute blood pressure elevation," the study further states. "Prior studies showed that this industry disproportionately impacts people of color in N.C., mostly African Americans."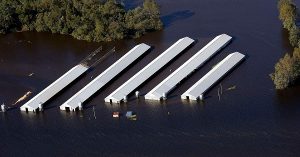 In addition to the harm these farms reportedly cause their neighbors, many of them are also located in major floodplains, Burdette said.
In the last 20 years, North Carolina has seen two 500 year flood events, from Hurricane Matthew in 2016, and Floyd in 1999.
According to Burdette, the waste sprayed over the fields from these facilities washes back into the river, polluting drinking water and harming the local ecology.
North Carolina Pork Council CEO Andy Curliss told Port City Daily in an earlier interview that the livestock industry is not to blame for river pollution. Rather, he said wastewater plants are to blame.
"The livestock industry does not imperil the Cape Fear River, that's what DEQ says, that's just fact," Curliss said. "The real problem with the rivers, as it relates to these events, is municipal wastewater plants. They're at the lowest points, they're set up to discharge into the waters … livestock operations are not allowed to discharge."
Only time will tell how this legislation plays out. Although the House voted 74-40 in favor of overturning the veto of HB 467, the bill still must pass in Senate before it becomes law.
Port City Daily has reached out to Wilmington Rep. Ted Davis Jr., one of HB 467's primary sponsors, in regard to this bill. Calls have not been returned at this time.
To view the bill in full, visit ncleg.net.