WILMINGTON – With the general assembly entering its long session in Raleigh, the City of Wilmington took the opportunity to gather state representatives and lay out its wish list for the coming legislative year.
Many of the issues are longstanding, but several specific requests came out the meeting. City Council addressed film, the opioid crisis, education funding and the upcoming budget. These requests will, in large part, shape the relationship between Wilmington and Raleigh during the coming year.
1. Film incentives
Mayor Bill Saffo personally made the case, not for the first time, for a return to the "tax incentive" program. Saffo said the grant program "seems to have stopped the bleeding" of talent and productions from the area. He thanked representatives for their work on behalf of the film industry, but asked legislators to go further.
While Representative Ted Davis made a point to clarify that the old program was not a tax rebate, but a reimbursement, he agreed that the current system is not ideal. Davis said, "as you know, our former governor was not supportive of the film industry," adding that it remained to be seen how Governor Roy Cooper would deal with the issue.
Davis and State Senator Michael Lee both said they hoped to work on a new grant system that would offer additional funding and, more importantly, set up recurring grants for long-term productions. Lee said such a deal would allow the state commerce department to make five-year agreements with production companies.
Lee said, "nothing is certain in politics, but it's more certain if it's recurring."
2. Opiate Pilot Program
Wilmington's mental health and drug rehabilitation community asked state representatives to consider a new pilot program to get overdose and drug abuse patients into detox and care quickly.
The program is based on one launched in Colerain Township, in Hamilton County, Ohio, after opiate deaths spiked there. Representatives from Colerain Township visited Wilmington recently and helped tailor a program for the New Hanover County area, according to Olivia Herndon, director of Public Health and Mental Health for the South East Area Health Education Center.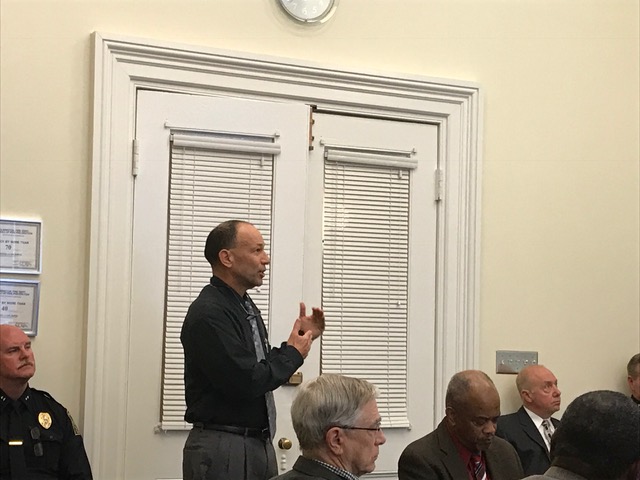 The joint presentation by Kenny House, clinical director of the Coastal Horizons Center, and Herndon, said the program's goal would be to get drug users into a "face to face" scenario with healthcare providers within 72 hours of an overdose reversal or a hospital. Herndon and House's presentation asked the state for a $250,000 investment. House said the program could save the area between $1.75 and $4.5 million a year, as well as the lives of dozens annually.
3. State-Local Tax Balance
City Councilman Neil Anderson addressed Rep. Davis and Sen. Lee on recent changes in North Carolina taxes. On the first of the year, the corporate rate dropped from 4 percent to 3 percent, and the personal rate dropped from 5.75 percent to just shy of 5.5percent. Anderson said the city and county have been left to make up some funding gaps caused by these cuts.
Anderson said, "people get excited when they hear you talk about tax cuts, but then we have to carry that locally, it's hard to explain to your citizens why their local taxes are going up."
He added, addressing Lee, "you live here, we're going to be sending you that tax bill you've created."
4. Education spending
Education spending has been a contentious topic in the last several years. In terms of per-student spending, North Carolina was 43rd in the nation in 2015 according to the National Education Association, despite increases in funding. With both potential federal funding cuts and an increase in charter schools under Education Secretary Betsy DeVos on the horizon, the topic of state funding for schools loomed large.
Lee said the Senate would be cautious about supporting rural areas "on the backs" of more urban areas, but that he saw no other way to improve the quality of rural schools.
"You can't raise taxes high enough in some of these areas to make a difference for these kids," Lee said.
Representative Deb Butler pointed out that North Carolina was at the "bottom of the barrel" in terms of spending.
"Our budget reflects our values," Butler said. "We don't fund education like we should."
Rep. Davis responded by telling Butler that she was "absolutely incorrect" about her figures. Davis referred to overall spending, while Butler was referring to per-student spending. Davis began telling Butler "when you get to Raleigh and see how things work," and which point she responded, "Ted, don't patronize me."
Councilman Anderson then attempted to steer the conversation back to the agenda. Butler said later that she saw an "ugly fight coming," over state education funding.
5. State take over of Wilmington Police Department crime lab
Wilmington Police Department Chief Ralph Evangelous made a personal plea to state officials to take over the operation of the city's crime lab. Evangelous said the lab, which has the same certifications and equipment as state police labs, is currently performing blood tests and other lab work for 40 agencies. The city's budget does not cover the lab, and grant support for the lab is "drying up," according to Evangelous, who told local members of the general assembly, "I'm not talking about a sale. We'll give it to you."
Evangelous suggested the State Police take over the lab, assuming its budgetary responsibilities and continuing its operation. The proposed state lab would then serve Wilmington PD and other regional agencies.