Long-term improvements underway along downtown's Riverwalk are creating some temporary setbacks for surrounding small business owners.
Entrepreneurs along the 100 block of Market Street say the City of Wilmington's multimillion dollar overhaul of Water Street, which includes infrastructure repairs, Riverfront Park renovations and a re-envisioned streetscape, has proved a bit headache-inducing, and not just from the noise of heavy machinery.
While a portion of Market between Front and Water remains open to cars, the last half has become pedestrian-only until work wraps up in November. That—along with the barrage of signage and barricades—has turned many away from strolling by and stopping in.
"I can really see a difference in the foot traffic," Kristyn Prentice, owner of Island Passage, noted.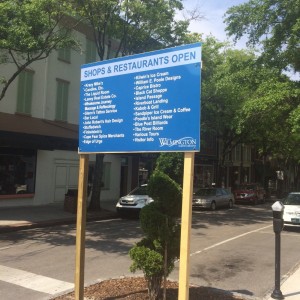 Gary Coleman agreed. Although his Cape Fear Spice Merchants shop—wedged between Finkelstein's, whose entrance is on Front, and the ever-popular Kilwin's Chocolates and Ice Cream—has fared better than stores farther down the street, Coleman, too, has seen a dip in pedestrians since this latest phase of the project began last month. The first phase, completed just before this year's Azalea Festival, shut down Princess at Water for several months but there are no businesses located in that immediate area.
"We have a pretty strong locally supported customer base and they seem to still be able to get to us," he said. "But the ones that are located in the walk-in traffic only area are seeing one or two people an hour, and that's a major thing."
And when one business is hurting, they all feel the sting, Coleman added.
"We all feed off each other. You know, someone may come down to pick up a Freaker at Edge of Urge and see, oh, there's a spice shop or oh, there's an ice cream shop," he said.
Coleman and Finkelstein's owner Bobby Hamelburg have successfully pitched to their neighbors the idea of a cooperative media campaign to remind residents and visitors that they are, indeed, still open during construction.
And they have also reached out to economic development driver Wilmington Downtown, Inc. (WDI) to help come up with strategies to inform and engage shoppers. The city has installed signage listing all businesses in that block and along Water Street, but the under-construction vibe, Wolverton said, has deterred entry.
"It's been pretty traumatic for a number of businesses in that area," WDI President and CEO Ed Wolverton acknowledged.
To combat the often confusing assortment of signs—a "Road Closed Ahead" towers atop "On-street Parking Available," for example—WDI is planning to place more straightforward banners along the fencing in the coming weeks, along with an artist rendering to give a visual of the new-and-improved riverfront to come.
And Wolverton wants to place planter boxes to mask some of the more unsightly work—Prentice said her store received a couple this week—as well as improve exterior lighting around the Visitors Center on Water.
WDI is also working with the Arts Council of Wilmington and New Hanover County to stage three art installations in the area, and Wolverton hopes to hold some events like concerts and outdoor fitness classes near the Visitors Center to bring more people to the area.
Until then, business owners like Prentice can only remain optimistic shoppers will find their way inside.
"It's is a really unfortunate time of year to do this, as so many people walk along the riverfront," she said. "Hopefully they will see the detour signs and still walk down Market Street."
Hilary Snow is a reporter at Port City Daily. Reach her at hilary.s@portcitydaily.com.