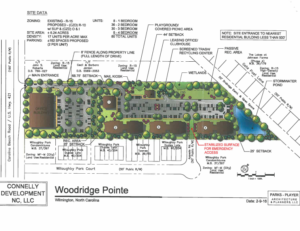 Two 80-unit apartment complexes that plan to provide affordable workforce housing have been approved on Carolina Beach Road by New Hanover County Commissioners.
The first set of apartments, called Woodridge Pointe, will be built on four parcels of land totaling 5.8 acres located at 5301 Carolina Beach Road. Cindee Wolf of Design Solutions, as the representative of property owners Clarence and Peggy Henry and Michael and Aleta Moser, requested the land be rezoned from R-15 Residential to the denser (CUD) R-10 Conditional Use Residential District to construct the four-building complex.
According to New Hanover County Current Planner Brad Schuler, though the developer is asking for a higher density zone (R-15 requires a minimum lot size of 15,000 square feet per single-family unit, R-10 requires 10,000 square feet), the 80 units equate to 13.8 units per acre, which is lower than the maximum 17 units per acre allowed under the requested zone. He also noted the number of multi-family developments in the area, saying the rezoning request and proposed development would fit in with the land use plan as well as the strategies put forth by the county for development in that area.
The developer's plan to apply for low income housing tax credit also aligns with a goal of both New Hanover County and the City of Wilmington to create more affordable housing options for residents.
"This is first and foremost a multi-family development proposal, but we're very excited that it also is a tax credit funding proposal that they applied for back in January. We're going through the motions of this, and this is the next step," said Wolf. "That translates into affordable housing, which is certainly one of the strategies that the county, city and all of us know is a need, and it is a great opportunity for it."
Wolf said she realized there are concerns people have when they hear the term "affordable housing."
"I will say that it is very highly regulated, and so just because these are affordable apartments doesn't mean that just everybody can … share apartments and have multiple people," Wolf said, noting that such developments are highly regulated due to the tax credits attached to them. "Yes, you can have multiple people in them, but most generally they are families, because if there are multiple people in any of the apartments, then all of their incomes have to be added up."
Stephen Brock, the applicant for the second set of apartments, which will also be applying for the low income housing tax credit, clarified it further.
"It's not Section 8 [Housing Choice Voucher Program], there's no [United States Department of Housing and Urban Development] involvement, no [Wilmington] Housing Authority [involvement] or public housing, and it is not a rent subsidy program," Brock said, referring to government programs and entities that provide assistance to the elderly, low-income families and those with disabilities. "The point is to create a positive outcome – helping [provide] safe communities that may not otherwise be available to the tenants."
Brock, whose Aaronfield Cove development will also have 80 units in four buildings, said the credits help finance apartments that will be marketed to residents earning up to 60 percent of the area's median income. Most estimates place the median income of New Hanover County around $50,000.
"This is the ultimate workforce housing product," said Brock, noting that applicants are screened for their credit and criminal histories in addition to income. "Overwhelmingly, the tenants that come to these apartments are looking for safe and clean housing for their families. That's it. That's what this program is really all about."
Brock requested a 6.9 acre property located 4713 Carolina Beach Road, which is currently owned by the heirs of Lawrence Lawson, be rezoned from (CUD) B-1 Conditional Business District and R-15 Residential to (CUD) R-10 Conditional Use Residential District in order to build the complex.
According to Schuler, the (CUD) B-1 zone was authorized in 2008 as part of the Belle Meade development located on adjacent property. Originally, a movie theater, retail, restaurant and office spaces were planned, but now only apartments are being built there. The subject property transitions into Wilmington city limits, and the Belle Meade Apartments are on incorporated land. Schuler said most properties on unincorporated land in that area are zoned residential, so the move back to residential only would fit with the land use plan.
Aaronfield Cove, which Brock's venture company would develop in partnership with Buckeye Community Hope Foundation, would be less than a mile north on Carolina Beach Road from Wolf's Woodridge Pointe. Both are on the east side of the major thoroughfare.
"I guess my question now is, are we going into apartment overload on Carolina Beach Road?" asked Board of Commissioners Vice Chair Jonathan Barfield. "You've got a big, massive set of apartments here, now you're talking about going to the other side of the road, basically, and putting another set of massive apartments right there, but only to go a few clicks down the road by Codington Elementary School, and you see another big, massive wall of apartments going there. So how are we designing that road?"
Barfield said he preferred developments that were set back from the road and not "in your face."
"I think aesthetic appeal is being lost here," Barfield said. "Part of what we do is direct how our community is going to look. So I guess my question for planning staff is, what is our vision for Carolina Beach Road? How do we want it to look?"
Schuler said that level of detail is not reached on the land use plan, the main document used by county planners to determine whether certain developments meet the guidelines set for the area. Representatives for the developers, however, assured Barfield that they had addressed his concerns.
"You can see the buildings are set back, the buildings will be stepped so they're aesthetically pleasing, and you'll also see a dedicated traffic stem where there are no parking spaces so traffic can easily ingress and egress," said Charles Baldwin, a lawyer representing the applicant. "Aesthetics are certainly part of this project."
No traffic impact analysis studies were done for either project as they did not meet the threshold of generating 100 new peak hour trips. However, a condition of approval for the Woodbridge Pointe complex is that its trip generator be combined with that of an office complex on adjacent property that was also newly approved by county commissioners to see if analysis can be done on the traffic generated by the two developments as a whole. For the Aaronfield Cove complex, the North Carolina Department of Transportation is requiring the existing right turn lane on Carolina Beach Road that leads to Matteo Drive, one block north of the proposed site, be extended to service the new development.
Barfield made the motions to approve both rezoning requests as well as both special use permits to build the two affordable housing apartment complexes. All four motions were unanimously approved by 5 – 0 votes.