SOUTHEASTERN N.C. — Li'l Friday is a weekly roundup of events to keep your weekend busy with fun — in art, music, theater, comedy, pop-up markets and more.
All events featured were scheduled as of Thursday; however, it's wise to check in ahead of attending any one. Inclement weather, changes in schedules and unforeseen circumstances may shift for organizers at the last minute.
Thursday, Aug. 18
Back to School Bash
Halyburton Park, 4099 S. 17th St. • Free
To kick off the official back-to-school season for the 2022-2023 year, a free event is taking place at 4 p.m. today at Halyburton Park. There will be games, refreshments and meet-and-greets with school board candidates on the ballot this upcoming election year.
The event is hosted by New Hanover County Association of Educators, which is part of the National Education Association union for public school workers. The bash is being held for members to connect with each other, including those working in different kitchens, bus lots, classrooms, and schools all across the district. The goal is to have an open discussion about student and staff needs this upcoming year.
There will be Trolly Stop hot dogs available and raffle prizes; it's open to the public. The event takes place from 4 p.m. to 6 p.m.
OTHER THURSDAY HAPPENINGS
Art in Bloom Grand Opening — A downtown art gallery packed up its former Princess Street space and moved to Mayfaire over the summer. It has reopened at 6866 Main St. and is officially unveiling its new digs from 5 p.m. to 8 p.m. A new exhibit, "Making A Move: New Art Featuring Art in Bloom Gallery Artists," showcases original works — fine art paintings, functional and decorative ceramics, jewelry, fiber art, blown glass, photography and more. Artists include Brad Carter, Debra Bucci, Karen Paden Crouch, Elizabeth Darrow and others; refreshments will be served and live music will be performed.
Vinyl Night — Satellite (120 Greenfield St.) is hosting Black Wax Mobile Records to spin a curated mix of music all from vinyl records. It's free and starts at 6 p.m.
Friday, Aug. 19
"Suicide for Beginners"
Jengo's Playhouse, 815 Princess St. • Tickets: $10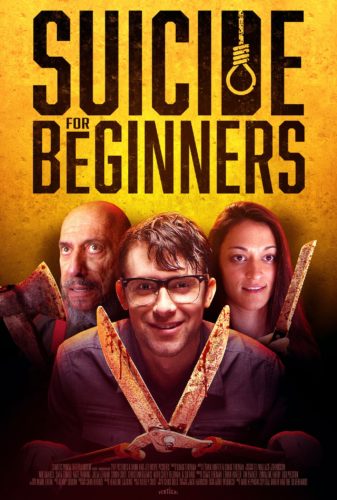 A locally made film by writers Craig Thieman and Ethan Hunter is getting its local debut at Jengo's Playhouse on Friday evening, 7:30 p.m.
The dark comedy stars local actor Nate Panning, along with Wil Daniels and Sara Tomko; it's also the last film horror actor Sid Haig starred in before his death in 2019.
The story is about a man who wants to murder "the unrequited love of his life" and somehow takes on the path to becoming a serial killer.
Tickets to the screening are $10 and can be purchased here; refreshments and cocktails from Jengo's bar will be for sale. 
OTHER FRIDAY HAPPENINGS
Searching for Chemistry — Renato Abbate and Anne McCombie have an art exhibit at ACES Gallery, overseen by the Arts Council of Wilmington and New Hanover County (221 N. Front St.). The art show will feature handmade ceramics and sculptures by Abbate and McCombie. Brazilian-inspired refreshments will be served and music will be performed by Raphael Name, who specializes in Bossa Nova.
Abbey Road Live! — Port City Marina's free tribute shows at Pier 33 will celebrate the music of the Fab Four on Friday night with Abbey Road Live! Tim Conley (guitar, vocals), Dave Domizi (bass, vocals), Andrew Hanmer (drums, vocals) and Michael Wegner (keyboards, guitar, clarinet, vocals) perform the Beatles and more "mature and complex" sounds. They are known for performing albums "Abbey Road," "Magical Mystery Tour," "Rubber Soul," "Revolver" and "Sgt. Pepper's Lonely Hearts Club Band." The concert is free and starts at 7 p.m.
The Mountain Goats — The California-turned-Durham-based indie rockers are performing at Brooklyn Arts Center at 7:30 p.m. Made up of John Darnielle, Peter Hughes, Matt Douglas and Jon Wurster, the quartet is touring in support of a new rock album, "Bleed Out" (Merge Records). It's record number 20 in the band's three-decade career, which toured through Wilmington's former Soapbox in its heyday. Tickets are $40, and MJ Lenderman will open the show.
Under the Sea Dance — An end of summer dance hosted by the New Hanover County Special Olympics will take place at 6 p.m. at Halyburton Park (4099 S. 17th St.). The event welcomes all abilities to dance, enjoy pizza, drinks and music. Pre-registration is required by calling 910-341-7253 or emailing brooke.deamaral@wilmingtonnc.gov.
Phantom Playboys — The Dubliner Irish Pub is hosting the five-piece Rockabilly swingers known to bring the party every time they take the stage. The show is free and starts at 7 p.m.
Saturday, Aug. 20
Justin Lacy Album Release Party
Bourgie Nights, 123 Princess St. • Tickets: $10-$15
One of Wilmington's most creative artists — who can go from a boisterous swell of carnival-esque and rock sounds to the quietude of gentle lullabies — Justin Lacy will release his third album, "Carousel."
The alternative folk-rock songwriter found inspiration on the latest album from '70s folk and his Southern surroundings. "Carousel" presents orchestral arrangements that are backed with the "swampy muck of bendy banjos, drunk accordions, and wallowing pedal steel guitars," Lacy described in a press release.
Aside from his adept guitar playing, Lacy features on "Carousel" layers of enriching sound with mandolins, violins, clarinets, cellos, trumpet and handbells played by a cadre of musicians: David Canning, Bryan Daste, Christa Faison, Hillary Flowers, Billy Heathen, Thaddaeus Freidline, Carlos Garcia, Jon Hill, Annie Jewell, Aaron Lane, Kari Loeber, Nick Loeber, and Laura York. Vocalists Julia Rothenberger and Sarah Royal also are featured.
(Among plenty of standout tracks is the avant garde "False Hemlock," which very much sounds like Lacy's answer to Tom Waits' "What's He Building.")
Lacy will be joined by local songstress Julia Rothenberger's full-band Lady Die, as well as Charlotte pop band Oceanic and New Mexico cello-playing songwriter Circle Verse.
"Carousel" is available on bandcamp.
OTHER SATURDAY HAPPENINGS
Port City Jerry Day — The United Way's fourth annual Port City Jerry Day will be hosted at Greenfield Lake Amphitheater at 6 p.m. welcoming music by The Garcia Project and The Possums, in celebration of the Grateful Dead and its lead man Jerry Garcia. The event welcomes local arts vendors and will have beer and concessions for sale. Tickets are $7, with all proceeds benefiting United Way.
Beatles Concert on the Square — Riverlights is also hosting a Beatles tribute band, Beatlesque, outdoor on its Live Oak Commons, 5 p.m. to 8 p.m. Lawn chairs and blankets are welcome; the concert is free. Area shops will be open and the Groove Market will take place, featuring over 30 vendors from 11 a.m. to 3 p.m. A coffee and ice cream truck will be parked on site at 4311 River Road.
Kids State of the Art — The Cameron Art Museum had such a successful 2022 State of the Art/Art of the State exhibit — welcoming artists 18 and over to bring in one piece of artwork to hang in the museum's community exhibit — that it has extended its exhibit until Oct. 9. It is also launching a youth-friendly version, Kids State of the Art. It culled over 300 works earlier in the month and will have them on display through Sept. 25. The exhibit opens Saturday as part of free community day, wherein there is no admission charge and a lineup of live entertainment will take place all day, starting at 10 a.m. with Music Bird Studios, and performances continuing through 4 p.m. from Dance Theatre of Dreams, Carolina Beach Elementary Ukulele Club, School of Rock shows and more.
Support the Port Fundraiser Comedy Show — Taking place at Dead Crow Comedy Room (511 N. 3rd St.), a fundraiser for Support the Port will get underway throughout the day. There will be a family-friendly comedy show, Ready, Set, GO, at 1 p.m. and then at 3 p.m. improv from Daredevil Improv Comedy Troupe. There will also be music in the beer garden. Tickets are $15, with proceeds benefiting Support the Port, dedicated to increase self-ability and foster a nonviolent environment in underserved areas of Wilmington.
Sunday, Aug. 21
"Newsies"
Thalian Hall, 310 Chestnut St. • Tickets: $35 and up
Opera House Theatre Company is presenting "Newsies" — a Wilmington theatrical premiere based off the 1992 hit movie.
With music by Alan Menken, lyrics by Jack Feldman, and book by Harvey Fierstein, "Newsies" is ripped from the pages of Bob Tzudiker and Noni White's screenplay, set in the summer of 1899. Orphaned and homeless newsboys who post up in a lodging house in Lower Manhattan, protest against the rising cost of papers and unionize a strike.
The show contains hit songs including "Seize the Day," "Santa Fe," "Carrying the Banner" and "The World Will Know" and is led by musical director Brian Whitted. It stars local actors including Paul Teal, Jakob Gruntfest, and Emilia Torella, and is directed by Shane Fernand with choreography by Carson Hobbs.
The show will run all weekend at Thalian Hall; times and dates are here.
OTHER SUNDAY HAPPENINGS
Mary Chapin Carpenter — Country songstress and five-time Grammy Award winner Mary Chapin Carpenter is heading to Greenfield Lake Amphitheater on Sunday. Known for hits like "I Feel Lucky" and "Passionate Kisses" (a Lucinda Williams original), Carpenter is touring in support of 2020's release, "The Dirt and the Stars," though her discography is 19 deep. Tickets start at $49.
---
Tips or comments? Email info@localdailymedia.com.
Want to read more from PCD? Subscribe now and then sign up for our morning newsletter, Wilmington Wire, and get the headlines delivered to your inbox every morning.