THURSDAY, AUGUST 26
Final three days of 'Continuum of Change'
216 N. Front St. • Free
Initiative 1897 in partnership with the Black on Black Project is hosting an art exhibit showcasing nine portraits of Black Wilmingtonians finding success and making impacts in the community pre-1898 — ahead of the Wilmington Insurrection. The display, "Continuum of Change," will close Saturday.
Portraits were commissioned by eight local businesses — Monteith Construction, Sewell's Camp Schreiber Foundation, Live Oak Bank, nCino, LS3P Associates Ltd., Novant Health, Atlantic Packaging, and Zimmer Development Co. — which paid Black artists to portray: financier Thomas C. Miller, politician and journalist John C. Dancy, physician Dr. Lucy Hughes Brown, journalist and editor Alexander Manly, physician Dr. James Francis Shober, U.S. Senator and abolitionist Abraham Galloway, educator Mary Washington Howe, slave and Civil War veteran William B. Gould, and lawyer and judge Armond Wendell Scott.
The art challenges viewers to consider what Wilmington looked like before 1898 and how these leaders could have continued to shape the city had the vicious massacre never happened. The free exhibit will open Thursday, 3 p.m. to 7 p.m., and Friday, 3 p.m. to 7 p.m., before closing Saturday, 11 a.m. to 3 p.m.
UNCW Men's Soccer — The Seahawk Men's Soccer team is kicking off against the Lafayette Leopards Thursday at 2 p.m. The teams will match off at the soccer field on UNCW's campus near Trask Coliseum. Admission $3-$8
Benny Hill Trio — The local saxophone player will take over the Palate stage on Thursday night at 7 p.m. to play a free jazz show.
FRIDAY, AUGUST 27
Scotty McCreery
Greenfield Lake Amphitheater, 1941 Amphitheater Dr. • Tickets: $40
Garner, N.C.'s very own country kid — who won the 10th season of "American Idol" in 2011 — will head to Greenfield Lake Amphitheater on Friday evening. The 27-year-old Scotty McCreery is currently touring in support of his 2021 album, "Same Truck." Still, his show will likely cover a wide range of his work across five released albums over the last 10 years.
McCreery has scored numerous country-music awards throughout his decade-long career, from the American Country Awards to CMT Music Awards to the Broadcast Music Inc. Film and TV Awards. He also holds the highest civilian honor in North Carolina, the Order of the Long Leaf Pine.
The Wilmington show was originally scheduled for 2020 but had to be postponed due to Covid-19 requirements. Doors open at 5:30 p.m. and tickets are still available.
Sci-Fi at the Mansion — The Bellamy Mansion is screening science-fiction movies on its lawn through next month. The showing of 1962's "The Brain That Wouldn't Die" takes place Friday evening at 8 p.m. The screenings can be enjoyed with a suggested $5 donation and concessions are sold onsite; lawn chairs and blankets welcome.
Fresh Art Exhibited to Exhilarate — Local female artists are banding together for an art show on display through Oct. 5. Brooke Eagle, Kelsey Howard, Daisy Faith, Kristen Martinez, Maya Murano and Elizabeth Sheats will showcase their latest paintings at Martinez's studio located at 910 Castle St. Artists will be available to chat on Friday, 6 p.m. – 9 p.m.
SATURDAY, AUGUST 28
Jerusalema
Martin Luther King Center, 401 S. 8th St. • Free
Heard of the latest viral line-dance craze, Jerusalema?
It started in 2019 in South Africa when a DJ and producer, Master KG, paired up with singer Nomcebo to record a song in his Johannesburg studio. The song gained traction for its upbeat nature — house music combined with religious lyrics — and even earned its own dance challenge during 2020's Covid-19 isolation and shutdowns. It went viral as videos have been produced worldwide, featuring organizations, businesses, politicians, and communities alike stepping together in unison.
On Saturday, a local video will be made at the Martin Luther King Center to add Wilmington's moves to the #JerusalemaDanceChallenge. Everyone is welcome to join, though registration is required.
Sponsored by Community Conversations — which strives for equity and excellence in education — the event takes place from 6:30 p.m. to 8:30 p.m. The evening will conclude with a viewing of Martin Luther King's "I Have a Dream Speech."
Frankie's Outdoor Market — The Northside Food Cooperative will present fresh produce and meats from local farmers and vendors, as well as arts and craft makers at 1019 Princess Street every Saturday from 9 a.m. – 1 p.m. EBT is accepted to purchase food items; it's free to attend.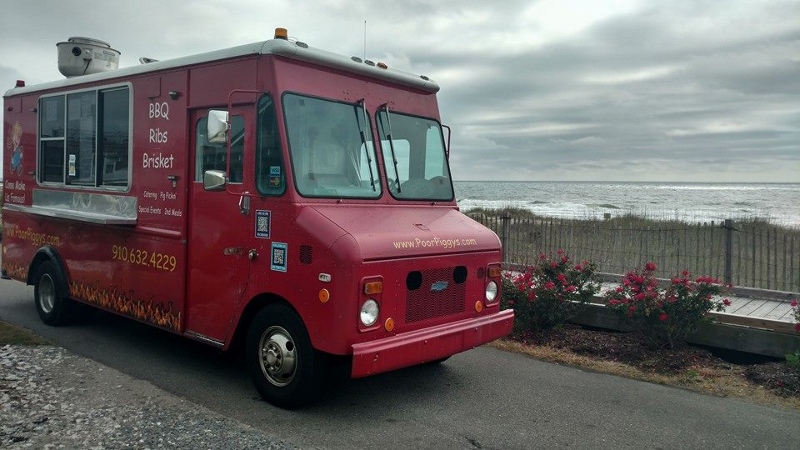 SUNDAY, AUGUST 29
Flock of Food Trucks
Carolina Beach Lake Park, 400 S Lake Park Blvd. • Admission: $7
A fundraiser for Carolina Beach Lake Park, Flock of Food Trucks — presented by the Island Women — will feature local eats from trucks like Nowadays and Poor Piggy's (all food individually priced). The event also includes live music from Port City Shakedown and Bacon Grease, a 50/50 raffle, corn hole, beer and wine, and kids' activities.
The event takes place from noon – 5 p.m. and costs $7; tickets can be purchased here.
Laura McLean's Songwriter Showcase — Sunday will celebrate local music at Live at Ted's on Surry Street, downtown under the Cape Fear Memorial Bridge. For $5, audiences will be treated to the sounds from Mike Adams, Annie McLelland, Jim Ashley, and Laura McLean. The concerts take place from 4 p.m. – 6 p.m.; doors open at 3 p.m.
Malama O Ke Kai — A fundraiser for the NC Coastal Federation will take place at King Neptune on Wrightsville Beach Sunday at 6 p.m. Hosted by Outrigger Canoe Club, there will be music, food, drinks and an "ocean-inspired silent auction." It's free to attend, though all proceeds from the auction will go toward the federation, which focuses on protecting and restoring the health of beaches, sea and marine life.
Brews and Babes Drag Brunch — On Sunday at Flytrap Brewing, a drag show ($10) will take place just in time for brunch from Collective Law — which specializes in charcuterie boards. The boards will go for $15 and a mimosa bar ($7.50) will be set up inside Flytrap. Doors at 11 a.m., the show kicks off at noon and lasts through 2 p.m. with one intermission.
---
Have events for us to consider for Li'l Friday? Email info@portcitydaily.com
Subscribe now and then sign up for our newsletter, Wilmington Wire, to get the headlines delivered to your inbox every morning.
Comments