INDIANAPOLIS – Less than one week after North Carolina Governor Roy Cooper signed a repeal of House Bill 2 —the so-called bathroom bill, the NCAA Board of Governors voted to allow championship games to be returned to the Tar Heel State beginning next season.
Related: Cooper signs HB2 'bathroom bill' repeal after quick passage through House and Senate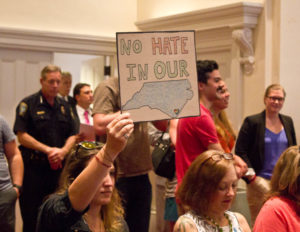 In August of 2016, the NCAA Board of Governors announced the relocation of NCAA championships scheduled in North Carolina during the 2016-17 academic year because of what the NCAA stated was the cumulative impact HB2 had on local communities' "ability to ensure a safe, healthy, discrimination-free atmosphere for all those watching and participating in our events."
As a result, NCAA Men's Basketball Tournament games were taken from Greensboro and placed in nearby Greenville, S.C. The NCAA Women's Soccer Final Four was also moved from North Carolina to San Jose, Calif., while, most recently, the Atlantic Coast Conference (ACC) relocated its Women's Basketball Tournament in March out of state to Conway, S.C.
Last week, elected officials of North Carolina enacted compromise legislation that repealed HB2 and replaced it with a new law. HB142 addressed a number of the concerns that led to the relocation of the NCAA championships, according to a statement released on Tuesday by the NCAA. The statement reads:
The NCAA did not lobby for any specific change in the law. The Board of Governors, however, was hopeful that the state would fully repeal HB2 in order to allow the host communities to ensure a safe, healthy, discrimination-free atmosphere for the championship sites.

While the new law meets the minimal NCAA requirements, the board remains concerned that some may perceive North Carolina's moratorium against affording opportunities for communities to extend basic civil rights as a signal that discriminatory behavior is permitted and acceptable, which is inconsistent with the NCAA Bylaws.

However, we recognize the quality championships hosted by the people of North Carolina in years before HB2. And this new law restores the state to that legal landscape: a landscape similar to other jurisdictions presently hosting NCAA championships.

We have been assured by the state that this new law allows the NCAA to enact its inclusive policies by contract with communities, universities, arenas, hotels, and other service providers that are doing business with us, our students, other participants, and fans. Further, outside of bathroom facilities, the new law allows our campuses to maintain their own policies against discrimination, including protecting LGBTQ rights, and allows cities' existing nondiscrimination ordinances, including LBGTQ protections, to remain effective.

In the end, a majority on the NCAA Board of Governors reluctantly voted to allow consideration of championship bids in North Carolina by our committees that are presently meeting.
The Charlotte Observer's Jim Morrill had reported the state could be in position to lose NCAA games until 2022 if HB2 is not repealed. This was followed by the immediate response by members of North Carolina General Assembly.
NCAA Men's Basketball will return to Charlotte for first and second round tournament games in 2018. The ACC Tournament will also be played in Charlotte in 2019 and Greensboro in 2020.