SOUTHEASTERN N.C. — Lots of movement happens around the Port City when it comes to new openings and closings of restaurants, food trucks, bars and bottle shops, as well as the launch of organizational and nonprofit foodie events and festivals. While Port City Daily already covers the majority of such news, smaller shifts and changes sometimes fly under the radar.
"Small Bites" fills in the gaps of coverage, and lets readers know what to expect when it comes to expansions of existing establishments or menu changes, temporary closures and renovations, added hours or grand openings, pop-up events or other newsworthy tidbits that may get overlooked during the daily grind.
Have something for us to consider? Email info@portcitydaily.com
Halloween dinner
Wilmington's first fine-dining vegan restaurant, The Green House, opened over the summer to much fanfare, expanded into lunch hours last month, and now is preparing to celebrate the season with a haunted dinner, just in time for All Hallow's Eve. "The Ghost of Moe's Past" will have two seatings, 5:30 p.m. and 7:30 p.m., for two nights only, Oct. 29 and 30, and will focus on Mexican cuisine.
RELATED: Read more on the opening of The Green House
"Conjure up the ghost of Moe's is our way to pay respect to the past of the space we are in," Green House owner Anastasia Worrell wrote to Port City Daily.
The Military Cutoff Road location was a Moe's Southwestern Grill before Worrell and her business partner, Laura Tiblier renovated it over the last year.
"Mexican fine dining is a rare thing, a challenge our chefs are thrilled about," Worrell said.
The menu will consist of five courses:
Amuse bouche: black bean and corn salad, avocado and cilantro swipe, spicy pepper foam, and King Trumpet "scallop"
First course: cold, layered salad in a ring mold, with fresh young coconut, mango, roasted red pepper, yellow beets, cucumber, pickled radish and mango puree
Second course: pupusas made with squash blossom, pickled red onion and veggies, in a salsa verde with fried squash blossom and fine julienne fresh radish
Third course: black mole enchiladas, spanish rice with micros, flowers and a spicy skelton chocolate served on top
Fourth course: Lion's Mane "chorizo," creamy potato-stuffed poblano, pepper crusted with spices and pepitas, over roasted pumpkin and pumpkin puree soup, with pickled chilli and micros
Dessert of churros with three dipping sauces
Tickets are $95, and an optional craft cocktail or wine pairing can be added for $35. There also will be tarot card readings. The event is for guests 21 and up only; reservations can be made here.
Acquisition brewing
A switchover is coming to Catawba Brewing on Nov. 1, as Made By the Water LLC (MBTW), which owns Oyster City Brewing Company, will acquire the operations. Founded by Billy, Jetta, and Scott Pyatt in 1999, Catawba has grown over two decades to brewing across five locations (Asheville, Morganton, Charlotte, Charleston, and Wilmington), distributing into five states, and employing 130 people.
MBTW operations expand across the South, from the Gulf of Florida into Alabama. The company stated in a release that the Catawba branding will not be altered by the company acquisition, and will continue making the Catawba and Palmetto craft beers, as well as Twisp Southern Hard Seltzer.
"As we unify, we seek to continue developing on the incredible vision of Catawba and Palmetto Brewing to form a Southeastern craft beer family that is authentically deep in the shallows," Alexi Sekmakas, CEO of Made By The Water, said in the release.
Catawba opened its first Wilmington taproom in February and also launched the brewery's first kitchen. On Nov. 1, the brewpub will begin opening for lunch at 11 a.m. seven days a week. Catawba has released a new menu at its New Centre Drive brewpub — salads, sandwiches, and grain bowls, with vegan and gluten-free options alike.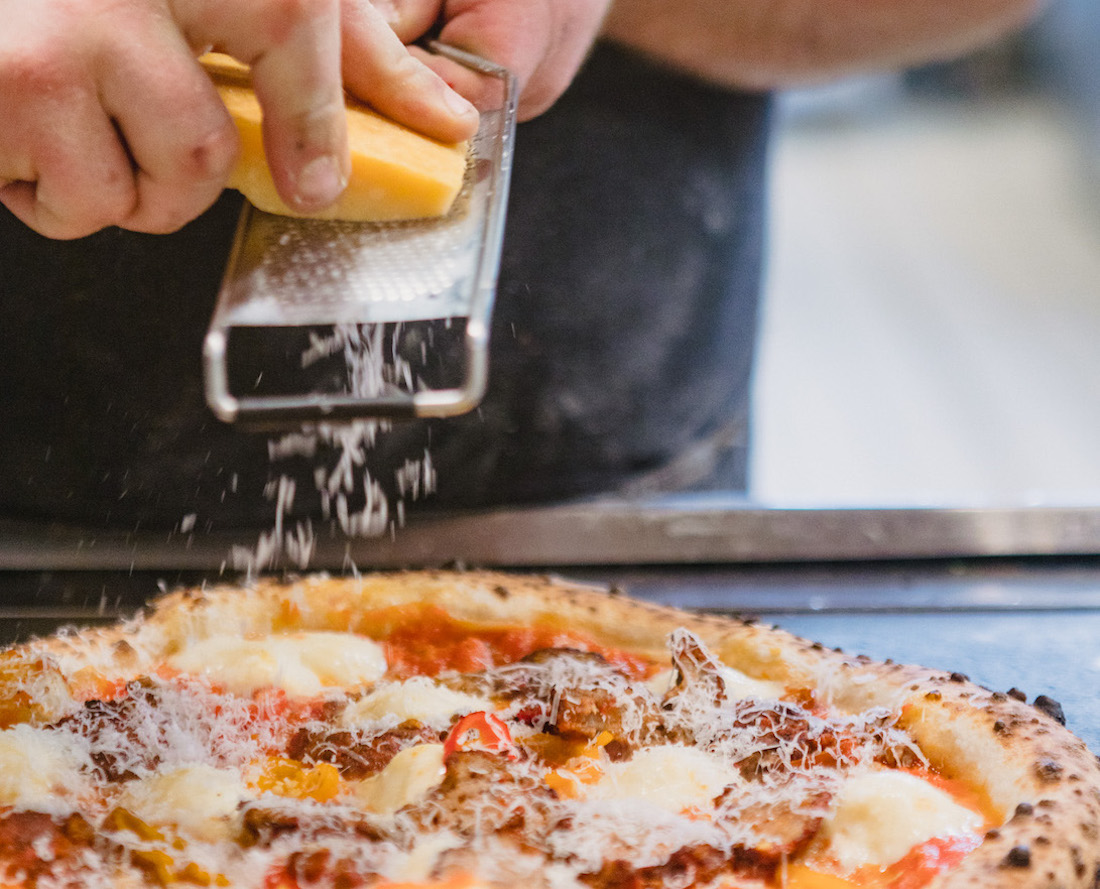 Now open
Fabe's Roasting Co. opened at the corner of South College Road and Wrightsville Avenue, in the former Denny's spot. The Peruvian-style restaurant sells quarter, half and full birds, slow-roasted, with a variety of sauces. It also has a menu of burritos, bowls, salads, and various side items, with daily specials offered Monday through Friday. It's the second North Carolina franchise, which got its start in Fayetteville, and is open daily from 11 a.m. to 9 p.m..
Award-winning chef Vivian Howard and her husband and chef Ben Knight's renowned Benny's Big Time has been open in the South Front District for four years now. Serving Italian cuisine — sometimes with a Southern twist — the restaurant used to be closed on Mondays. That changed as of Oct. 11.
"We offer 10% off for hospitality industry folks every Monday, as well as have some fun specials that will rotate," Knight wrote to Port City Daily.
New hours are 5 p.m. – 9 p.m., Monday through Thursday and Sunday, and 5 p.m. – 10 p.m. on Friday and Saturday.
Coming up
For 20 years now, every fall Lighthouse Beer and Wine hosts The Carousel Center Beer and Wine Festival — one of the most desirable local fests in the region. Its return is slated for next weekend, Oct. 30, at Riverfront Park in downtown Wilmington. Ticket holders will sip through more than 50 breweries — including many of Wilmington's very own. Wineries also will be represented, and festival-goers will be able to enjoy live music from Bluefooted Boobies and Striking Cooper.
Tickets have sold out for VIP and general admission wine entry but are still available for general admission beer, $59 (tasting tokens for wine — or for beer for those who have wine tickets — can still be purchased separately, $5 for five); designated drivers tickets are also available for $29. Festival attendees must provide proof of vaccination or a negative Covid-19 test to enter. Gates are at noon for VIP ticket holders and 1 p.m. for general admission; it's a no re-entry event.
Proceeds from the event help the Carousel Center continue serving on average per year 450 children, ages birth to 19, from the tri-county region. The center aids children working through physical and sexual abuse. Since opening in January 2000, Carousel Center has provided certified medical exams to almost 5,000 kids and helped with almost 10,000 child-trauma therapy sessions.
The night before the beer festival, Lighthouse Beer and Wine will host the Voracious & Rare Beer Festival. Taking place Oct. 29, 6 p.m. – 9 p.m., it features the latest, greatest beers, yet to be discovered by connoisseurs, from 50 select breweries. Appetizers are included in the ticket price ($79) and live music from The Midatlantic will be played. Normally hosted on the USS North Carolina on the Cape Fear River, the 2021 event will take place at downtown's new Riverfront Park.
St. Paul's United Methodist Church men's group in Carolina Beach is hosting a barbecue fundraiser on Oct. 30. They're offering 7-to-9-pound Boston butts for $35 and a half cheek for only $20, each dry-rubbed and soaked overnight. Pick-up will be available at a drive-thru operation, held from 2 p.m. to 3:30 p.m. at the church (300 Harper Ave., Carolina Beach). The church's women's group also will be selling cornbread for $5 each on a first-come first-serve basis.
Pre-orders can be made by calling 910-458-5310 or emailing office@stpaulscb.org. Cash or check is accepted, and proceeds benefit the Community Life Center, which helps Carolina Beach Elementary School's events.
The original article stated the Voracious & Rare Beer Festival will be held at the USS North Carolina, but it's being held at Riverfront Park. Port City Daily regrets the error.
---
Have food news? Email info@portcitydaily.com
PCD offers live briefs for free. Want to read in-depth reporting from our staff? Subscribe now and then sign up for our newsletter, Wilmington Wire, and get the headlines delivered to your inbox every morning.
Comments