WILMINGTON — The owner of an upscale Italian bistro in Washington, D.C.'s historic Dupont Circle neighborhood will open his second location overlooking the Riverwalk in downtown Wilmington.
Floriana will be the third restaurant in the past two years to occupy the historic three-story building at the corner of Market and Water Street. For a quarter-century it was home to Roy's Riverboat Landing until the restaurant closed in February 2018.
RELATED: Delayed by Florence, done in by Dorian: Marsello's closing its doors following hurricane
Around the same time, the building was purchased for nearly $1 million, and in the summer of 2019 a family from Raleigh opened a casual Italian restaurant called Marsello's. But its days on Water Street were short-lived; in September the Christiana family announced it was closing shop.
'It's on the verge'
Floriana owner Jamie Branda brings 14 years of experience operating the restaurant in central Washington, which first opened in 1978. Branda and Chef Daniel Hlusak, who has moved to Wilmington permanently to work at the new restaurant, knew they wanted to open their second location somewhere in the South.
After looking at cities like Birmingham, Huntsville, and Chattanooga, they settled on Wilmington.
"We went downtown and I think we knew within an hour this was the right spot," Branda said.
He said they were drawn to Wilmington's diverse dining and craft beer scene — particularly diverse for a city not nearly as large as Washington — and to a general sense that the city was on the way up.
"It's never just one thing; it's a mixture of things," Branda said. "Part of it is that the city — and you can feel it — it's on the verge. All the construction, streets being closed for film crews. It has a look of a city that's on the way up. And I looked at my chef and said, 'We need to get in here now before it's too late.'"
He was also drawn to the historic charm of the building, which has small wrought-iron balconies overlooking the river. It reminded him of the Washington location, built just after the Civil War by a former military officer.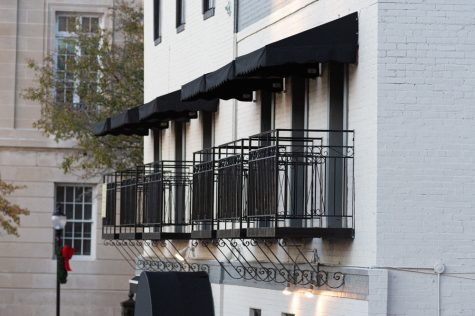 Lasagna, risotto, and lamb gnocchi
The restaurant's most famous dish is the lasagna, according to Branda, made of beef, béchamel, and house-made mozzarella. He said it came from a recipe more than 100 years old, passed down from the family of the original owner, Floriana Nestore.
"We're very obsessed with doing things ourselves. Anything that can be made in-house we make in-house," Branda said.
Other signature plates include the scallop and shrimp risotto and the lamb gnocchi (view the Washington restaurant's brunch, lunch, and dinner menus here).
Branda hopes to open Floriana sometime in late February, and will adjust the hours of the original location — 11 a.m. to 2:30 for lunch and 5 p.m. to 10:30 p.m. (11 p.m. on weekends) for dinner — according to what works best in Wilmington.
Branda and Hlusak were drawn to the growth potential of the historic downtown Wilmington area, according to Terry Espy, president of MoMentum Companies.
"After meeting Jamie and Daniel, I was confident that these guys would be an amazing asset to our downtown market," Espy wrote in a Tuesday afternoon release. "I couldn't imagine anyone more qualified to take this iconic property successfully into the next 20 years … or more."
Espy said she worked with another local real estate broker, Todd Toconis, to make the deal happen. Toconis manages 2 Market Street LLC, according to Wilmington Business Journal, which bought the building in February 2018 for $955,000.
Floriana will be located at 2 Market Street in downtown Wilmington.
---
Mark Darrough can be reached at Mark@Localvoicemedia.com or (970) 413-3815