A rundown of recent accomplishments from the Cape Fear area:
UNCW sports teams make new hires
UNCW's championship-winning men's soccer team is welcoming a second assistant coach, Matt Taphorn to its staff. Taphorn played and worked as Director of Operations for the men's soccer team at Central Arkansas. On the team's new addition, head coach Aidan Heaney said, "Matt will be involved in all aspects of our program, including planning and assisting with training, recruiting, team travel, community service and camps. I look forward to him bringing his energy and strong work ethic to our program and helping our players develop to being successful on and off the field."
The women's basketball team has also completed its staff with the addition of Patti Raduenz as Director of Operations. Raduenz previously as director of Barefoot Basketball Camps for six years, but was also an accomplished softball coach for Elon and UNC. Head coach Karen Barefoot is thrilled to add Raduenz to the team, noting, "She brings a wealth of experience from the college and professional levels. She is a winner and was recently inducted into the Michigan State Athletics Hall of Fame. We are thrilled to have her expertise on our staff."
---
Winter Park 10U baseball team heads to Pony Championship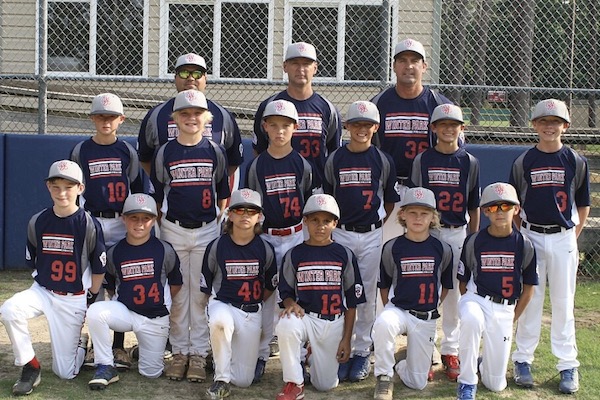 Winter Park Optimist's 10U All Star baseball team headed to Richmond where they represented the Southern Region against teams from Pennsylvania, New York, and Virginia. The team won the Pony Piedmont Section and South Region championships, and will head to the Pony World Series in Louisiana next month if they win their upcoming tournament.
---
Relax! Massage Therapy celebrates 15-year anniversary
Relax! Massage Therapy, 4000 Oleander drive, is celebrating 15 years in business this month. In honor of this milestone, owner Gretchen Rivas is donating 15 percent of her July sales to WARM, an organization that provides urgent home repairs to low-income homeowners in Brunswick, Pender, and New Hanover Counties. Rivas said she wanted to "thank the community that supports us by supporting a community-based organization." Relax! has added additional staff and massage rooms since its founding, and Rivas plans to continue growing the business.
---
Wilmington Fire Department announces new assistant chief
Battalion Chief Rick Pearsall was promoted to Assistant Chief on July 24 after nearly 27 years with the Wilmington Fire Department. In his new position, Pearsall will oversee operations on the "A" shift.
---
Got a Hometown Highlight you'd like to share with us? Let us know at pcd@localvoicemedia.com.