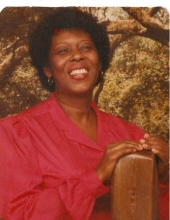 CASTLE HAYNE — Willie McDuffie, age 75, of Castle Hayne, passed away Monday, October 18, 2021.
A celebration of Ms. McDuffie's life will be conducted at 3:00 PM on Monday, October 25, 2021 at Davis Funeral Home, 901 S 5th Ave., Wilmington, NC 28401. A viewing will be held one (1) hour prior to the service.
Her love and memories will remain in the hearts of her children, LaThanja D. Myers and Kimberlyn Myers both of Wilmington and LaShawn Myers of Cummings, GA, 5 grandchildren, 5 great-grandchildren and a host of other relatives and friends. 
To send flowers to the family or plant a tree in memory of Willie McDuffie please visit our Tribute Store.
Comments