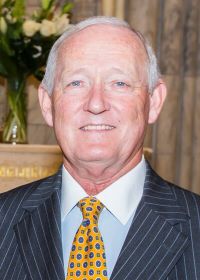 WILMINGTON — Thomas Michael "Tom" Brown, 75, went home to the Lord Friday, July 9, 2021, with his family at his side. Tom was born on May 13, 1946, in Bartlesville, Oklahoma, as one of five children to the late James Brown and Mabel Brown.
Tom was preceded in death by his sister, Barbara Snead, and her husband, William Snead; and brothers, Richard Brown and Robert Brown, and his wife, Clara Brown.
He is survived by his wife of over 50 years, Mary Brown; three children and their families, Amy Staas, and her husband, David Staas, and their three children, Katie, Emma and Megan, Jim Brown, and his wife, Beckye Brown, and their three children, Weslyn, Tyler and Elyse, Joel Brown, and his wife, Angie Brown; and brother, David Brown, and his wife, Linda Brown.
Tom attended the University of Oklahoma, graduating with a degree in accounting and was a lifelong Sooner fan. It was here that he met his wife, Mary, and they were married Oct. 5, 1968, at Our Lady of Perpetual Help in Oklahoma City. Tom and Mary had a love affair that spanned over 52 years and provided an amazing example to their three children and all who met them of unconditional love, commitment, and a life filled with faith and service.
Tom started his CPA career at KPMG in Oklahoma City as an auditor before moving to Dallas in 1977 and becoming a partner specializing in insurance tax. In 1987, Tom transferred to New York City and joined Deloitte, where he held many leadership positions, including the Global & U.S. Insurance Industry Leader. He also served on the board of directors, finance committee and various other committees at Westchester Country Club. In 2008, Tom retired from Deloitte and moved with his wife to Wilmington.
In Wilmington, Tom was extremely active in the community serving his church St. Therese as business manager for five years; acting as a mentor for accounting students at University of North Carolina, Wilmington; and serving on the Board of Coastal Horizons and on the Board and Finance Committee for Landfall Country Club. Most recently, he was a cofounder and board member of Eden Village of Wilmington, a tiny home village for the chronically disabled homeless.
Tom and Mary loved to travel throughout the world from Australia and New Zealand to safaris in Africa to river trips up the Rhone in France to their last trip to the Vatican in Rome. Tom loved life. He was a devout Catholic filled with compassion and generosity. He loved a good debate and was passionate about his views. He loved golf, a great steak, his Sooners, and above all else, he loved his family fiercely. We will miss him tremendously.
There will be a celebration of his life at 10 a.m., Thursday, July 15, at St. Therese Catholic Church on Wrightsville Beach. A reception will follow at Landfall Country Club.
In lieu of flowers or other gifts, we ask that you donate to Eden Village of Wilmington by check to P.O. Box 12868, Wilmington, NC 28405 or on their website (please specify "House in honor of Tom Brown" in comments) or to the Landfall Foundation.
Share online condolences with the family at Andrews Mortuary & Crematory.
Comments