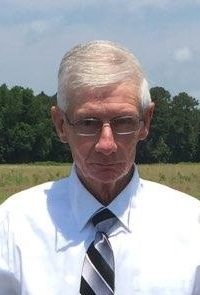 WILMINGTON — James Steven Page passed away Saturday, May 22, 2021, at Lower Cape Fear LifeCare, Wilmington.
He was preceded in death by his parents, William and Lelma Page; and brother, Gary Page.
He is survived by his wife, Libbie Christine; daughters, Stephanie Guy (Donnie), Cindy Herring (Jason) and Regina Page-Escobar; seven grandchildren, Hunter, Kylie, Addison, Guy, Jas Herring and Emily, James, Christopher Page-Escobar; four great-grandchildren, Johnston, Inman, Isla Guy and Harrison McConnell; brother, Randy Page; and many nieces and nephews.
James lived in Wallace with his family his whole life. He retired from Murphy Family Ventures in March 2020.
In lieu of flowers, please consider a donation to Lower Cape Fear LifeCare, 1414 Physicians Drive, Wilmington, NC 28401.
A memorial service will be held at 1 p.m., Saturday, May 29, at The Church of Jesus Christ of Latter-day Saints, 4202 NC 11, Wallace.
Share online condolences with the family at Wilmington Funeral & Cremation.
Comments