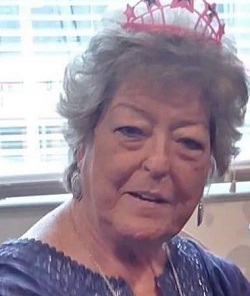 WINNABOW — With heavy hearts, we announce the death of Barbara Jane Edwards, 77, who passed away Wednesday, April 7, 2021. She was born Barbara Jane Cassidy Nov. 15, 1943, in Wadesboro to Sarah Alice and Boyd Beckham Cassidy.
Never one to sit still, Barbara was an absolute force of nature. She was always busy doing something. Before retirement, she and her husband owned and operated a successful business for many years and enjoyed fishing and boating from their home on the waterfront. As much as she loved living on the water, in retirement, she and her husband left the waterfront home they had built together and moved to Winnabow to spend more time traveling to visit family and friends in their R.V. Spending her retirement traveling was a dream-come-true, but she never stopped wanting to one day move back to a waterfront somewhere.
Wherever she was, Barbara loved the outdoors and was well-known for the time she spent mowing her grass and tending her beautiful flowers, activities which brought her immeasurable joy and peace. She enjoyed cooking for those she loved and was proud to continue to use and pass on family recipes. Barbara also took special care and interest in the celebration of holidays, of which the Christmas holiday season, and all its trappings, was her undisputed favorite. She looked forward to the Christmas season all year long, and preparations would often begin in October. The joy and excitement she felt toward the holiday were infectious, and she enjoyed sharing that warmth with her loved ones.
Barbara is survived by her husband, Raymond Earl Edwards of Winnabow, with whom she spent nearly 50 years; daughter, Teressa McLean; son, Fred Donald "Donnie" Phillips Jr., and his wife, Nancy; stepdaughter, Tina Edwards-Story, and her husband, Jeff; four granddaughters, Courtney Humphreys, and her husband, Alan, Amanda Kenney, and her husband, Chris, Kristie Pearce, and her husband, Matthew, and Amber Edwards; sister and best friend, Linda Lowery; two brothers, Thomas "Tommy" Cassidy, and his wife, Gail, and William "Billy" Bullard, and his wife, Lisa; five great-grandchildren; numerous nieces, nephews and cousins; and her beloved little dog, Cookie.
Due to COVID-19 concerns, there will be a private celebration of Barbara's life so that her close family can come together and grieve safely.
The family asks that, in lieu of flowers, please honor her memory by taking part in the things that were important to her. Spend time with those you love. Travel to the places you dream of. Carry on family traditions and pass on family recipes. Enjoy the beauty in nature. Give freely. And remember her while you do so.
She is, and will forever be, deeply missed.
Share online condolences with the family at Coastal Cremations & Funeral Care.
Comments