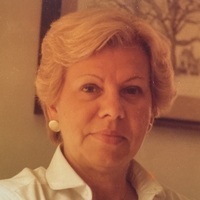 WILMINGTON — Mrs. Virginia "Ginny" Norris was 92 years old when she died quietly and peacefully Tuesday, March 2, 2021, in the late evening while in the care of Lower Cape Fear Life Care Hospice.
She is survived by her three children, grandchildren, great-grandchildren and other family members.
She grew up in Baltimore, Maryland, where she and our father Joseph Norris had met. As a young woman, she worked as a phone switchboard operator during World War II and was able to use her language skills speaking Polish and some Russian.
Mom was able to stay home and devote herself to her family. She was a wife, mother, grandmother, loved to laugh and could be feisty and direct. Mom liked to volunteer her time helping at St. Patrick's Catholic Church and taught catechism in Chesterton, Indiana. She did some work at the Chesterton Water Department. Our parents got involved with helping Father Blaney start a place for disabled adults called Sharing Meadows in Michigan City, Indiana.
She did volunteer work at a drug and alcohol center called Gateway in New York. Throughout most of her life, she contributed her time and help to local Alcoholics Anonymous (A.A.) and Narcotics Anonymous (N.A.) meetings. Mom proudly professed being a sober alcoholic for decades. She desired to help others. While in Wilmington, she did volunteer work at the New Hanover Regional Medical Center Hospital (NHRMC). Mom had a few restaurants she loved to go to and enjoy the food and talk with people.
Over the years, our parents lived mainly in Baltimore, Maryland; Chesterton, Indiana; Chicago, Illinois; Tarrytown, New York; and Pittsburgh, Pennsylvania. They decided to retire in Kure Beach in the 1990s. At our father's death, our mom and dad had been married 49 years. Since then, and over 25 years later, she never remarried. She later moved to and remained in Wilmington. There, she befriended a small group of people.
We remember every year during the summer while we were growing up, we would spend time traveling from Indiana to visit our Nanny and Pop-Pop in Maryland. Then we went off to visit and help our Uncle Boots on his farm in Southern Maryland. We all fondly recall the memorable times we had in each place; such as, spending time on Potter's Creek crabbing, and my mom cooking up a storm for family and those working the farm. I could go on. There were times when we talked and laughed endlessly.
In 2018, she suffered a stroke, and from there, she battled an increasing mental and physical decline. We want to remember the mom who, together with our dad, adopted two boys as infants, and then later gave birth to our sister and raised us in a strict but loving Catholic home. We want to thank you, Mom and Dad, for providing a life and opportunity to pursue what we could become.
Mom, you are loved and will be missed. Mom and Dad, we love you both. She will be buried alongside our father in St. Michaels Catholic Church Cemetery in Ridge, Maryland.
Share online condolences with the family at Andrews Mortuary & Crematory.