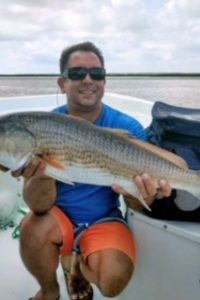 WILMINGTON — Our warrior, Daniel Langley, 44, passed away Saturday, Oct. 5, 2019, from gliosarcoma, a brain tumor nicknamed "the Beast." He fought the Beast for 16 months with everything he had. He died as he lived, surrounded by his family.
Daniel was born Oct. 23, 1974, in Hinsdale, Illinois, and moved to Wilmington at the age of 1.
Daniel and Jennifer met in college in 1997, married three years later and went on to have one child, Tyler.
Daniel found his true calling when he became a father. His entire family benefited from his boundless love, endless patience and energy for them. Daniel, Jennifer and Tyler went on many adventures camping throughout North Carolina, Georgia, South Carolina and Florida and traveled around the Caribbean as well. He taught, guided and showed those around him by his own example how to navigate through the world, treat others with kindness and respect, live with a strong moral code, find humor in everyday life, and catch the big one, whether it was a fish or a wave.
Daniel was such a multi-faceted guy. He was interested in all sorts of things like science, music, woodworking, mechanics and electronics. His two biggest loves outside of his family were fishing and surfing. He used these as an excuse to travel the world as well.
Daniel worked for many years as an engineering technician at Corning Incorporated. The Beast shut that down for him far too soon, and he tried very hard to get well enough and strong enough to get back to it.
Daniel leaves behind his wife, Jennifer; much-loved, son Tyler; parents, Bennett and Cheryl Langley and Loren and Diane Jessee; grandmother, Hilda Langley; sister, Michelle Browning (Chris Stenger); brothers, David (Tammie Matheney) and Richard (Samara); father-in-law, Ray McDowell; sibs-in-law, Missy and William Wright; nephews, Stephen and Matthew Langley and Grainger and Josh Wright; nieces, Madison and Claire Browning, Lauren Wright and Lauren Langley; numerous aunts, uncles and cousins; special friends, Ben and Wendy Bowie; and beloved lab, Luna.
Daniel was preceded in death by his grandfather, Preston Langley; grandparents, Karen and Walter Frye; mother-in-law, Sharon McDowell; and brother, Michael.
To honor Daniel's legacy and memory, reach out to help someone; treat those around you with humanity, dignity and humor; catch that big wave; or take the time to go fishing. In that way, he will live on forever. Daniel will stay in our hearts forever fishing, forever smiling, forever laughing, forever missed.
Join us for a celebration of life pig pickin' from 2 to 5 p.m., Sunday, Oct. 13, at Marker 137, 175 Whippoorwill Lane, Wilmington. We ask that you bring stories to share and your favorite beverage to raise a glass for Daniel.
Share online condolences with the family at Wilmington Funeral & Cremation.