WILMINGTON — Days after the one-year anniversary of George Floyd's death, protesters gathered once again on the steps of city hall, this time to demand District Attorney Ben David drop charges against three founders of the local protest organization, the lowercase leaders.
Three of four accused vandals of a Trump billboard appeared on the district court docket Thursday.
RELATED: Vandals or activists? District attorney called on to drop charges against well-known Black Lives Matter protesters
Nicole Nelson (known as Lily Nicole), Joshua Zieseniss, and Tim Joyner were charged with two counts of injury to personal property and one count of injury to real property. Both Joyner and Zieseniss are facing a second-degree trespassing charge; Joyner was also charged with driving on an unopened highway and possession of marijuana paraphernalia.
Charged with vandalism of a fence for events caught on city cameras in front of city hall on July 15, 2020, Joyner invoked his right to a trial, according to a release from the district attorney's office. Judge Russell Davis found Joyner not guilty for that event after a bench trial.
In addition to the billboard incident, Nelson was charged with vandalizing city parking signs outside Thalian Hall on Oct. 22, 2020.
Nelson accepted a deferred prosecution. So long as she completes 12 hours of community service, pays the city $170.75, the New Hanover County Republican Party $1,175, doesn't get charged with anything else for a year, and doesn't threaten, assault, or harass any prosecuting witness, the DA's office will drop all her charges.
Joyner and Zieseniss were joined for trial for the Oct. 8 and 9 billboard destruction. After the state called five witnesses to testify, the court adjourned for the day and will resume at a still undetermined date. The DA's office can't comment on pending cases.
In a lengthy letter addressing the cases, David reflected on the collision of rights his office was faced with: upholding the rights of individuals to peacefully assemble and the rights of property owners. (Read the full letter below.)
"Freedom of expression is fundamental, but so is the notion that actions have consequences," he wrote. "Property destruction does more to divide than unite us as a community and does nothing to advance us to a place of healing. Today, as every day, we sought to resolve these cases by balancing justice and mercy in a manner that was fair for all involved parties."
The DA's office's role is to "do justice, not to convict at all costs," David wrote.
Protesters reported not being permitted inside the courtroom, per the judge's orders. Nada Merghani said bailiffs barred the group of demonstrators over the span of three hours from entering. They were told Joyner was in a closed trial, and argued to get his parents permitted inside — a request bailiffs eventually obliged, according to Merghani.
"That was confusing to me because if it's a closed trial, then why do you allow specific folks inside?" Merghani said. "But I didn't push that because I wanted Tim's parents to get in."
Aside from Joyner's trial, Merghani said bailiffs prohibited the group from entering the courtroom and discouraged them from gathering in the lobby. "I'm not a lawyer, but that doesn't seem right to me. It didn't make sense and it didn't seem right," Merghani added. "And I would really like for someone to answer for why that happened."
David's assistant did not immediately respond to an inquiry into the apparent exclusion of the group from the courtroom.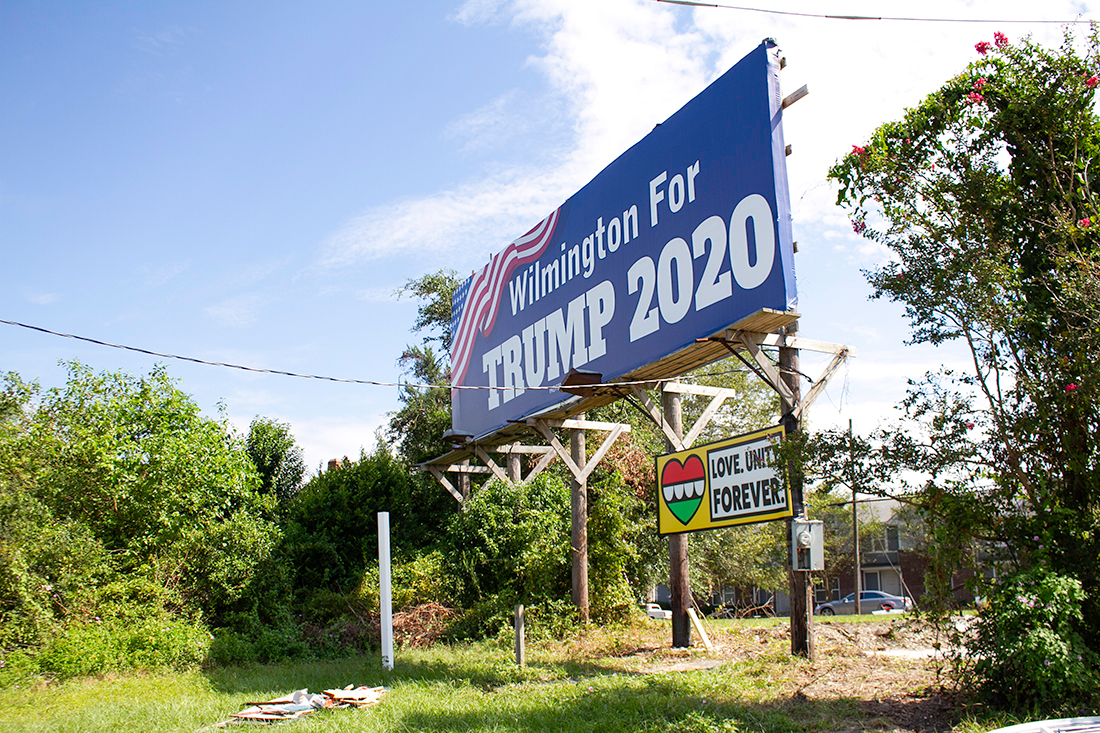 'It was intimidation'
Spurred by the Minneapolis event, the lowercase leaders organized weeks of daily protests last year, most often occupying Third Street around city hall.
On the steps Thursday morning, Nelson — who had been unusually mum about the charges in recent weeks — reflected on the crimes she faced. Looking at a maximum punishment of 120 days in jail, Nelson called the situation "senseless" — "people are more important than property."
"It's an illegally placed sign. It was intimidation, it was harassment in our community, it got put up right at the same time as the art installation. It was an intentional placement," she said. "And regardless of whether we did it or not, the fact that individuals are going to trial for a piece of property is absolutely insane."
The Wilmington for Trump 2020 billboard was erected in September 2020, around the same time as a coalition of artists completed a city-coordinated Black Lives Do Matter installation near Jervay Park, just a few hundred feet away.
Later that month, WECT reported the billboard appeared to be in violation of Federal Election Commission regulations, as it did not disclose what entity funded the display. The New Hanover County GOP announced it would step in to take over payments for the billboard.
Less than two weeks later, the billboard was vandalized. Nelson, Joyner, Zieseniss, and James Earl Frazier were arrested 11 days later.
Frazier, the fourth accused vandal, had his charges related to the billboard incident dropped when he appeared in court on Nov. 17 alongside Joyner for a June 14 incident, when the two men were charged with spray painting a swastika and "BLM" on the confederate monument on Third and Dock Street. Frazier told Port City Daily earlier this month he didn't understand why his charges were dropped and the others weren't.
Organizers say the value of the sign is $1,500.
"You let the cops off last summer but you won't let us off?" Nelson said. "They actually said they wish they could plan a massacre. We allegedly fucked up a piece of plastic."
Last year, Wilmington Police Department Chief Donny Williams fired three officers after the men were inadvertently recorded having racist conversations. One of the officers, Kevin Piner, made racist, genocidal remarks to fellow officer Jessie E. Moore II, stating he felt a civil war was coming.
Williams asked David whether the officers' conversations constituted criminal charges. David concluded they did not.
"Words alone – spoken in private, not intended by the speaker to be heard by the person whom the speaker is victimizing, and not part of a plan that the speaker and others have agreed upon – cannot constitute a crime for which someone can be arrested or prosecuted," David wrote in a July 2020 letter to Williams. "This is not a close legal call."
Thursday, Nelson said anything short of David dropping the charges would be a "slap in the face." She said the DA's office is wasting time and resources prosecuting an event it "can't prove," protecting an illegally placed sign "with the intent to intimidate a minority community already in a stressful environment."
"If they're taking us to court on technical legalities, that sign was illegal," Nelson said. "If they're taking us to the book, then respond to the book. That sign was also illegal. Why is that not being prosecuted?"
Sam Dooies, assistant to David, said the DA does not have jurisdiction over Federal Elections Commission violations.
A network of community groups launched a campaign to support the activists, garnering more than 850 signatures on a letter to pressure David to drop the charges. The calls for action motivated both those supporting the protesters and those who wanted to see them charged to the fullest.
Will Knecht, New Hanover County GOP chairman, called the demands to drop charges "outrageous." "If they're innocent, they should be found innocent in a court of law," he told Port City Daily last week.
Thursday afternoon, the protesters erected a "NO COP ZONE" banner. The New Hanover County GOP shared a post depicting a view of city hall with the banner, which urged people to contact the mayor and city hall to remove the banner, asking supporters to "PLEASE CALL."
The mayor, city manager's office, and WPD were later inundated with phone calls concerned about the sign. A city spokesperson said the city had the authority to remove the sign because it was located on city property.
'An officer is just doing their job'
Reminiscent of last summer's demonstrations, early Thursday, protesters danced, blared music, shared art, flipped off cops who drove by, and recited call-and-response chants.
Demonstrator Merghani said officers approached the group of protesters, telling them because the protest "had a gap, the permit is no longer active."
Merghani said they were gathering under a longstanding permit that is good through June. "We have every right to be here," Merghani said.
After the confrontation about the supposed gap in protesting, Merghani said officers were argumentative, intimidating, "bucking up," getting too close for comfort, all while holding their holsters.
"When they show up, when they agitate, they know what they're doing," Merghani said. "They're trying to incite something and we're not going to let them do that."
WPD spokesperson Lt. Leslie Irving said there is no such "gap" policy and that protesters were in their right to demonstrate if they had a permit. If they were told otherwise, that would be improper. She added the department has zero tolerance for intimidation.
"They're more than welcome to file a complaint," she said. "If it's intimidating, we don't tolerate that. We don't tolerate intimidation or anything of that nature."
Officers were on the scene Thursday to respond to several 911 calls, Irving said, from people in the area trying to work, concerned with the loud music.
Irving personally was stationed at city hall last summer, and along with fellow officers, said she also endured harassment from protesters. When officers direct demonstrators to get off the street, they're looking out for their safety, she said. "We can ride by in a car, you can see what happens. Whom is intimidating whom?" she said. "An officer is just doing their job."
Protester and peace organizer Denny Best said he could have and should have been charged with vandalizing the George Davis confederate statue on Market Street. He placed a large white surrender flag in Davis' hand last summer. "I was never charged. The fact that they aren't charging me, and they're charging them, tells me something," Best said. "I made it public that I did it."
Last summer, Best was pepper-sprayed during a tense night after protesters occupied Third Street and officers struggled to contain the scene. As a supporter of the lowercase leaders, he said the charges against the group's founders should get dropped.
"[David] needs to drop the charges. He has the discretion to do it," Best said. "The stuff that they have done — allegedly — is very minor."
Press Release – Statement Regarding the Resolution of Charges Against Nicole Nelson 05.27.21 by Johanna Ferebee Still on Scribd
---
Send tips and comments to Johanna Ferebee Still at johanna@localdailymedia.com