NEW HANOVER COUNTY – Why are there so many car washes and storage facilities in the city?
It's a common question Wilmingtonians ask during water cooler conversations, in social media comments, or in thoughts to themselves in the car.
Related: Hotel, grocery store, apartments planned for re-emerging South College Road development
On every corner, it seems bulldozers are making way for a new car wash bay, or a new self-storage facility is cutting its ribbon. It's all proof there must be some demand for the businesses.
Some may surmise all these businesses seem useless. After all, most people only have one storage unit (if any), and car washes are mainly frequented by a minority of folks devoted to sparkly rims.
But local planning experts say the proliferation of these businesses is not unique to Wilmington. It's a national trend linked to a growing demand for multi-family housing across the country.
Perhaps residents are so conscious of the establishments because they are located alongside busy roads. This preference to stay in drivers' view is a strategy to keep customers coming in.
Rather than targeting or limiting these types of businesses that are obviously in demand, local governments are looking largely at their roadside standards to combat complaints about the establishments.
Development patterns
Wilmington Planning Director Glenn Harbeck confirmed he does receive questions about the number of storage units and car washes across town. He added that the city often hears about the influx of grocers, multi-family housing and Dollar General-type stores, as well.
As part of its ongoing Land Development Code (LDC) rewrite, the city is proposing new regulations for discount variety stores. Currently, it's recommending prohibiting dollar stores from opening within a mile of a similar retailer or in USDA-identified food deserts. By limiting small-box stores in these areas, city staff is hoping a full-service grocer will move in instead.
Related: Wilmington could stop dollar stores from entering food deserts
The city also recently updated its requirements for Commercial District Mixed Use developments. The purpose of the CDMU code is to alleviate traffic by encouraging the construction of communities where people can "live, work, play" in one place, and eliminate the need to travel by car across town on a daily basis. The new update closed an 18-year-old loophole, requiring developers to include 20% commercial use on the CDMU properties (before, the city inadvertently allowed unlimited residential density and had no minimum commercial requirements).
Although people might inquire about the need or joke about the businesses multiplying throughout the city, Harbeck said there are real market-driven reasons behind their popularity.
Storage facilities and car washes, he explained, are linked directly to the increase in apartments.
As baby boomers downsize, they are moving a lifetime of possessions into storage. Even without decades of collecting stuff, younger generations who are opting to rent rather than own face many of the same obstacles with the lack of space in apartments to keep seasonal decorations, recreational equipment or other belongings.
"We are a consumer society in the United States," Harbeck said. "We buy things and we accumulate things and they need to be stored somewhere."
And along with some extra storage space, renters may want a place to hose down their car, hence the connection between multi-family housing and car washes.
Harbeck suspects another reason residents are so conscious of the continued growth of multi-family housing, car washes, storage units and dollar stores boils down to change.
"People don't accept change well," he said. "But I think if you travel to Raleigh or to Charlotte or to Winston-Salem or Greensboro or Asheville, I think you would find very much the same patterns. In fact, I know you would find the same patterns of demand for multi-family housing."
Staying visible
Rebekah Roth, New Hanover County interim director of planning and land use, notes businesses such as car washes and storage units are typically placed in well-seen locations, leading people to notice them more on their everyday commutes.
"People go past them multiple times a day," Roth said. "When you go past, you're like, 'Oh, there's two, there's three,' and so it might seem like a lot."
Although the uses might be grumbled over, sometimes folks living nearby prefer them, Roth said. That's because self-storage facilities and car washes generate lower traffic than other uses.
"When we go to a neighborhood and want to put in a storage facility, that's what we try to emphasize, that this isn't going to be a big traffic generator," said Archie McGirt, owner of Monkey Junction Self Storage. "The properties got to be used for something."
McGirt wishes the city and county planning departments would hold other businesses up to the appearance standards he's set for his own company.
"We need to be proud of where we're from and our town and build accordingly," McGirt said. "Don't let folks just run amuck with anything they want to build. Let it be done aesthetically."
Roadside presentation
The image the city portrays is important for economic development, Harbeck said, as visitors to the city scope out the area for a potential new place to live or locate a business. For that reason, he and other staff are recommending updates to the city's decades-old LDC, the document that guides how land may be developed within its limits.
"We don't want to see barbed wire, chain link fences and plain metal buildings," Harbeck said. "We really wanted to make sure that the image that we present to our residents and to our visitors is a good image of the city."
One way the city hopes to do that is through advanced frontage standards. The new guidelines would call for attractive signage, fencing and landscaping facing Wilmington's streets and are being drafted with the existing development patterns of each road in mind.
"We don't want to rock the boat so much that it's a radical change," Harbeck said. "We want to try to promote incremental changes that will build on the best of what's already built."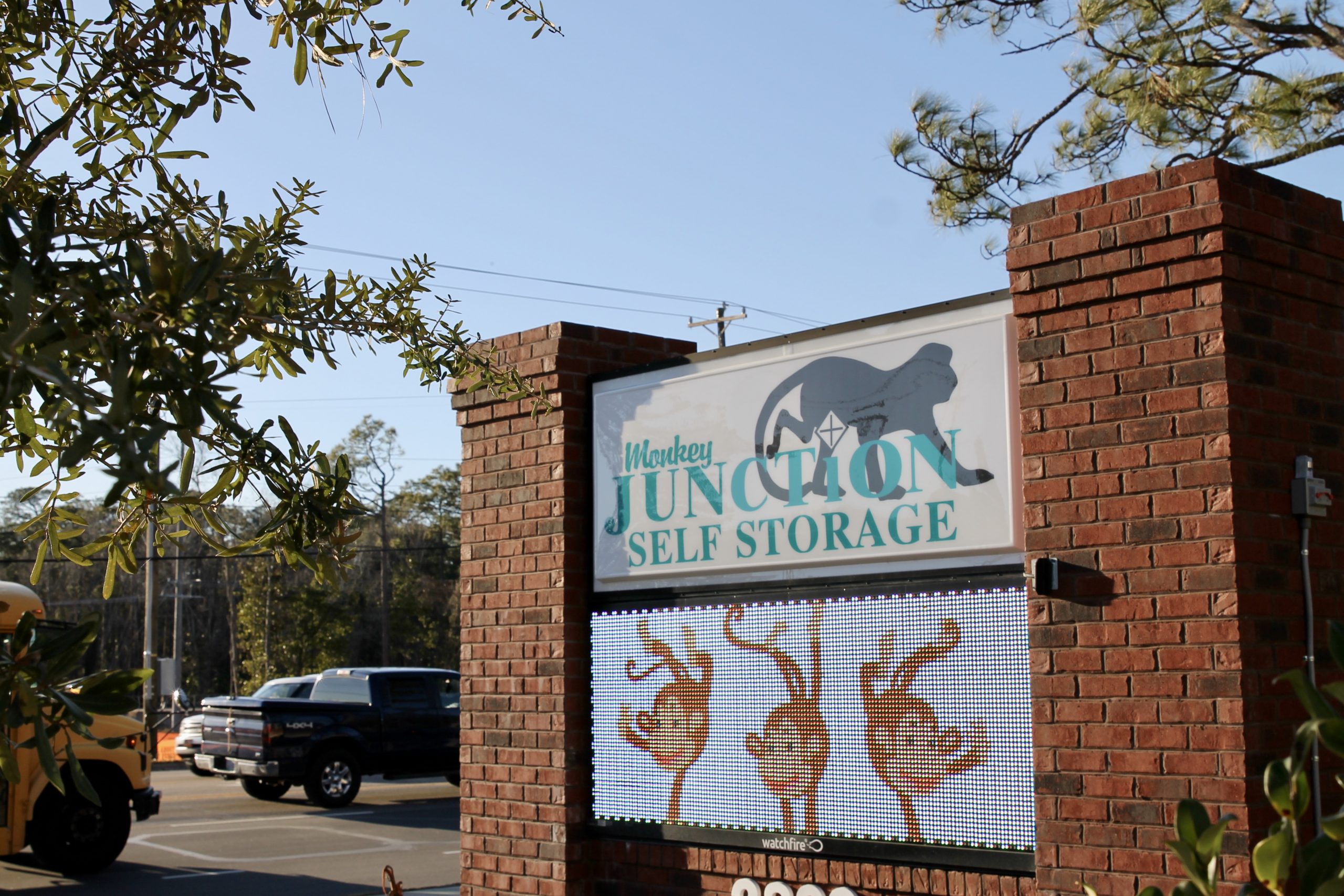 At Monkey Junction Storage sites, McGirt said he uses his road frontage to attract customers, rather than relying on advertising. Once the customers are inside, he sells them on the security and cleanliness of the facility.
"I'm sure you've driven by a place or you've seen a lot of places and say, 'Golly, I think I'd like to go in there and do business with them,'" McGirt said. "That's what we do. We do more of a drive-by presentation."
In 2018, neighboring Pender County was considering preventing storage units from being built along major roadways. County officials conducted a community survey and, based on residents' input, proposed an action item to "discourage the construction of storage facilities along the road frontage" as part of its Comprehensive Land Use Plan.
But Travis Henley, director of Pender County Planning and Community Development, said that is not yet a policy. The county was looking to incorporate the suggestion as it did a larger update of its unified development ordinance (UDO), but that project is on hold.
New Hanover County recently considered moving self-storage away from highly traveled corridors as well but determined that was unideal for the purpose the business serves.
"If they're not in a visible location, then there's sometimes safety concerns," Roth said. She added that people also prefer convenient access to their stuff.
In September, New Hanover County amended its UDO to establish new design standards for self storage in high visibility areas. Through the new regulations, the county is limiting metal buildings and bright colors when adjacent to roadways and residential land. It is also requiring that properties are "appropriately" screened and designed to resemble office buildings.
Any storage unit or car wash along a major accessway in the unincorporated area may be subject to the county's special highway overlay district standards. The zoning exists to maintain and preserve woodlands and open space along throughways by detailing setback rules, signage standards and requiring portions of lots to be left unobstructed.
Penning new rules
In the City of Wilmington, staff are proposing a new section dedicated solely to requirements for car washes. It currently groups car washes into "automotive service" in the LDC, a definition that also includes diagnostic centers and inspection services.
The new section for "vehicle washes" would prohibit the use from particular areas, including corner lots or within one-half mile of another car wash. Car washes would no longer be allowed to build open bays facing the road or rights-of-way if the proposed standards go into effect. However, the LDC is still at least two drafts away from consideration for approval.
These sets of standards are ways for the local governments to moderate and control the proliferation of car washes, storage units or any other use. They cannot merely ban the establishments from their jurisdictions entirely, as doing such would be unlawful and, clearly, there is a market for them.
"As long as they keep building apartments, I think, you're going to keep seeing storage," said Erik Hemingway of City Storage.
For as long as the greater Wilmington area continues to grow, there should still be a demand for at least the number of car washes and storage units that exist, Harbeck said.
"The last 30 years have seen a remarkable change, for better or worse," Harbeck said of Wilmington's growth. "Most people would say for better. But, you know, with growth, comes change."
---
Send tips and comments to Alex Sands at alexandria@localdailymedia.com
Enjoying Port City Daily's in-depth reporting? Please, consider a monthly subscription for access to all of PCD's content, and sign up for the free morning newsletter.