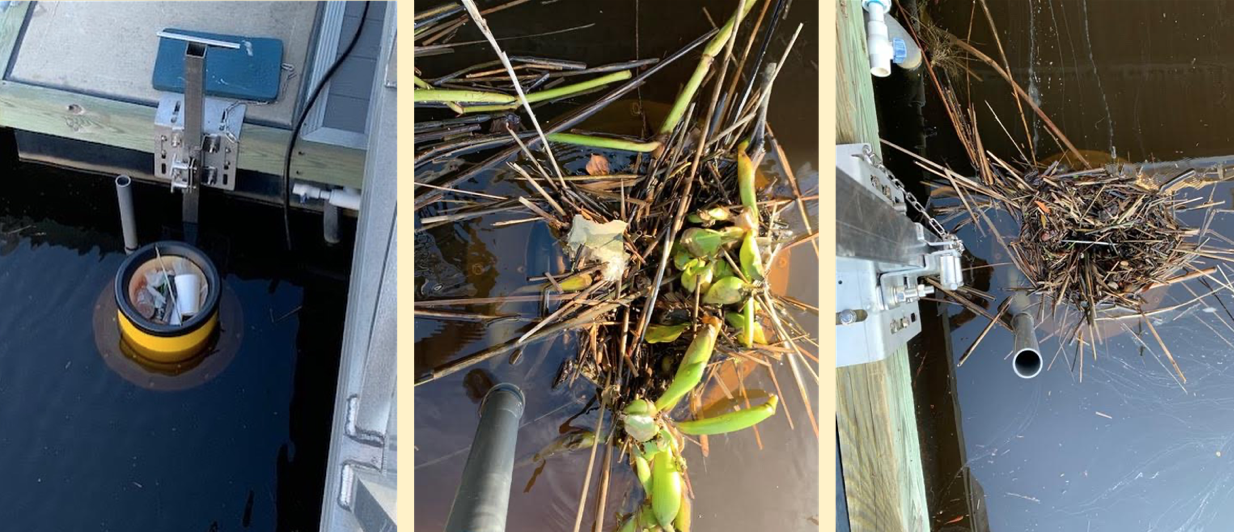 WILMINGTON—In a little over a month, 132.3 pounds of trash and seagrass have been removed from the Cape Fear River. Local environmental organization Keep New Hanover Beautiful (KNHB) installed two seabins at the end of November at Port City Marina at Pier 33 in downtown Wilmington.
Essentially floating trash receptacles, the seabins — created over the last three years by two water lovers in Australia — were awarded by the nonprofit's parent organization Keep America Beautiful. Three affiliates, including ones in Ohio and Tennessee, are among some of the first to try out the environmental technology that aims to rid oceans of plastics worldwide.
"The seabins are basically plastic 'barrels' that are attached to a floating dock, sit in the water and collect surface debris, including floating gas and oil from boats," KNHB executive director Dick Brightman said.
The seabins come with a catch bag that can grab up to 44 pounds of litter. It then disposes clean water from the bottom back into the waterway. The bins run on a 110 volt impeller, 24 hours a day, seven days a week, and KNHB volunteers collect the litter every two to three days to recycle.
"Our plan is to get detailed analysis of the contents once a month," Brightman detailed. "This, hopefully, will include capturing data about what micro plastics and other 'toxins' have been retrieved."
So far the bins have collected styrofoam, plastic bottles, cigarette butts, plastic straws, bits of plastic bags, and micro bits of plastic. It seems some of the styrofoam is coming from the construction site of the 300 apartments being built around Pier 33 and Port City Marina, according to Brightman. The seagrass is cradling micro plastics as well.
Brightman says Keep New Hanover Beautiful was chosen for the seabins primarily from their success with the Cigarette Litter Prevention Program Campaign they have been doing since early 2017. Recently, the nonprofit surpassed the collection of 1,000 pounds of butts, which they send to TerraCycle in New Jersey to recycle.
"Through an eight-step chemical process, the filters are broken down and become small plastic pellets that get combined into products for outside use," Brightman said.
The butts transform from toxic pollutants that can kill wildlife and poison water into everyday items like picnic tables or decking.
KNHB has more than 275 cigarette butt canisters across New Hanover County — seven near Port City Marina. Volunteers, including UNCW environmental science students, make rounds collecting the butts.
"Without them, this would not be sustainable," Brightman said.
Reinvigorating the nonprofit
KNHB is finding its footing again after being founded in the mid-1980s. At one point, the nonprofit was getting funding from the county and even was being run by a county employee, Jennifer O'Keefe.
"She worked for soil and water and was responsible for education," Brightman said. "Jennifer was unbelievable. She drove this program — and she knew everybody and everybody knew Jennifer. She was extremely well-connected and respected. And when the financial crisis hit [in 2008], the county decided they didn't want to carry this program any longer."
Brightman said after O'Keefe left, the organization floundered a bit. In 2016 a reinvigorated board, as well as volunteers, came together to elevate the nonprofit's impact once again. Brightman credits the cigarette butt campaign in 2017 as a real launching point. To keep the momentum going he pointed to the need of having a paid staff position — specifically, his replacement as executive director, for which he volunteers his time. 
"And the only way that will happen is if there is funding available or that we become a part of a county or city department again," Brightman said. "We've got some really aggressive young folks who have some great ideas, but we are one of the very few all-volunteer affiliates in the country — so it's more difficult to get these programs going."
Today the nonprofit survives off generosity of others and grants. Aside from funds it receives from its parent organization, KNHB was awarded a grant last year from the Women's Impact Network of New Hanover County. Sante Fe National Tobacco funded the seabin project and the cigarette butt campaign for Keep America Beautiful.
The local chapter also was awarded a grant to participate in the UPS Tree Planting Project in 2021. The project vows to plant 50 million trees by 2030, which will equate to 1,700 trees locally, from the partnership between KNHB and the Cape Fear Tree Alliance.
In fact, local partnerships are as important to KNHC as money. Currently, it works with Cape Fear River Watch on their 2nd Saturday Cleanups, and participates in the Great American Clean Up, America Recycles Day, the International Clean-Up and the Azalea Sweep.
Through the pandemic, as folks spent more time outside in nature, KNHB launched the social media hashtag #CleanUpInPlace to encourage people to take trash bags with them when they go on daily walks, then snap a picture of their collection on social media with the hashtag.
Future projects, including Adopt-a-Street and Adopt-a-Stream, are also underway, as is growing the seabin program. Brightman already is considering the next installation spot, specifically in calm waters without waves and wakes.
"But we want to get a satisfactory protocol of the ongoing operation and maintenance before we venture into a second location, preferably at a marina at Wrightsville Beach," he said.
To sign up for Keep New Hanover Beautiful's newsletter and learn more about their outreach programs, head to their website.
---
Have tips or comments? Email Shea Carver at shea@localdailymedia.com