WILMINGTON — Hundreds gathered for a sixth night of protest on the front steps of City Hall Friday evening, honoring the names of George Floyd and others — including former Wilmington resident Brandon Smith — killed by law enforcement officers. They also called for criminal justice reform and the lifting of the 9 p.m. curfew imposed earlier this week.
The crowd chanted in unison "Brandon Smith" throughout the evening. Smith was shot and killed by New Hanover Sheriff's deputies in 2013. At the time of the incident, no weapon was found on Smith, who was wanted in connection with a shooting that injured New Hanover detective Michael Spencer.
RELATED: Four years after being shot, 'hero' deputy still waiting on New Hanover County settlement
Moments before the 9 p.m. curfew went into effect, Smith's sister, Georgia Davis, called for social justice reform through a loudspeaker.
"Things that Floyd went through is breaking my heart, because I was one of the people who dealt with the police brutality. They killed my brother," she said minutes later as the crowd dispersed before the 9 p.m. curfew.
At around 8:40 p.m., Lily Nicole, who has become a leading voice of the protests this past week, led the crowd in nine minutes of silence to honor Floyd, Smith, and others killed by law enforcement officers.
"My stomach hurts!" she yelled on a megaphone before the crowd repeated the phrase in unison. After a moment of silence, the chanting and silence were repeated with phrases like, "My neck hurts! … Everything hurts! … Please, I can't breathe! … They are going to kill me! … Please, don't kill me!"
A red sedan passed by as the driver and passengers, including children, raised their fists in silence as the crowd returned the gesture. Another man drove by moments later, yelling, "Go home!" to the protestors.
Earlier in the evening, the protestors formed a long line and marched south on Third Street and west on Market Street before looping back to City Hall via Chestnut Street, guided by Wilmington police officers. They again marched through downtown Wilmington about an hour later.
At the end, protestors urged others to travel to Raeford, near Fayetteville, to attend Floyd's memorial service. Jane Jacobs, a Tuscarora Native American who called herself a "mom who's just tired" of police brutality, urged protestors to depart peacefully. She later said permits had been obtained to gather at City Hall for the next 365 evenings.
View pictures of the rally and march through downtown Wilmington on Friday evening below: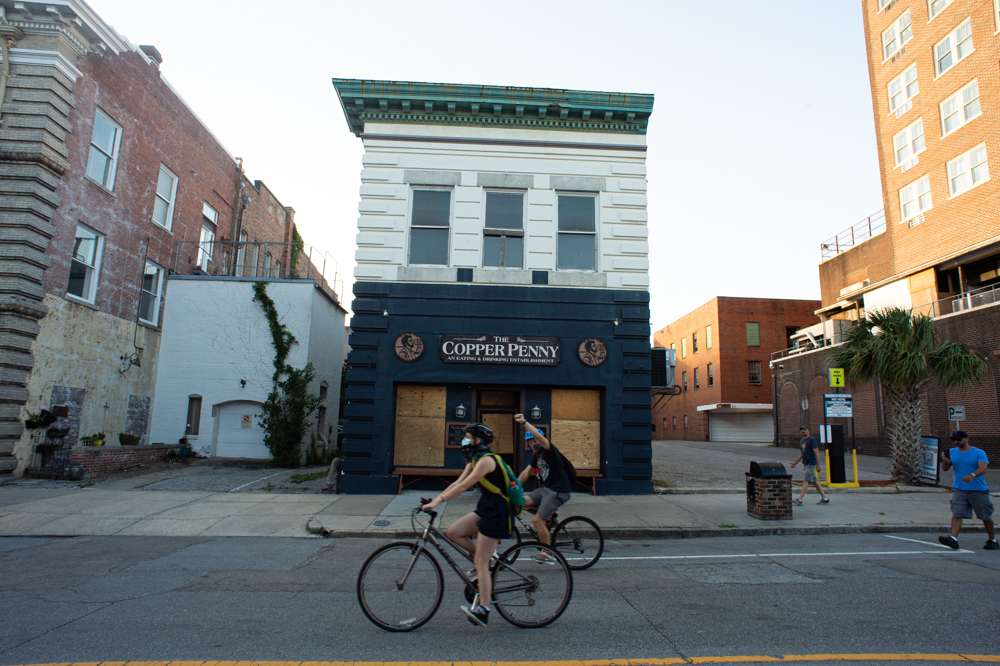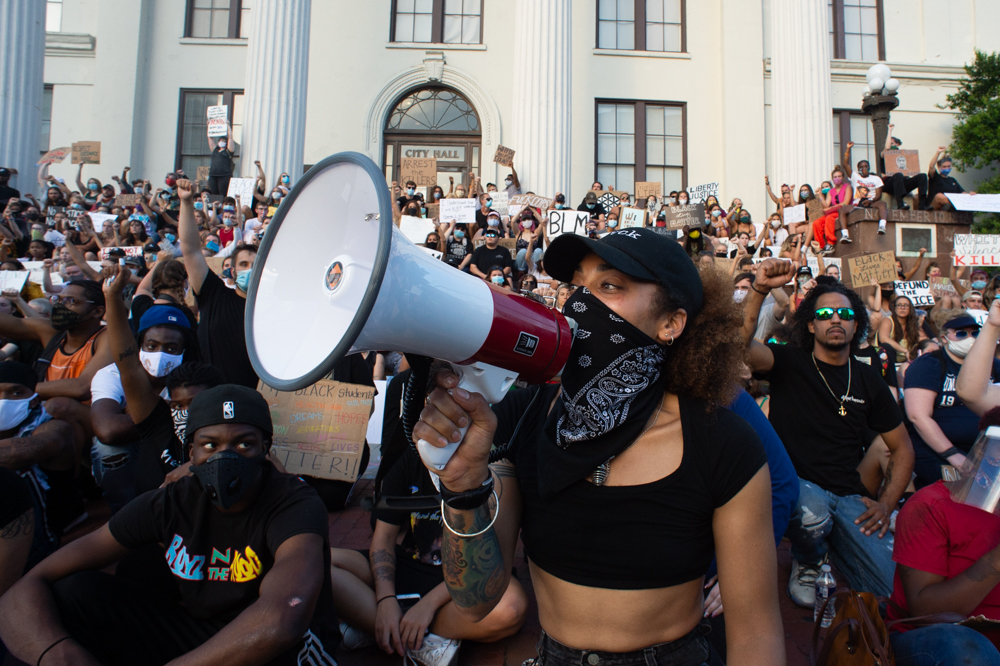 ---
Send tips and comments to the reporter at Mark@Localvoicemedia.com or (970) 413-3815
Comments