WILMINGTON — Looking for a way to preserve your memories in less than typical way? Want to spice up your Christmas card? Wilmington Ole' Time Photo has you covered.
The brand-new shop, located at 17 South 2nd St. in downtown Wilmington, specializes in helping you play dress up.
Owner Janet Weaver, although not a photographer by trade, says she was inspired by a good friend, who owns three similar businesses in Gatlinburg, Tennessee.
"He's been a mentor for me, he's been just wonderful throughout this," Weaver said. "I'd never done anything like this in my life."
She said the idea came over a year ago, when she and her daughter set up a photo shoot for a family friend, who's young son wanted to meet Santa Claus.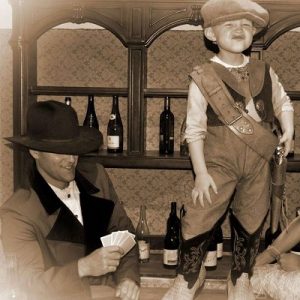 "I dressed up as Santa, and went on the beach carrying my surfboard," Weaver said. "His face just lit up, and we were like, 'wow, we really may be onto something here.'"
Something for everyone
After Hurricane Matthew hit, Weaver's daughter was called up to aid in the Army Reserves, leaving Janet without a photographer. Luckily, she came across Jocelyn Morales, a local photographer who's turned into her "right hand man."
Going mobile for the first couple of months, Weaver managed to track down the brick and mortar shop downtown. There, they set up seven different scenes, each one more "unique" than the next.
"We have seven scenes, most of these places only have three," Weaver said. "We wanted to make sure that the needs were satisfied if someone wanted a bar scene, a piano scene or anything like that."
One of the more interesting sets, is their "Pirate Beach scene," that features a picturesque island back drop, as well as a sandy beach.
"The beach scene is my favorite, we actually brought all this sand in by hand," Weaver said. "This is the pirate scene, and starting in October all the way through December we'll be doing 'Santa on the Beach,' shoots."
They feature classics like an old west bar scene, featuring an actual piano carried down from the time of the Great Depression by Weaver's grandparents, tumbleweed, and a set of old time jail cells.
They also have scenes straight out of Victorian England, and a barn door that's "perfect" for a picnic shoot.
"We're still growing, and I have room for at least one more scene, maybe two depending on what I find," she said. "I'm looking for a half a car, specifically the driver's side. I want to use it as a step for gangster shoots."
Weaver says that they also offer "boudoir" shoots, and are planning to set up their popular bath tub scene for "Sweet Heart Shoots" for Valentine's Day.
With over 200 costumes in house, Weaver says they have the right stuff to cater to anyone's needs, from children's gangster costumes, all the way up Victorian era dresses and cowboy gear.
Wilmington Ole' Time Photo can also go mobile, setting up for birthday parties, holiday events, weddings and corporate functions.
"We actually recently did the New Hanover County PTO appreciation dinner by going mobile," Weaver said. "Joce and I, when we first started doing this, were doing around 200 shots an hour and developing them. They were really happy, and we feel like we do a really good job with it."
According to Weaver, they're also pet friendly, and can get your pet looking just right for a shoot.
"I really like to capture the interaction between the owners and their pets," she said. "Sometimes those are the most beautiful shots."
Prices range from $11 for a 5×7 photo, all the way up to a full SD card with every photo from your shoot, which costs $95.
For more information, visit the website at wilmingtonoletimephotos.com, or follow it on Facebook for the latest news and specials.
---
Get in touch with Reporter Cory Mannion: follow him on Facebook, Twitter, or send an email at cory@localvoicemedia.com.