NEW HANOVER COUNTY – The bond is set at $9 million for a registered sex offender in Wilmington charged with kidnapping a 6-year-old girl from her Monkey Junction home and then sexually assaulting her.
Douglas Nelson Edwards, 46, of 302 Patalanda Road in Wilmington, is charged with first-degree kidnapping and taking indecent liberties with a child, according District Attorney Ben David. He appeared in New Hanover County District Court on Friday before Judge Chad Hogston. He was given a court appointed attorney.
Edwards was arrested on South College Road Thursday morning as the prime suspect in the abduction of the 6-year-old girl that took place Wednesday, right outside the girl's home in a neighborhood off Carolina Beach Road, according to the New Hanover County Sheriff's Office.
The 6-year-old was taken from her front yard by a man on a black moped, Sheriff Ed McMahon said during an emotional press conference Thursday morning when announcing authorities had found the girl. She was located in a wooded area off River Road at about 10 a.m. and taken to the hospital where she reunited with her family.
Related story: GoFundMe set up to help kidnapping victim's family
Edwards is known to law enforcement. Just over two decades ago, he was convicted of first-degree sexual offense, indecent liberties with a child, and crimes against nature, in New Hanover County. He was ordered to serve a minimum of 16 years in prison when he was convicted on May 30, 1996, according to prison records.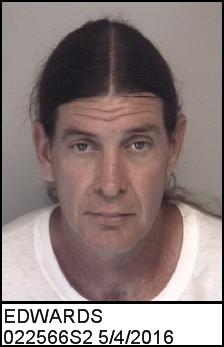 According to the North Carolina Sex Offender Registry, Edwards was 24 years old in October 1994 when he committed those offenses against a then-6-year-old. He's required to be registered as a sex offender for 10 years.
"He has a criminal record … the victim in that case is the same age as in this case," David said in court.
Edwards was also convicted of other felony charges in 2015, after his 2012 release, for crimes that included selling a schedule III controlled substance and possession with intent to sell and deliver a schedule III controlled substance.
In court Friday morning, Judge Hogston said Edwards faces a maximum punishment 231 months on charge of first-degree kidnapping and a 59-month maximum sentence on charge of taking indecent liberties with a child.
Edwards spoke just a few soft words to the judge acknowledging the charges and stood with his head down to the ground during the majority of the court hearing.
David told the judge Friday he's confident more charges will be brought forward in this week's case; expedited testing at the State Bureau of Investigation is underway. Prosecutors are also in talks with investigators to consider the additional charges in the case, David said.
"Given the dangerousness to this community and risk of flight, we would ask that this bond stay where it is," David asked of Hogston in court.
The judge ordered Edwards to remain at the New Hanover County jail under a $9 million bond. His next district court date is scheduled for Oct. 6.
Live video from Thursday's press conference with New Hanover County Sheriff Ed McMahon
Editor's note: This story was updated Thursday afternoon with information about Edward's expected court appearance. Images of Stefanny have also been removed from Port City Daily stories.
Related stories:
Family of abducted 6-year-old Wilmington girl thanks law enforcement, the community
Missing 6-year-old located and being transferred to hospital