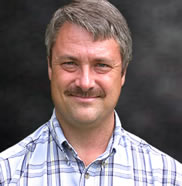 UNC-Wilmington's Center for Marine Science has a new leader.
University officials announced earlier this week that Martin Posey – currently UNCW's associate vice chancellor and dean of undergraduate studies – will take over as director of the academic and research campus on Jan. 1.
The move comes after an announcement in October that the Center of Marine Science's (CMS's) 16-year director Daniel Baden would be transferred to lead MARBIONC, an adjacent building that opened in 2013, which puts corporate entities in close contact with researchers to stimulate the creation new, marketable marine-based products and technologies.
Throughout his tenure, Posey has held a variety of leadership roles at UNCW, including coordinator for estuarine and coastal systems, chair of the Department of Biology and Marine Biology, university accreditation coordinator and Southern Association of Colleges and Schools Commission on Colleges (SACSCOC) liaison, overseeing UNCW's reaffirmation for reaccreditation.
He holds a bachelor's degree in zoology from UNC Chapel Hill and a Ph.D. in biology from the University of Oregon.
"Dr. Posey's in-depth experience as an administrator, researcher and faculty leader makes him an ideal choice for this important role," interim provost Marilyn Sheerer said. "As CMS director, Dr. Posey will coordinate marine science research at UNCW, strengthen the university's connections among local, state and federal research and funding partners and develop national and international collaborations with other marine science institutions."
Located on the university's CREST – the Campus for Research, Entrepreneurship, Service and Teaching – at the edge of the Intracoastal Waterway near Monkey Junction, CMS aims to provide state-of-the-art marine research facilities that support a multidisciplinary application to questions in basic marine research and education.
There, interdisciplinary basic and applied research takes place. Inside are faculty and students representing six science departments from the main campus.
The CMS also houses a remotely operated underwater vehicle (ROV) that can dive down 1,000 feet into the water. It was an ROV that discovered the wreckage of the Titanic, as well as the German battleship, Bismarck.
And the center acts as a source of outreach. It provides lab space for public school students during field trips to the facility and houses the summer camp, Marine Quest.
According to campus leaders, Posey and the leadership team at CMS will move forward to ensure the center's research and outreach initiatives align with Chancellor Zito Sartarelli's strategic plan, which is scheduled for completion early next year.
In his new role, Posey will report to Aswani Volety, dean of the College of Arts and Sciences. The university plans to conduct an internal search to fill Posey's current position, and he will continue to work with the Office of Academic Affairs during the transition.
"I am excited about the opportunity for continued growth and excellence in marine sciences at UNCW, and I look forward to being a part of that process," Posey said.
An expert on coastal ecology and restoration, Posey has served as the principal or co-principal investigator on more than $10 million in grants and contracts since coming to UNCW in 1989. His accolades include receiving the UNCW Faculty Scholarship Award, UNCW Graduate Mentor Award and recognition as a member of the university's $10 Million Dollar Club for research funding.