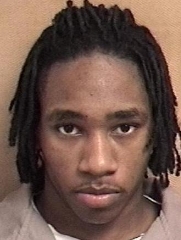 A Wilmington man previously charged with second-degree murder has pleaded guilty to a lesser charge of involuntary manslaughter and will serve more than a year in prison in connection with the death of an 86-year-old man in November 2013.
Rodney Seager Bradley, 23, pleaded guilty in New Hanover County Superior Court on Friday, Sept. 25, to one count of involuntary manslaughter in connection with the death of Floyd Henry, according to Samantha Dooies, assistant to District Attorney Ben David.
Henry died from injuries sustained in an assault that occurred on Nov. 11, 2013 in the Houston Moore public housing community. The police department reported Bradley as a gang member in 2013.
Henry took his grandson and one other person to Houston Moore around 4 a.m. on Veterans Day, according to Detective Lee Odham, an investigator with the Wilmington Police Department who spoke about the case in 2013. While in the community, Bradley reportedly went to Henry's vehicle and hit him in the head.
"The 86-year-old victim developed a subdural hematoma, which later sent him to New Hanover Regional Medical Center by ambulance the following day," Odham said. "He [died] exactly two weeks to the day from the incident from the subdural hematoma–from being struck on the head."
According to the N.C. Department of Corrections, Bradley was previously convicted of six misdemeanors and felony possession of a schedule I controlled substance. At the time of his arrest, Bradley was serving time in the Forsyth County Detention Center.
Bradley was sentenced 15-27 months in the N.C. Department of Corrections, Dooies said.