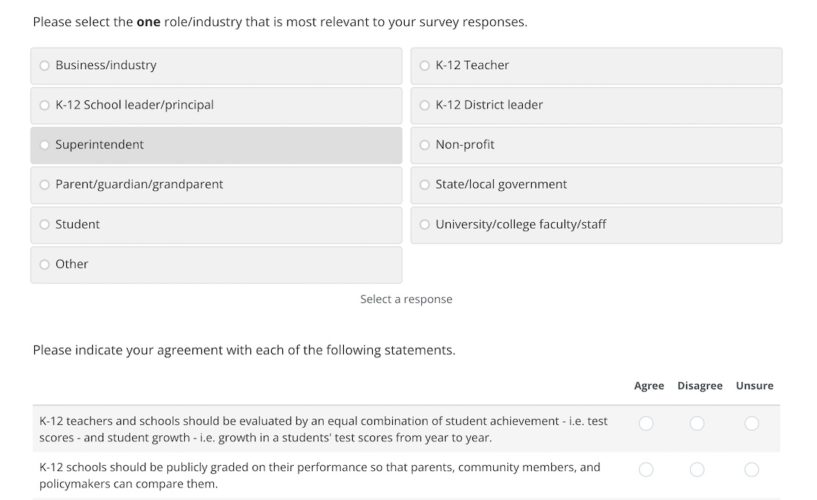 For almost a decade, North Carolina schools, including charters, have been measured by letter grades, A-F, to reflect performance. A working group met earlier in the month about redesigning the state's model.
Currently, grades are based on End of Grade and End of Course testing (80%) and academic growth (20%). With the majority of weight given to exams, parents, teachers, administration and school board members have decried it doesn't fully represent a school's or its students' achievements.
READ MORE: State report marks one-third NHC schools 'low-performing,' more than double pre-pandemic
"School performance grades are really about school quality, but right now the model overemphasizes student test scores, while not accounting for the other ways schools are preparing students for post-secondary success," State Superintendent of Public Instruction Catherine Truitt said in a press release.
Local school board members Nelson Beaulieu, Judy Justice, Stephanie Walker and Stefanie Adams echoed the sentiment to Port City Daily earlier in the month. Essentially, the board members are concerned the metrics ignore the hard work students and staff put in on a daily basis.
"I've had a long-time problem with assigning the school a simple letter grade," board member Nelson Beaulieu said. "I would come away with the idea that all of my hard work is not valued properly, is not reflected in a simple letter grade contrived by somebody who's looking at paper and has never been in my building."
NC Department of Public Instruction's 2021-2022 report tracked 13 out of 39 New Hanover County schools as "low performing," meaning the institutions received a D or F, compared to only five before the pandemic. This year's four A schools are Wrightsville Beach Elementary, Wilmington Early College High, Masonboro Elementary, and Isaac M. Bear Early College High School.
NCDPI released a survey on Sept. 22 to garner feedback from parents, educators, students, and community members on where they stand on performance measures. It consists of nine statements for participants to mark agree, disagree or unsure on. Some include "K-12 schools should be publicly graded on their performance so that parents, community members, and policymakers can compare them" and "The North Carolina legislature needs to reform school performance grades."
Another block of 22 suggestions are presented to answer yes, no or unsure on when measuring school quality beyond testing. Some suggestions include offering advanced or honors courses, closing gaps between various student groups, and looking at per pupil expenditures.
Facilitated by the National Center for the Improvement of Educational Assessment, the working group conversed about factors outside of test scores that affect the learning environment — school climate, school safety, parent engagement, and career and college readiness included. Members consisted of public school superintendents, public charter school leaders, UNC and NC Community College representatives, legislators, people from the NC Independent Colleges and Universities, the governor's office and others.
The survey was launched in partnership between the N.C. Department of Public Instruction and Education NC (EdNC), an independent news and data source. It is the first step of a three-phase approach, according to a press release, which includes research, design and implementation.
The redesign effort is a part of Operation Polaris, a four-year strategic plan Truitt launched last September.
Any new model the state decides upon will have to comply with federal requirements.
The survey will remain open until Oct. 10; results will be posted publicly. In-person and virtual feedback sessions will continue as part of the process.
---
Have comments or tips? Email info@portcitydaily.com
Want to read more from PCD? Subscribe now and then sign up for our newsletter, Wilmington Wire, and get the headlines delivered to your inbox every morning.