WILMINGTON — Wilmington's food truck game continues to gain steam with new rides offering a variety of eats at local breweries and businesses, festivals and events across southeastern N.C. Two newbies are rolling onto the scene, one offering its take on gourmet PB&Js, the other expanding his already beloved barbecue brand. 
READ MORE: Catch up on other Brews & Bites news
Marshall and Annalee Thomasson launched The Nut and Jam Gourmet PB&J food truck at the end of October, an idea that took shape after a health scare recalibrated the couple's outlook on life.
"Marshall was very sick for a long time," Annalee said. "During one of our nearly permanent hospital stays for intense chemotherapy, he joked that it would be 'funny if there was a PBJ truck like an ice cream truck.'"
After Marshall's condition stabilized, they decided not to wait another day to follow through on the idea.
"Life is short," Annalee said. "You have to have more fun. So we are!" 
Putting the focus on an old-school classic keeps them — and their customers — young at heart, one "big, sloppy, gooey bite" at a time. The truck has been booked almost daily, according to Annallee, who oversees its operations. She parks at Staples in Monkey Junction on Mondays, 7 a.m. – 10:30 a.m., and at Cape Fear Soccer Park on Tuesday nights in season. All other stops can be found on the truck's Facebook page.
Nut and Jam serves breakfast and lunch from a menu of eight items or a build-your-own sandwiches, priced $5 and up. There is a standard creamy peanut butter with grape jam on white bread, a "Brunch Crunch" served with almond butter, granola and blueberries on cinnamon-raisin bread, and a sweet treat, "Marsh," featuring marshmallow fluff, Nutella, granola, and blueberries on whole wheat. 
They also offer a seasonal flavor. The "Touchdown" has crunchy peanut butter, apple butter, pumpkin spice, and powdered sugar, served on rye bread.
Customers can choose from four types of bread, which is purchased from Breadsmith, Annalee said. Toppings include five types of butters and spreads, plus blueberries, oranges, coconut flakes and granola.
The Thomassons aren't making the butters or spreads homemade currently but have their sights set on concocting their own recipes in the future.
"Once we really get going we hope to work with a roaster we've been talking to in Durham," Annalee explained. "What we make ourselves is all of the combinations that you never would have thought of."
They have a housemade jam, cranberry and maple, they plan to launch this winter, as well as hot beverages, like cider, cocoa and a peanut butter latte.
In between balancing jobs as an engineer at IKA (Marshall) and as an author for Dune Press & Co. (Annalee), they're rearing three toddlers too. "So we're well-rehearsed when it comes to the fast and simple sandwiches," Annalee said. 
The PB&Js come room temperature, crusts on, but "if you want your crust cut off, all you have to do is ask," Annalee said. The entrepreneurs are looking to add equipment soon to offer grilled options as well.
They also aren't opposed to eventually franchising if the popularity continues to grow.
"Getting one food truck up and running was a large investment of time and money, so maybe once we recover a bit — why not?" Annalee said.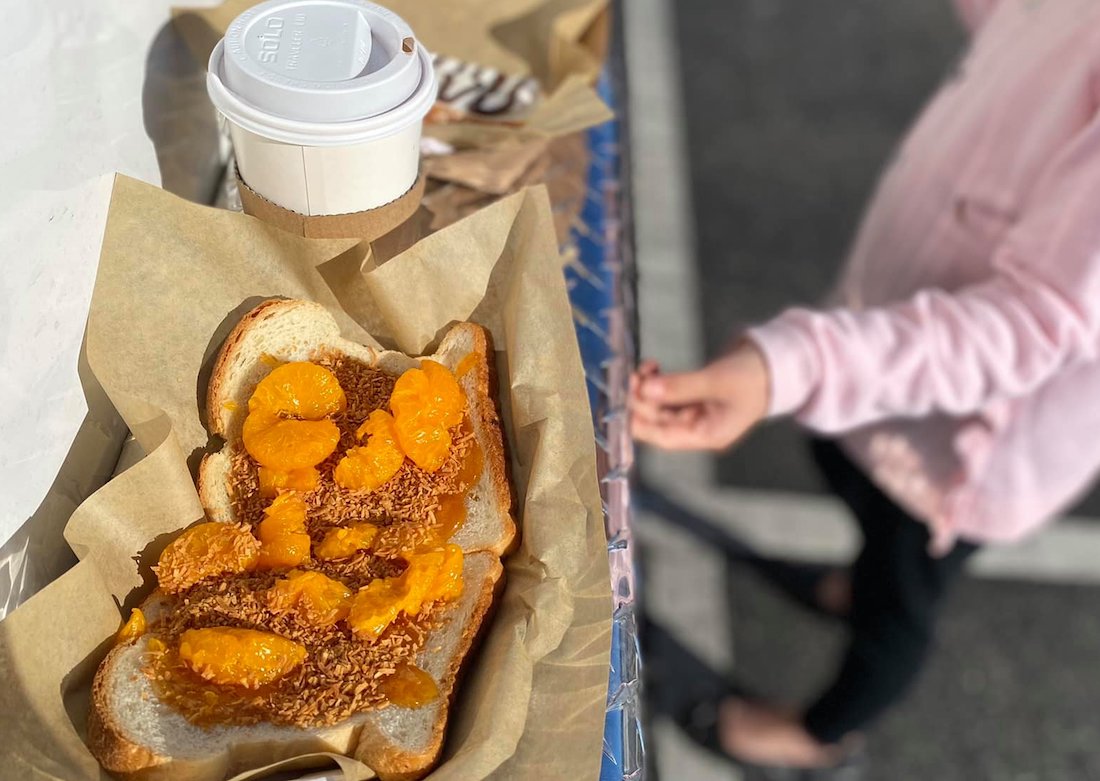 Rude Bwoys adds a food trailer to its services
Tito Ortiz knows firsthand the hard work it takes to expand a business. He launched Rude Bwoys Jerk BBQ in fall 2020 during Covid, basically selling plates out of his house. He had worked at Tower 7 for years but, like many, had his hours cut during the pandemic and needed a side hustle.
Jimmy Gilleece — owner of Jimmy's in Wrightsville Beach, across from Tower 7 — took notice of Ortiz's food and encouraged the homegrown chef to sell his meals to bar patrons, which Ortiz did for a few weeks last October.
"But I wanted to go to the health department and ask what the next step was, what I could do to become legal because I didn't want to get in trouble," he said. "Ms. Susan [at the health department] was like: brick-and-mortar or food truck. I said to myself, 'Great, this is never gonna happen for us.'"
Though Ortiz and his wife, Andrea, had saved $15,000 in hopes of starting a restaurant business, they weren't sure they would find a spot workable enough within their budget. Then a bartender at Tower 7 mentioned a kitchen was opening at Seven Mile Post. 
"We grabbed our menus, all our pictures of the food, and went down to the bar — I kept it real with them with what I wanted to do," Ortiz remembered.
He pitched his love for barbecue, featuring a dry rub that has a Caribbean flair, inspired by his Honduran and Puerto Rican roots. Within three weeks, he and his wife filed paperwork, started an LLC, got their tax numbers, and found all the equipment needed to launch Rude Bwoys in the Market Street nightclub.
Fast forward one year later and Ortiz is ready to take the next step in his business operations by launching a food trailer.
"I'm from the projects of Harlem and come from poverty," he said. "I'd never envisioned at all even being able to afford the equipment that me and my wife scraped together to start this."
He said it makes his expedient growth — Rude Bwoys had its one-year anniversary last week — even more unbelievable. Ortiz described the support as overwhelming: "My throat is cracking because I get emotional every time I think about it."
His small startup has garnered a following for its smoked meats — pulled pork and chicken, plus meatloaf, served on sandwiches, nachos and salads, or as plates with side items. He also offers empanadas, papa rellenos (fried balls of ground beef, stuffed with mashed potatoes), chicharrones, tostone burgers and chili.
Ortiz serves 65 or 70 people a night, he said, many of which are regulars of Seven Mile Post. Since the kitchen doesn't open until 3 p.m., the food trailer will allow Ortiz to reach a lunch crowd and bolster the Rude Bwoys brand. 
Though he and his wife considered buying their own brick-and-mortar, looking back over the pandemic year, he said that goal shifted: "Because of Covid and the trends that exist now, a food truck is the best bet for us."
They purchased a 7-foot-by-12-foot trailer to hitch to a truck. Ortiz is hiring to expand his culinary team now; he needs enough staff to run the truck for lunch and dinner. He already has begun reaching out to the Cargo District, Seagate Bottle Shop, and local breweries to book the trailer. Ortiz also has plans to offer it for backyard parties, anniversaries, weddings, and the like.
"It should arrive the day after Thanksgiving and we hope to be operating within two weeks," he said.
The Rude Bwoys mobile menu will be a bit smaller than the Seven Mile location, mainly because it has less equipment — essentially, sans a fryer. No empanadas or papa rellenos will be served for now.
"Those will be on our next food truck," Ortiz promised.
He's planning to debut a larger mobile unit in the future, which will be fully equipped to add in items Seven Mile customers have grown to love. Plus, it pays homage to his family lineage since some of the recipes come straight from his youth.
"The papa rellenos that we make fresh in house was one of the things my mother used to make twice, three times a week in Harlem," he said.
Prices will remain the same on the food truck, ranging from $6-$14. Ortiz will continue to operate at the Seven Mile Post location as well.
"What I love about being in Seven Mile Post is you wouldn't think you'd find a Caribbean barbecue joint inside there," he said. "And then when my regulars come up and say, 'Tito, let me get a barbecue sandwich … with plantains.' I love it. I love it."
Rude Bwoys opens at Seven Mile Post Monday through Friday 3 p.m. – 9 p.m., Saturday, noon – 11 p.m., and Sunday, noon – 9 p.m. The food truck schedule can be followed here.
---
Have tips or comments? Email info@portcitydaily.com