WILMINGTON — Over the weekend, when Live Oak Bank Pavilion at Riverfront Park officially opened its gates for the first national tour to hit its grounds, Widespread Panic and more than 21,000 ticket-buyers broke the Live Nation-managed venue in, complete with fireworks each night, July 16-18.
As the majority of the crowd settled inside the 7,200-seat venue, boaters floated along the Cape Fear River, nearby residents of apartments surrounding the park watched from balconies, and strollers along the Riverwalk tuned in to watch John "JB" Bell (guitar, vocals), Jimmy Herring (guitar), Dave Schools (bass, vocals), Domingo "Sunny" Ortiz (percussion), Duane Trucks (drums), and John "JoJo" Hermann (keyboards, vocals). Widespread Panic is currently embarking on an 11-city, mostly sold-out tour, which started at Red Rocks last month; Wilmington was their second stop.
"When we got back together before the Red Rocks show, we actually printed out our song list," Ortiz told Port City Daily in an interview ahead of the Wilmington performances. "We looked at each other and said, 'We got a lot of songs.' We can't do them all, naturally, so we had the philosophy of, like, 'OK, we're only gonna do originals.' But then we looked at each other and said, 'Yeah, but there's a lot of cool covers.'"
READ THE FULL INTERVIEW: 'We created monsters': Widespread Panic percussionist talks 35 years building fanbase, playing Riverfront Park this week
Widespread Panic played through 19 covers over three nights, from Warren Zevon's "Lawyers, Guns and Money" to Tom Petty's "You Wreck Me" to Talking Heads "Life During Wartime." They also played tribute to one of their early-day musical inspirations, Bloodkin, whose founder Danny Hutchens passed away from a stroke in May.
"They really meant [a lot] to our involvement in the music business here," Ortiz told PCD about the band. "And Danny and Eric [Carter], both are incredible songwriters — just like with Jerry Joseph and the host of other people whose songs we inherit, so to speak, that people just say, 'Hey, you know, take this song, have fun with it, and all the best to you.'"
The band bent a few musical notes on two Jerry Joseph tracks over the weekend, including "Climb to Safety" and "North."
Widespread Panic also pulled an oldie from the vault that they hadn't been played in 17 years — or 1,143 sets, to be precise. The last time they turned up "Happy Child" was with founding member Michael Houser, who passed away in 2003.
To top it off, Hermann's birthday was celebrated during Sunday's set — which was delayed by three hours due to inclement weather, including thunder and lightning. When the doors opened to Live Oak Bank Pavilion at 8 p.m. and the band took the stage at 9 p.m., the crowd erupted in "Happy Birthday" to the keyboardist. Widespread then played three hours straight, without intermission, ending their run with Neil Young's "Last Dance" around midnight.
MoonFrog Media captured scenes from all three nights. Click the picture to scroll through the gallery or thumb down to view the images below the setlists.
July 16 Setlist
Set 1:
A of D
Lawyers, Guns and Money (Warren Zevon cover)
One Arm Steve(>)
Stop Breakin' Down Blues (Robert Johnson cover)
Cotton Was King
Holden Oversoul
Fixin' to Die (Bukka White cover)
Pickin' Up the Pieces
Climb to Safety (Jerry Joseph cover)
Set 2:
Second Skin(>)
Sharon (David Bromber Band cover, with Pink Floyd's "Set the Controls for the Heart of the Sun" teaser)
Machine(>)
Barstools and Dreamers
Pigeons
1 x 1 (Beanland cover)
New Blue(>)
Surprise Valley(>)
Drums (> "Surprise Valley" reprise)
Proving Ground
Mr. Soul (Buffalo Springfield cover)
Encore:
Nobody's Loss
North (Jerry Joseph)
July 17 Setlist
Set 1:
Ribs and Whiskey (>)
Wondering
C. Brown
You Wreck Me (Tom Petty cover)
Dyin' Man
Chainsaw City (Little Women cover)
Hatfield
For What It's Worth (Buffalo Springfield cover)
Set 2:
Slippin' Into Darkness (War cover)
Greta (>)
Life During Wartime (Talking Heads) (>)
Driving Song (>)
The Last Straw (>)
Happy Child
Genesis (Jorma Kaukonen with Tom Hobson) (>)
Arleen (General Echo cover) (>)
Chilly Water
Encore:
Vacation (>)
Porch Song (fast)
July 18 Setlist
Set 1:
Tall Boy
Space Wrangler (>)
Blackout Blues
Stop Go (>)
You Got Orders (with "Cars" by Gary Numan jam, > "Stop Go" reprise)
Imitation Leather Shoes
Little Kin
Disco (>)
Little Lilly
Pilgrims
Bear's Gone Fishin' (>)
The Low Spark of High Heeled Boys (Traffic cover)(>)
Ride Me High (J.J. Cale cover)(> "The Low Spark of High Heeled Boys" reprise)
Rebirtha
Big Wooly Mammoth (>)
Henry Parsons Died (Bloodkin cover)
Ain't Life Grand (with JB on mandolin)
Encore:
Dream Song
Travelin' Light (J.J. Cale cover)
Last Dance (Neil Young cover)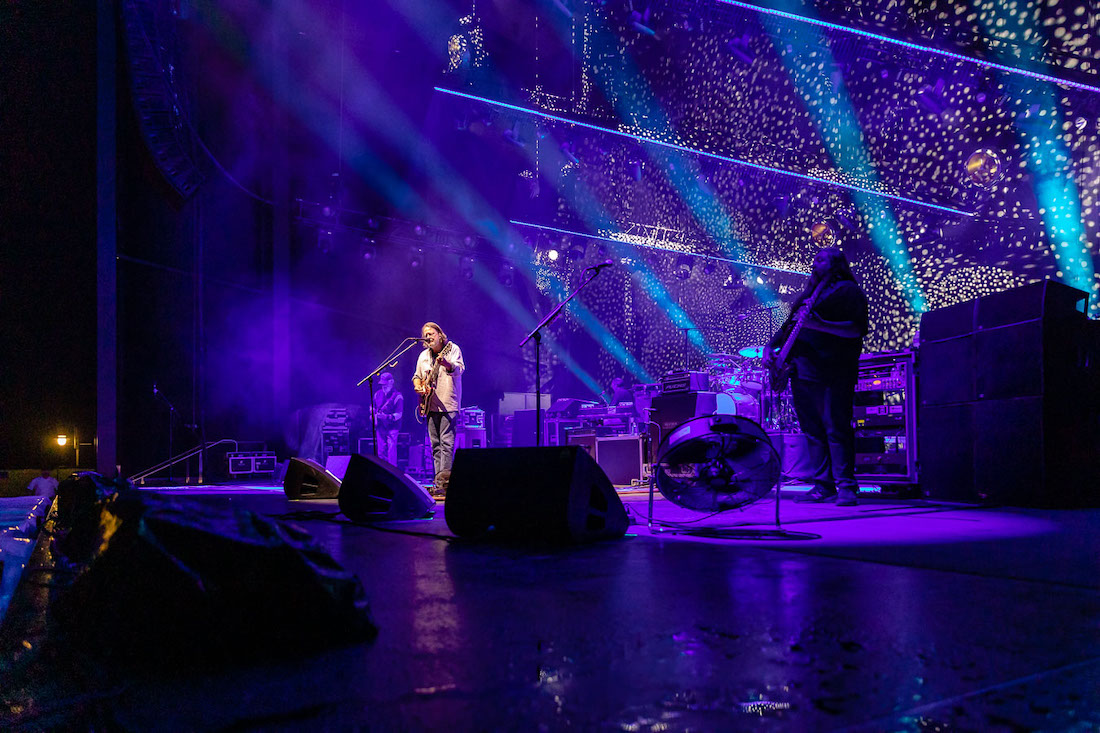 ---
Have arts news? Email info@portcitydaily.com
PCD offers live briefs for free. Want to read in-depth reporting from our staff? Subscribe now and sign up for our newsletter, Wilmington Wire, to get the headlines delivered to your inbox every morning.